Anti-US protests in the Philippines capital Manila have continued on Sunday, 12 November, as US President Donald Trump landed in the country.
Police in riot gear, armed with shields and batons, used water cannon to prevent hundreds of protesters from reaching the US embassy in the capital, Reuters reported.
Demonstrators held placards reading "Dump Trump" and "Down with US Imperialism" as they advanced towards the embassy.
"Trump is the CEO of the imperialist government of the US," said 18-year-old protester Alexis Danday. "We know he is here to push for unfair treaties between the Philippines and the US".
Anti-Trump protests erupted in the country on Friday, with people denouncing the leader's presence at the upcoming summit.
Demonstrators from the militant group Bagong Alyansang Makabayan (Bayan) rallied outside Trump Towers, claiming Trump plans to build more American military bases.
"Trump represents the worst aspects of US imperialism," Bayan said in a statement quoted by the Southeast Asia Globe.
"Trump seeks to maintain the grossly unequal relations between the US and the Philippines. He is right now the biggest threat to regional peace with his provocations against North Korea."
Trump is set to meet his counterpart Rodrigo Duterte as his 12-day long Asia tour is coming to an end.
Trump and other leaders from Southeast Asian and East Asian nations, except for Taiwan, will attend the two-day Association of Southeast Asian Nations (Asean) trade summit.
The two leaders were expected to discuss the contentious South China Sea issue, which sees several countries contesting China's claim of sole custody over the sea.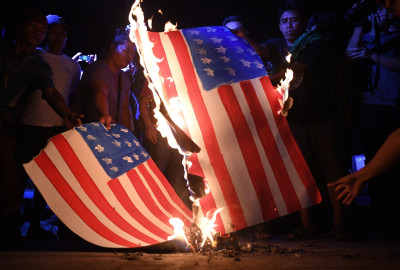 Duterte said in a statement quoted by Reuters that it was better to leave the topic untouched.
"We have to be friends, the other hotheads would like us to confront China and the rest of the world on so many issues," he said at a pre-summit business conference in Manila.
"The South China Sea is better left untouched, nobody can afford to go to war. It can ill-afford a violent confrontation."
However, Philippines Foreign Secretary Alan Peter Cayetano said his country was happy that Trump had offered to negotiate a deal in an attempt to resolve the long-standing row.
"We thank him for that [offer]. It's a very kind, generous offer, because he is a good mediator. He is the master of the art of the deal," he said.
He then added: "The claimant countries have to answer as a group or individually, and not one country can just give an instant reply because mediation involves all of the claimants and non-claimants."
The US and the Philippines, a former colony, have been allies for decades. However Duterte has sometimes displayed anti-US sentiments.