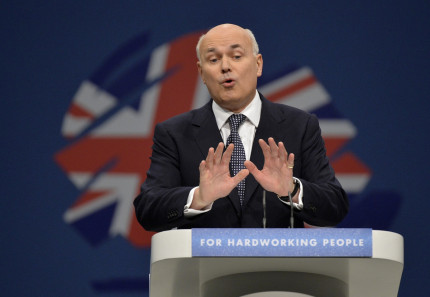 The government's battered welfare reforms have hit yet another crisis with leaked document suggesting a rift between the minister in charge, Iain Duncan Smith, and Cabinet Office colleague Francis Maude.
Duncan Smith, who already has a history of strained relations with chancellor George Osborne, is facing yet more delays to his flagship Universal Credit benefits reform over the provision of IT staff.
The architect of and driving force behind the huge benefits overhaul, Duncan Smith has faced a series of criticisms for cost over-runs and delays, which he has always denied, insisting he would complete the reforms "on time and on budget".
But now an internal Whitehall memo leaked to the Guardian, shows there are major strains between him and Cabinet Office minister Francis Maude which are presenting a "high level" risk to the delivery of the reforms on time, after the next election.
At the heart of the latest row is the agreed withdrawal by the Cabinet Office of Government Digital Service (GDS) staff charged with running the hugely complex new computer system needed to implement Universal Credit, with responsibility transferring to Duncan Smith.
The leaked minutes from a meeting at the end of last year stated: "GDS wished to accelerate their withdrawal from the design-and-build team to allow DWP to take ownership.
"However, as GDS have supplied most of the expertise and resource to date, and a recruitment exercise needs to be undertaken to fill the technical vacancies, there is therefore the likelihood of some delay.
During the meeting, one other senior civil servant remarked that "friction between DWP and Cabinet Office" made things more "difficult than necessary".
Labour's Rachel Reeves said there had already been warnings of delays and cost write offs or more than £40m.
"Now we learn that his officials are warning of further delays, more wasted taxpayers' money, and bickering between ministers. While families are facing a cost-of-living crisis, it's completely unacceptable that millions have been wasted because of failures by the prime minister and Iain Duncan Smith to get a grip of their flagship universal credit scheme."
A DWP spokesperson said it was understood the department would takeover the IT work. "Our current plans will see all new benefit claimants claiming Universal Credit by 2016, with most existing benefit claimants moving on to it during 2016 and 2017."
And a Cabinet Office statement said the department "fully supports the excellent policy of Universal Credit".
But the latest allegations add fuel to the suggestion that Duncan Smith's project is proving far more troublesome than expected and that, in his determination to press ahead, he is ruffling plenty of feathers around the cabinet table.
With the election now on the horizon, the government has little option but to see the reforms through to the bitter end rather than execute any damaging and chaotic U turns.
So it remains likely that Duncan Smith will continue with his project in the face of all setbacks.
For many on his own side, that is a sign of bravery coming from a minister who is determined to do what so many before him have shied away from even attempting.
Others, however, fear the entire reform is stacking up to becoming a major political embarrassment which Labour might be able to exploit in the election campaign.