The Dutch election on 15 March could deliver another blow to the European project with far-right leader Geert Wilders claiming the spotlight if his Eurosceptic Party for Freedom (PVV) continues to lead in the polls.
Prime Minister Mark Rutte's People's Party for Freedom and Democracy (VVD) narrowly trails the PVV in the polls. Despite clearly stating that he will not govern with Wilders, Rutte was recently criticised for trying to woo PVV voters in a letter telling anyone who does not respect Dutch customs to leave.
As in Britain, support for the Labour Party (PVDA) has plummeted. The PVDA currently rules alongside the VVD in the coalition government but is not predicted to win many seats in this election.
Parties gathering momentum include Think (Denk), led by a multicultural group hoping to halt the increasing xenophobia and racism in The Netherlands, and 50Plu,s focusing on the needs of the elderly and promising stricter immigration rules and the regulation of cannabis cultivation.
The fragmentation of Dutch politics is highlighted by the record number of parties taking part in this year's election. 81 parties originally registered to take part, but 50 dropped out due to lack of support and funding. A record 31 parties submitted their candidate lists this week. On Friday 3 February the final list of confirmed parties will be released.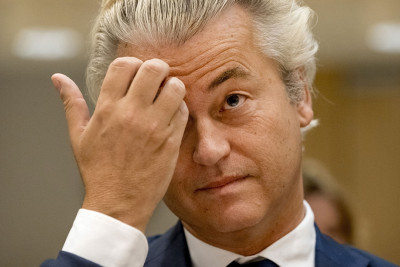 Here are some of the most unusual parties taking part in the Dutch election:
With 31 parties taking part this year, there is an overwhelming amount of choice with ideologies represented across the political spectrum. We've picked a few which really stand out:
Article 1
Former TV Dutch-Suriname presenter Sylvana Simons founded Article 1 to combat the wave of far-right populism and xenophobia in The Netherlands. The racial abuse she was subjected to on social media spurred her on to start a political party fighting back against institutional racism and Wilders' anti-immigrant rhetoric.
The party is founded on the principle that everyone in The Netherlands should be treated equally regardless of race, gender and religious belief. "It's clear it isn't working," Simons said in an interview. "In The Netherlands it is ok to be racist."
Party for the Animals (PvdD)
The only animal rights party to be elected to a national parliament, PvdD, led by lawyer and animal rights activist Marianne Thieme, currently holds two seats in the House of Representatives.
The party's campaign victories include: introducing tougher regulations for transporting animals in Europe, securing €6m investment into meat alternatives and enforcing a national ban on round goldfish bowls.
Party for Human and Spirit (MenS)
Founded by astrologer Lea Manders in 2008, the Party for Human and Spirit promises to make political decisions that come "from the heart". The party did not win any seats in the last two elections. If elected this year, the party promises to promote a holistic approach to health and well-being and increase the number of referendums to ensure citizens get a direct say in politics.
Jesus Lives
Jesus Lives wishes to overturn the laws allowing abortion and euthanasia in The Netherlands. The Eurosceptic party is campaigning for a 'Nexit' and is pro-Israel.
In an interview party leader Joop van Ooijen said: "I will not negotiate with someone who is pro-choice, that is not an option. We do not negotiate, that sets us apart from other religious parties in Dutch politics."
List of all the political parties
People's Party for Freedom and Democracy (VVD) - Mark Rutte
Party for Freedom (PVV) - Geert Wilders
Labour Party (PVDA) - Lodewijk Asscher
Socialist Party (SP) - Emile Roemer
Christian Democratic Appeal (CDA) - Sybrand Buma
Democrats 66 (D66) - Alexander Pechtold
ChristianUnion (CU) - Gert-Jan Segers
Green Party (GroenLinks) - Jesse Klaver
Reformed Political Party (SGP) - Kees van der Staaij
Party for the Animals - Marianne Thieme
50Plus - Jan Nagel
THINK (DENK) - Tunahun Kuzu and Selçuk Öztürk
Party for Human and Spirit
Forum for Democracy
Free-thinking Party
Party for Entrepreneurs
GeenPeil
Party for non-voters
Local in the Government
For the Netherlands
Women's Party
Libertarian Party
Respect
New Roads
The People's Movement
VoteNL
Free Democratic Party
Proud of the Netherlands
Pirate Party
Jesus Lives
Article 1