In an attempt to lure voters away from Geert Wilders' far-right Freedom party (PVV), Dutch Prime Minister Mark Rutte penned an open letter saying anyone who does not wish to integrate can "go away".
The message was published in several newspapers and on the website of his People's Party for Freedom and Democracy (VVD). National elections are set to take place in the Netherlands on 15 March.
Rutte has led the country since 2010, but is facing stiff competition from Geert Wilders' anti-immigration and anti-Islam Freedom party (PVV). With elections around the corner, polls show PVV has the edge over the VVD. Despite this, the PVV could find it difficult to form a coalition, with Rutte ruling out a partnership.
Those who "refuse to adapt, and criticise our values" should "behave normally, or go away", the prime minister wrote. He added that he understood calls for people who refuse to assimilate to leave the country, saying: "I have that feeling, too".
"If you so fundamentally reject this country, then I'd prefer it if you leave," said Rutte. The Dutch leader also hit out at anti-social behaviour from those "who attack gay people, who shout at women in short skirts, or call ordinary Dutch people racist".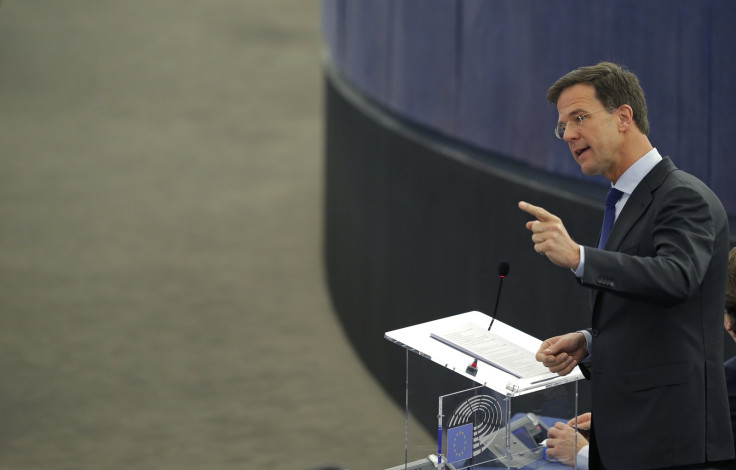 Rutte repeated his message in an interview with the daily, Algemeen Dagblad (AD) and said: "If you live in a country in which the ways of dealing with others annoys you, you have a choice".
According to Cas Mudde, a Dutch political scientist at the University of Georgia, Rutte's uncompromising message is an attempt to show that he can be just as tough on immigration as the PVV. "It is thinly veiled nativism, completely ignoring the anti-refugees violence, physical and verbal, by natives that the country has experienced in the past years," Mudde told the Washington Post.
Despite Rutte's firm remarks, he insisted the solution is "not to tar everyone with the same brush, or insult or expel whole groups", but to "make it crystal clear what is normal, and what is not normal, in our country. We must actively defend our values." He did not mention Wilders by name.
Wilders has ridden the populist wave against refugees and migrants and has advocated closing mosques, stopping immigration and taking the Netherlands out of the EU. Last month Wilders was found guilty of insulting and inciting discrimination against Moroccans – a decision he branded "shameful" – and said he intended to appeal the conviction.
On Monday (23 January), the far-right figure accused Rutte of seeking to adopt his positions and called him "the man of open borders, the asylum tsunami, mass immigration, Islamisation, lies and deception."