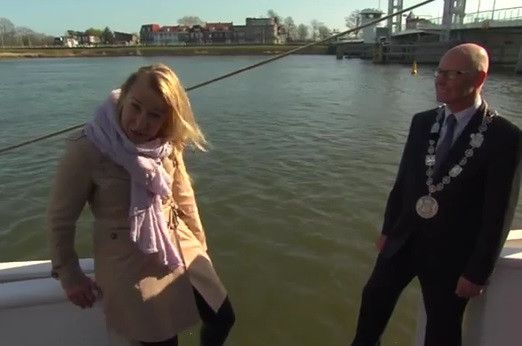 In a classic You've Been Framed moment, a Dutch TV presenter has been filmed falling off a boat in the middle of an interview with a local mayor.
Martje Oesterholt, who was creating a promotional video for Sail Kampen, the city of Kampen's huge Easter music festival, is seen walking along the boat to greet the mayor of Kampen, Bort Koelewijn.
The tourism marketing consultant greets Koelewijn and stands dangerously close to the edge of the boat.
Appearing relaxed and informal, she then goes to grab a rope going across the boat that she believes to be taut. Unfortunately it is slack.
Oesterholt is then seen tumbling sideways into the water below causing a big splash.
In a bizarre twist, the mayor appears to take off his livery collar to use as a lifeline for the fallen reporter. Luckily, however, teams standing nearby throw her an actual lifebelt.