Duterte's China visit: Beijing might allow Philippine fishermen access to Scarborough waters
A Filipino official said Duterte could raise the plight of the country's fishermen with Xi Jinping.
It is being speculated that following talks between Philippine and Chinese presidents this week, China could soften its stand on the South China Sea dispute and agree to give Filipino fishermen access to the rich fishing grounds of the Scarborough Shoal.
Fishermen from the Philippines have been denied access to the disputed reef, locally referred to as Panatag, since China seized control of it (or Huangyan Island in Chinese) in 2012.
Philippine President Rodrigo Duterte arrived in Beijing on Tuesday (18 October) evening on a four-day visit, and is scheduled to meet his Chinese counterpart Xi Jinping on Thursday. Duterte will raise the plight of Filipino fishermen due to access denial of the disputed waters, a Philippine official told Reuters.
Speaking to media persons following his arrival in the Chinese capital, Duterte said he expected to achieve "plenty of happiness" for his country during this trip. However, he made clear that the South China Sea dispute was "not one of the topics on the agenda".
"It might crop up but it is going to be a soft landing for everyone. No impositions," he reportedly said. Earlier on Sunday (16 October), he had said that he would raise the issue with China and will not surrender the country's sovereign rights.
Meanwhile, two Chinese sources with ties to the country's leadership told the news agency that China will consider allowing Philippine fishermen to the area, but they did not elaborate on what conditions. "Everybody can go, but there will be conditions," one of the Chinese sources, who speaks regularly with senior officials told Reuters. The person added that officials from both countries will have to finalise on further details of such a pact.
The second source said if that happens, it will be "a return to the Arroyo days", referring to the times when, under Philippine President Gloria Macapagal Arroyo, fishermen from both countries had access to waters near Scarborough Shoal. She headed the country between 2001 and 2010.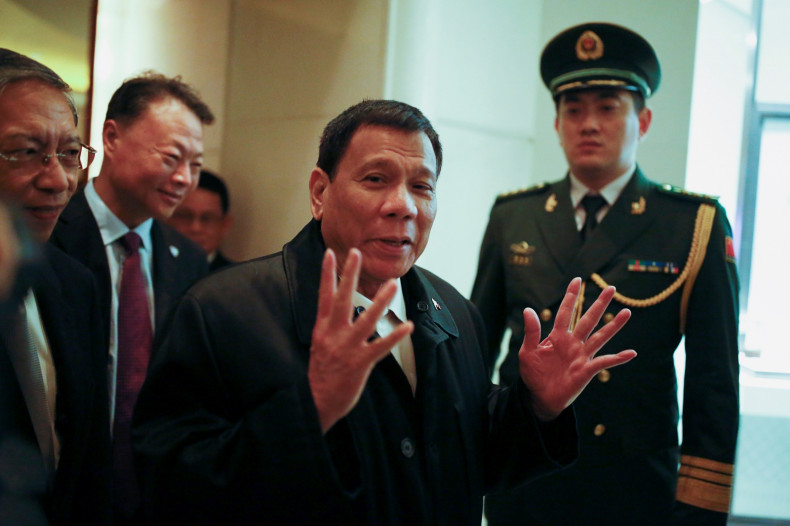 However, ties between the two nations soured over the years and Duterte's predecessor Benigno Aquino III even filed a case against China over the South China Sea dispute in the international court of arbitration in The Hague, which ruled in July that China's maritime claims over most of the sea was "illegal". The ruling irked China and further escalated tensions between the two neighbours.
The foreign ministry of Philippines denied comments on the speculations regarding the territorial disputes. Chinese foreign minister Wang Yi, when asked if any concessions will be considered for Filipino fishermen, he only said: "China's position on the South China Sea is clear and consistent. There is no change and there will be no change. This position accords with historical facts and international law."
However, he also said that Duterte's visit to China is "historic" and that it "presents an opportunity for relations between China and the Philippines to restart on a fresh, more positive footing", Xinhua reported.
"No foreign force can stand in the way of improvements to China-Philippines relations," Wang reportedly said on Tuesday, and added that China's arms are "open and ready for friendship and cooperation".