Despite his almost godly physique and evident talents in many fields, Dwayne Johnson has always been a pretty personable guy. Many who have met him – journalists and fellow actors alike – have said he makes friends easily, with practically anyone he meets and that he's an open book. But surely there's still things to learn about the Fast & Furious star?
In a recent in-depth interview with GQ, Johnson divulged many things, but if you haven't enough time to read the whole article, IBTimes UK lists its key takeaways...
People often think he's Greek
Despite being half-black Nova Scotian and half-Samoan, Johnson revealed that he most often gets mistaken for someone of Greek descent by other people.

He's a self-confessed feminist
Johnson describes himself as a "feminist" raised by "strong women." He also goes in the interview to say that he is dedicated to raising awareness about mental health as he, himself, has struggled with depression.
He's a fan of hydration
While conducting their interview, GQ journalist Caity Weaver worked out with Johnson. A daunting task at the best of times but even more bizarre when The Rock keeps offering you water at three minute intervals. Yes, Johnson is a keen advocate for staying hydrated.
He's well up for being president of the United States
He's good at almost everything. Working out. Being a stand-up guy. Acting across any genre he dabbles in, from comedy or animation to action. Heck, he'd probably be great in a horror movie too. However, something that fans of Johnson have always been convinced he'd be good at is being the president of the United States of America.
Now, he's revealed he sees "it as a real possibility" for him. "A year ago it started coming up more and more," he said. "There was a real sense of earnestness, which made me go home and think, 'Let me really rethink my answer and make sure I am giving an answer that is truthful and also respectful.' I didn't want to be flippant... 'We'll have three days off for a weekend! No taxes!'"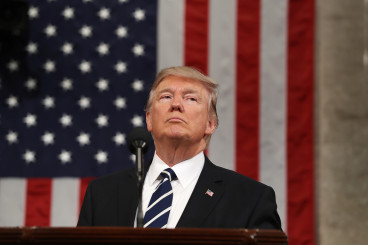 He is NOT a fan of Donald Trump's travel ban
"I completely disagree with it," he told the publication. "I believe in our national security to the core, but I don't believe in a 'ban' that bans immigrants. I believe in inclusion. Our country was built on that, and it continues to be made strong by that. And the decision felt like a snap judgement.
"I feel like the majority of, if not all, Americans feel that protection is of huge importance. But the ideology and the execution [of national-security initiatives] is where we really have to be careful of not making those snap decisions, because there's a tail effect... Within 24 hours, we saw a 'tail effect.' It grew to heartache, it grew to a great deal of pain, it grew to a great deal of confusion, and it had a lot of people scrambling."
And finally, he's one of the most thoughtful names in Hollywood
"Weeks after I first met Johnson, I wake up to a direct message on Twitter," Weaver details. "@TheRock is on the road and just wanted to alert me to the fact that his hotel carries GQ. The message is decorated with fist-bump and hang-loose emojis."
She goes on to say how Johnson signed off the message: "Hope you're great and sleeping soundly!!"
His future career in politics aside, Johnson will next be seen in Baywatch alongside Priyanka Chopra, Alexandra Daddario and Zac Efron. It centres on Johnson's by-the-books lifeguard Mitch, who reluctantly, has to team up with Efron's cocky new recruit. Their mission? To put a stop to the criminal plot of a ruthless oil tycoon and save the bay.