Priyanka Chopra won her second consecutive People's Choice Awards this year. The Indian actress, who made it big in Hollywood with her hit ABC thriller Quantico, mentioned about her recent on-set injury in her acceptance speech and jokingly added that she wants "to do a little wiggle."
Dwayne "The Rock" Johnson, the actress's co-star in the Baywatch movie, was elated at her win. As her name was announced and Chopra started walking towards the stage, the camera zoomed in on The Rock, who appeared happy and thrilled at her second fan choice awards.
Chopra, who picked up the award for Favourite TV Drama actress for Quantico, said: "I am really happy being a drama queen and this is how it is done... thank you to the people. As everyone has been saying, it has been an incredible journey."
"Every single woman who was nominated with me today, all these incredible actresses were the reason that I joined television. They were the reason that I am here today, receiving this award in the same category as them, is so overwhelming. Thank you to all who have accepted me and liked my show... can I do a little wiggle? Sorry, that is the concussion talking. Thank you and this means the world to me," she said.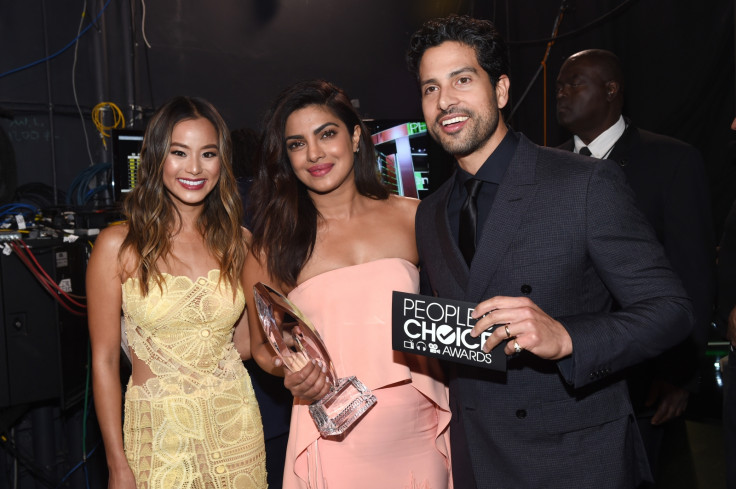 Johnson, who brought his daughter Simone for the special event, won the 2017 People's Choice Award for favorite premium series actor. The former WWE wrestler used his award acceptance speech to introduce his teen daughter to the world.
"I want to thank my family. By the way my 15-year-old daughter Simone, I love you so much," the actor gave a huge shout out to his daughter before admitting that she is his mini me. "Yeah, she looks like daddy. Woo!"
Johnson and Chopra will appear in the film Baywatch scheduled to release on 26 May 2017 in the US..