Ellen DeGeneres thanks fans after a record breaking 20 wins at People's Choice Awards
'Thank you from the bottom of my heart,' says DeGeneres.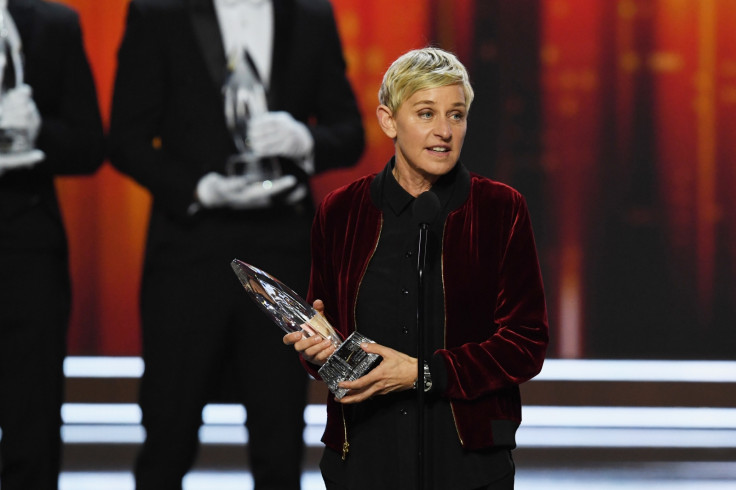 Actor and talk show host Ellen DeGeneres broke the record for most wins at the People's Choice Awards (PCAs). The 58-year-old has now a whopping 20 PCAs in her bag as she won three trophies at this year's event on Wednesday, 18 January.
Singer Justin Timberlake presented the honors to DeGerenes, who won for Favorite Daytime TV Host, Favorite Animated Movie Voice (for playing Dori in Finding Dori) and Favorite Comedic Collaboration.
The audience at event was treated to a montage of DeGeneres' previous wins, dating back to her 1995 victory for Favorite Female Performer in a New TV Series for Ellen followed by a parade of tuxedoed men displaying all 20 of her trophies on stage.
Timberlake introduced DeGeneres as "one of the best people on this planet." In her acceptance speech, the Finding Dory star said, "This is amazing. I mean, 20 [awards]. 17? I get it. 18. Sure? 19? I can see that. But 20 is outrageous. This is something that means more to me than [anything] because it comes from the people."
"The only thing that would make me happier ... is if it was voted on by animals, because I love animals and I think they know how much I love them. But animals aren't organized enough to have an awards ceremony. At least, I have not seen one. And they have paws, so it would hit a lot of numbers and it wouldn't be able to [indicate] the person they were hoping to vote for," she added.
Ellen also took to Twitter to thank her loyal fans and wrote, "The reason I get to do what I do is because you watch it, like it, vote for it, and retweet it. Thank you from the bottom of my heart. #PCAs"
© Copyright IBTimes 2023. All rights reserved.