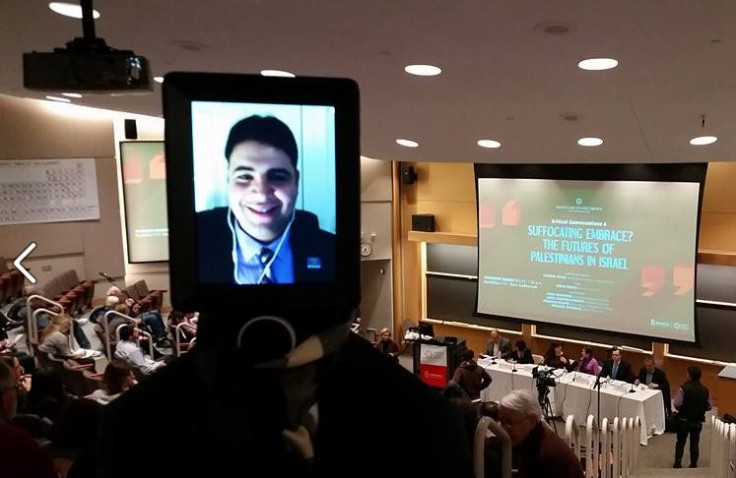 A robot, operating on the behalf of the pro-Israel advocacy group StandWithUs, has been accused of harassing students at the Ivy League Brown University in the US after it attended a discussion of the Israeli-Palestinian conflict. The incident has been branded "dystopian" by a student group.
The debating cyborg, operated by one of the right-wing group's directors, Shahar Azani, was accused of "policing academic discourse" at the Rhode Island university, the Israeli newspaper, Haaretz reported.
Using the contraption− an iPad on wheels − Azani was able to move himself around the room and discuss with students, which included individuals from the the boycott, divestment and sanctions movement.
"The latest development in the attack on open discourse by right-wing, pro-Israel groups appears to be the use of robots to police academic discourse," student group Open Hillel said in a statement. It added the event was given a "dystopian twist" by the appearance of the robot.
It said the robot: "Approached students and harassed them about why they were attending the event. Students declined to engage with this bizarre form of intimidation and ignored the robot."
The roving iPad was built by Israeli robotics engineer Roey Tzezana, co-founder of the firm Tele-Buddy.
Open Hillel said that it was possible there might be a better way to encourage discourse than through the use of this kind of technology. "If robots become a regular presence at Israel/Palestine-related events, we hope they will become more adept at navigating campus norms and behaving respectfully toward human participants."
However, Azani has dismissed the claims, saying the purpose of the exercise "was completely innocuous". He added: "We were not policing the thoughts of anyone, it was just enriching the conversation."
Academics present at the Open Hillel event also cast doubt on to the importance of the robot's presence at the debate. "There was no disruption or incivility," panelist Gershon Shafir, from the University of California, San Diego said.