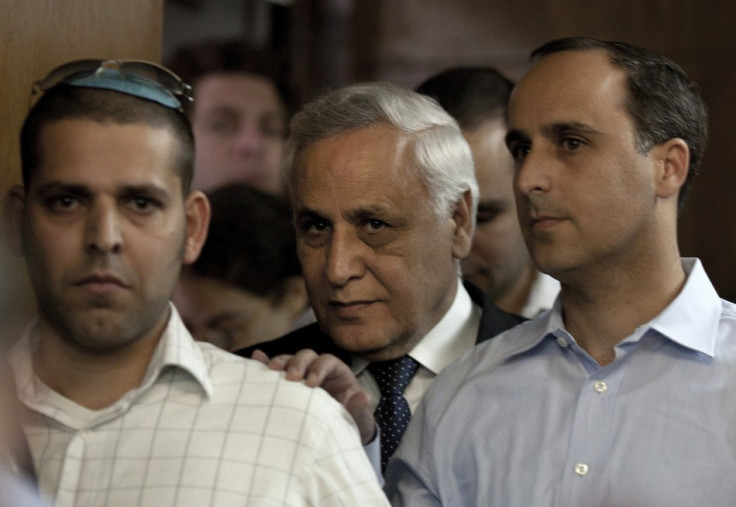 Moshe Katsav, the disgraced former president of Israel who was convicted of rape, could be released from jail by the end of the month. A parole board is due to meet on 27 March to decide whether to reduce Katsav's sentence and allow him to leave prison.
According to Haaretz, Israel's Justice Minister Ayelet Shaked told Channel 10 TV that "there's no reason that the parole committee should not release former president Katsav. He meets all the criteria".
However, Israeli parole boards usually require convicts to express remorse for the actions before allowing them to be released on parole. Katsav has never done so, maintaining he is innocent of the charges. Before the trial that would ultimately see him jailed, Katsav rejected a plea deal offered by prosecutors which would have seen him serve a short jail term in exchange for a guilty plea.
Anger at potential pardon
If Katsav's parole bid fails, he may still be released from prison – with his name cleared – as the former head of state applied for a presidential pardon while Shimon Peres was in office. Haaretz reported that sources "from the office of the president" said the decision to pardon Katsav will only be made after the parole board announces its decision.
The possibility of Katsav being pardoned has been met with heavy criticism from Israeli lawmakers.
A statement from the social-democratic party Meretz said: "A professional committee headed by a judge has been given the responsibility in order to prevent politicians from bypassing court decisions. It's unacceptable that politicians from Katsav's side of the political spectrum should make decisions in his case and place themselves above the professionals."
Tzipi Livni – one of the most powerful women in Israeli political landscape – said: "I already withstood the Katsav test when, as justice minister, I refused a request for pardon. I told the president at the time, after receiving the report of the parole board, that I was opposed to giving him a pardon, just as I acted in the cases of other, lesser known, sex offenders.
Merav Michaeli of the Zionist Union party said " Katzav's victims have already reached out to me fearing that a convicted rapist will be set free because he has friends in government. We cannot allow this to happen."