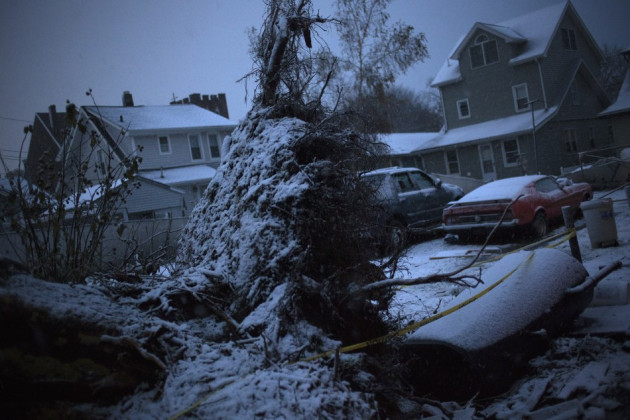 Major airlines in and out of New York have started to cancel flights as nor'easter Athena hits the east coast, which is still recovering from superstorm Sandy.
And the severe weather looks set to spread across the country, as a winter storm called Brutus will bring blizzards to the west coast.
In New Jersey, Governor Chris Christie joked that the extreme weather the US is experiencing is an act of God. "I am waiting for the locusts and pestilence next," he said.
The travel chaos caused by Sandy over the last few weeks now looks set to continue. United, the largest airline in the world, has suspended most of its service because of the storm. American Airlines is also stopping flights to and from Philadelphia.
In the UK, Heathrow airport warned passengers planning to travel to the US to check their flight status before leaving for the airport.
It said: "Bad weather is forecast for the USA's east coast over the next 48 hours which is already causing some disruptions to flights to New York and may affect other east coast airports. Therefore, please check your flight status with your airline before travelling to the airport."
Snow has fallen across the east coast, with a foot falling in Manchester Township and 13 inches in New Jersey.
New York and New Jersey had rain and winds of 60 mph last night, which has the potential to topple trees loosened by Sandy, authorities warned.
Mike Clendenin, a spokesman for Consolidated Edison, the main utility supplier in New York, said: "We are expecting there will be outages created by the new storm, and it's possible people who have just been restored from Sandy will lose power again."
Mayor of New York Michael Bloomberg said evacuations would be voluntary and closed the city's parks and museums as a precautionary measure.
Katie Wilford, from Barnegat Bay, left her home with her sons to try to find shelter at a motel. She said: "I can't believe we're doing this again. We're going on day 10 with no power. That's a long time. I just want the sun to come out and things to be normal again."
Tom Nizol, weather expert at The Weather Channel, said: "We aren't out of the woods yet in terms of the winds of this system."
While the east coast experiences snow, high winds and more power cuts, the west of the country is set for its own storm, Brutus.
Winter Storm Brutus has the potential for severe weather, with wind-driven snow predicted over Montana and central Idaho today.
Blizzard warnings have been put in place in northern Montana from this morning through until Saturday, and travel conditions are expected to be dangerous throughout this period.
The Weather Channel said there will also be snow over the Oregon Cascades and the northern Sierra Nevada in California.
It said: "By Friday, this snow expands south into the central and perhaps even southern Sierra. The mountains of Utah, and potentially western Colorado as well, should get in on the snow by the end of Friday.
"Friday night into Saturday, the snow and wind will expand east into eastern Montana and North Dakota. Gusty winds will whip this snow sideways across the open prairie, leading to potential near-blizzard conditions along Interstate 94.
"Some locations in Montana and North Dakota will likely see well over a foot of snow from this storm system."