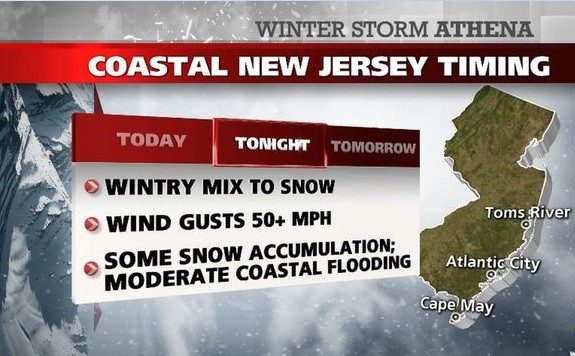 People living in New York and New Jersey have been evacuated again as the new Nor'easter storm named Athena hits the east coast of the US.
Just days after the devastation of superstorm sandy, the nor'easter has brought with it high winds, snow, heavy rain and sleet, which will now batter the already damaged areas.
The National Weather Service has forecast snow across the north east of the US for the next three days. "This is an average of 22 different forecasts showing the potential for significant accumulating snow from the Philadelphia area today, north and east across parts of New England through tonight," it said.
The Weather Channel has predicted that Athena could produce a foot of snow. It warned that while this may not be a problem, the high winds may cause additional power outages. At present, around 676,000 in the north east are without power.
Tom Niziol, winter weather expert for The Weather Channel, said: "It's not a massive nor'easter by winter standards, but at this time of year immediately after Sandy's wrath and destruction, this isn't what we want.
"Mother Nature is not cutting us a break along the East Coast. We've got a lot of cold air in place down in the lower part of the atmosphere, and it is looking more like snowfall event for good portions of New Jersey, up through eastern Pennsylvania, right up through southeastern New York into New England."
New York Mayor, Michael Bloomberg, said evacuations would be voluntary. He also closed the city's parks and museums as a precautionary measure today.
He said: "Even though it's not anywhere near as strong as Sandy - nor strong enough, in normal times, for us to evacuate anybody - out of precaution and because of the changing physical circumstances, we are going to go to some small areas and ask those people to go to higher ground."
A spokesperson for the World Trade Centre park said the memorial will be shut as well.
Athena's arrival comes at a critical time for people living on the east coast of the US. Bloomberg recently warned that almost 40,000 are in need of shelter in New York, and authorities are trying to find accommodation before temperatures plummet.
"We don't have a lot of empty housing in this city. It's a problem to find housing. We're not going to let anybody go sleeping in the street. But it's a challenge and we're working on this as fast as we can," he said.
Nor'easter storms are common in this area of the US in the later part of the year. They form from a low-pressure system and it gets its name from the strong northeasterly winds that blown in before the storm hits. They specifically affect the mid-Atlantic and New England states.
Last week, forecasters had hoped that the storm would change pattern and miss the already damaged areas.