Referendums to determine whether parts of eastern Ukraine break away from the authority of Kiev have been chaotic, according to outside observers, some of whom claim to have witnessed irregularities that appear to throw the results into doubt.
Already described as "illegal" by the interim government in Kiev, and with even President Putin requesting the polls be cancelled, pro-Russian activists decided to press on with the vote anyway to determine whether to form sovereign people's republics. If they succeed, a further vote is expected to ask whether the breakaway republics should forge closer links with Russia.
Reporters are describing chaotic scenes, with voters being allowed to vote despite not being registered. Instead of booths people voted at desks, details were scribbled on to forms, and in Mariupol, scene of deadly clashes, CNN film crews saw several people appear to vote twice.
When asked what would be done about people voting more than once, Mariupol's polling booth chairman Sergei Babin said "the lists from different polling stations would be checked against each other" – a process he said could be completed in just one day. According to the election committee the reason for the outdated lists is that Kiev barred the most recent electoral rolls.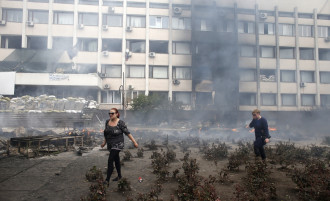 There were tensions at some polling stations – perhaps unsurprisingly given the recent bloodshed. Men in paramilitary garb were prominent at some locations, rubber bullets were fired in the air in Donetsk, and a pro-Ukrainian head teacher said she had been threatened for not allowing separatists to use her school. Fighting broke out around the TV tower in Slaviansk and the election committee also complained that police in Krasnoarmeysk had attempted to stop people voting.
Ukraine's acting President Oleksandr Turchynov again condemned the referendum, which he said would only harm the interests of people in the east. "It is a step nowhere for these regions," said Turchynov. "It is euphoria that may lead to very complex consequences, and many people can already feel them."
Despite President Putin's request for the poll to be cancelled, polling booths for Ukrainian ex-pats were opened in Moscow, and Russian TV broadcasts in Slaviansk and Donetsk gave details of where to vote in banners onscreen. Russia Today is repeating claims made in the German Bild am Sonntag newspaper that US mercenaries from Academi (formerly Blackwater) are helping Ukrainian forces around Slaviansk.
Meanwhile German Chancellor Angela Merkel said the referendum would be viewed as illegitimate and both she and French President Hollande called for 40,000 Russian troops to be pulled back from the border with what remains – at least for the time being – a region of Ukraine.