Online auction site eBay has partnered with Sotheby's to live stream auctions from the 270-year-old auction house from the beginning of next month. The new platform will see the traditional auction house team up with the technology giant to bring its high-end collections to eBay's 145 million customers.
"What this partnership is about is leveraging eBay's audience and ability to target that audience and find clients that have the means to participate in a Sotheby's auction," said Josh Pullan, senior vice president and director of e-commerce at Sotheby's.
Sotheby's already conducts sales online through its own site, however its digital strategy has previously been criticised. In a letter published in the Daily Telegraph in 2013, the firm's largest shareholder, Daniel Loeb, said: "Sotheby's is like an old master painting in desperate need of restoration."
The first auctions to be held on the platform will be a collection of 188 photographs, beginning on 1 April.
The only other Sotheby's auction currently scheduled on the eBay platform is The New York Sale, which includes 91 lots that "reflect the diversity, energy, and creativity inherent to the City that Never Sleeps".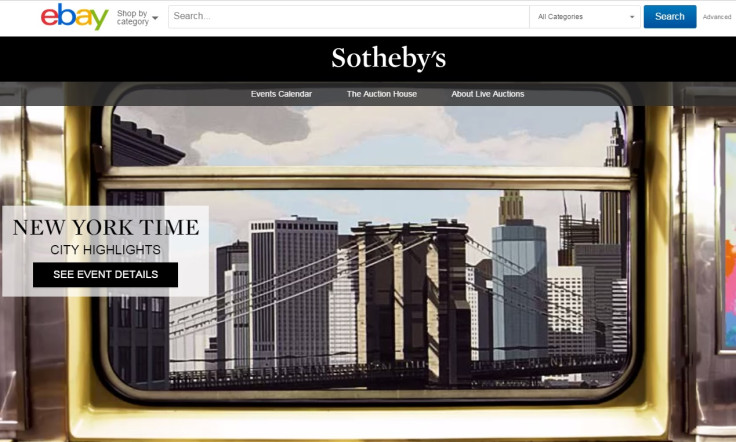 One lot, a set of 13 letters used on the sign of the 1970s Yankee Stadium owned by the former baseball player Reggie Jackson, is expected to reach up to $600,000 (£405,000, €566,000).
According to a recent report commissioned by the European Fine Art Foundation, online sales of art and antiques is estimated to have made up around 6% of global sales in 2014. The report also revealed that most sales were in the range of $1,000 to $5,000.
In an effort to entice new customers who might be put off by the price of items, Sotheby's said in an announcement: "You'll be pleasantly surprised how much museum-worthy artwork has the same price as a designer handbag."