Copies of the first issue of Charlie Hebdo since the deadly terror attacks in Paris are fetching bids in excess of £5,000 on the online auction site eBay.
The latest issue of Charlie Hebdo sold out within minutes at several newstands across France, despite the print run being extended from 60,000 to five million.
The cover price of the satirical magazine is €3 (£2.30) but listings online have already reached as high as £5,000 for a UK edition, though most range between £10 and £150.
The cover of the latest issue features a depiction of the Prophet Mohammed holding a sign with the iconic "Je Suis Charlie" slogan. Above the Prophet's head are the words 'tout est pardonné' (all is forgiven).
Queues outside kiosks in Paris and other major French cities began in the early hours of this morning, with several vendors selling out of the magazine shortly after opening.
Renald Luzier, one of the surviving cartoonists at Charlie Hebdo, released a statement ahead of the magazine's release explaining why he decided to use a depiction of the Prophet Mohammed on its cover.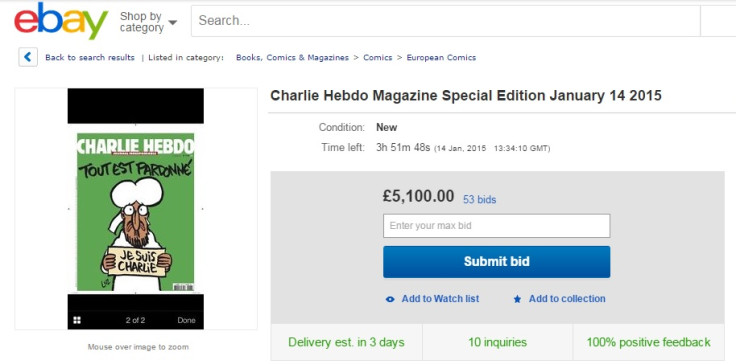 "I had the idea of drawing this character of Mohammed, as it's my character, because he existed, at least in people's hearts," Luzier said.
"He is a character that got our offices burned, and a character who at first got us treated as the great white knights of the freedom of the press because the offices had burned down.
"This is not the front page that the terrorists want us to draw, as there are no terrorists in it, just a man who cries: it's Mohammed. I am sorry that we drew him again, but the Mohammed we drew is a Mohammed who is crying above all."