Antiquities suspected of being plundered from archaeological sites in Iraq and Syria are appearing for sale on online auction sites such as eBay.
Items such as coins, ceramics and jewellery stolen by Islamic State (Isis) from museums are being passed to gangs and then to collectors in the Persian Gulf region. The items are then appearing on online trading websites.
Two coins from Apamea, western Syria, dating back to ancient Greece have appeared on eBay, priced at £57 and £90 ($84 to $133).
Destruction of Assyrian treasures and cities at Mosul, Nimrud and Dur-Sharrukin by Isis have caused outrage. Ban Ki Moon, the UN secretary-general, has condemned the destruction of ancient sites as a war crime.
The destruction of Syria's cultural heritage is "the worst we've ever seen", said France Desmarais of the International Council of Museums.
Antiquities, like oil, are seen as a lucrative commodity by Isis. The trade in ancient artifacts is believed to be worth millions of pounds to the extremists.
"Next to oil, looting is the best paying sector working for Isis as a civilian in Raqqa," says Michael Danti, of the Syrian Heritage Initiative, a US State Department funded organisation.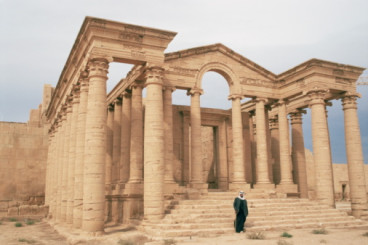 Danti says looters often target smaller objects like cylinder seals, jewelry, and coins: "The most valuable material fits in your pocket and it's easy to get to Turkey."
"We are seeing a more systematic approach to looting under Isis, linked to generating revenue," Axel Plathe, director of Unesco's Iraq office told the Times.
"Excavations at the sites have increased and we believe trafficking is on the rise, but without access to the sites we still don't know the true scale."
The amount of ancient artefacts coming out of the war zones is so numerous that it has even forced down prices in some sectors of the market.
"The market for coins has fallen. You can buy ancient coins minted in Syria for between $20 and $100 online," said professor Erin Thompson, a specialist in art crime at John Jay College of Criminal Justice in New York.
"It is extremely difficult to tell if individual items were looted recently, long ago or come from a legitimate source," said Thompson. "But when you see items from Papamoa being sold on eBay, it gives a good indication that something is up."
Data from US customs shows that antiquities imported to the US from Iraq and Syria doubled between 2011-2013.
A spokesman for eBay said it was in consultation with authorities, saying: "We remove items from sale based on their advice, support law enforcement investigations and are always prepared to investigate listings that cause concern."
Syria is known as one of the richest archaeological regions in the world, with relics dating back to the ancient Mesopotamian era (3100BC), including some of the earliest examples of Sumerian writing. Syria is is home to six Unesco World Heritage sites.
However, some experts believe that the Islamists are just the latest in a long line of looters, who have been around since ancient Egyptian times.
"Isis moved into a region and found a preexisting situation," says Amr Al-Azm, an archaeologist who is part of a network of activists secretly documenting the ransacking of Syria's ancient treasures. "They exploited it, accelerated it, intensified it, but they did not start it."