Ebola Crisis: Suspected Outbreak of the Deadly Disease in Ireland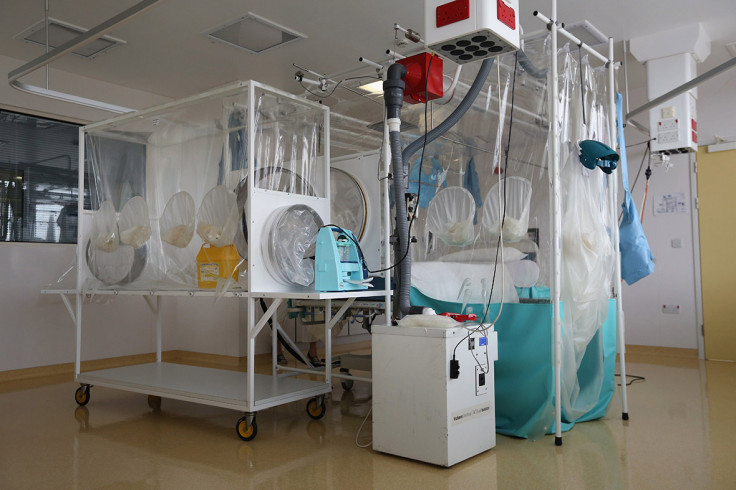 The Health and Safety Executive is investigating a possible ebola outbreak in Ireland, after a man is believed to have died from the deadly disease.
The suspected victim was named as 43-year-old father-of-one Dessie Quinn. He is thought to have been from the Mountcharles area, outside Donegal town, County Donegal.
It is believed the victim had recently returned from the ebola stricken region of Sierra Leone, where he was working for a telecommunications company.
Quinn, who was reportedly receiving treatment for malaria when he died, was visiting his parents in Co Donegal when he was taken ill.
A neighbour, who asked not to be named, said: "He was just home and as far as I know he was in Donegal since he came back from Sierra Leone. He could have been back two weeks or three weeks, I'm not sure. Everyone knew him. He was great company to be along with, he was a very nice fella."
His body has been taken to LetterKenny Hospital to an isolation unit. A spokesman said: "Until a diagnosis is confirmed, and as a precautionary measure, the individual's remains will stay in the mortuary pending the laboratory results which are expected late tomorrow."
Head of the HSE Health Protection Surveillance Centre Dr Darina O'Flanagan, said there was little risk to the public.
"We await the outcome of the laboratory tests before we will know whether or not this individual had contracted Ebola virus disease. The appropriate public health guidelines are being followed at every stage in this process as a precaution."
It's the latest ebola scare to strike Europe. Health authorities recently confirmed they were investigating a "possible" case of the virus in Scotland. A woman, who recently arrived from Sierra Leone, was being tested for the deadly disease at a Scottish immigration removal centre.
The southern Spanish city of Alicante was put on ebola alert after a young Nigerian man was admitted to a local hospital with symptoms of the virus.
A man who travelled from Lebanon to Britain also sparked an ebola scare in the UK, after nurses at Weston General Hospital in Somerset mistakenly believed that he displayed symptoms of the disease.
Hospitals in Europe have been preparing isolation wards to cope with a possible outbreak. Low-pressure environments have been created to treat possible patients and prevent bacteria and viruses from reproducing.
The Ebola virus is transmitted by direct contact with the body fluids of a person who is infected and is highly contagious. The disease has a long incubation period, enabling it to be spread rapidly by people who do not realise they are infected.
Currently there is no known cure for Ebola, but the Liberian Information Minister Lewis Brown said three African doctors receiving the experimental ZMapp drug are showing "remarkable signs of improvement".
The WHO has ruled that untested drugs can be used to treat patients in light of the scale of the current outbreak. The organisation recognised that it will take months to manufacture enough of the ZMapp drug for it to be administered widely.
Addressing a recent meeting of the UN, WHO Director-General Margaret Chan said that every city with an international airport is at risk of an imported case of ebola, warned that the disease may lead to a global catastrophe.
According to new United Nations figures, 1,229 people have now died since the beginning of this year in the largest ever recorded outbreak that has hit Sierra Leone, Liberia, Guinea and Nigeria.
© Copyright IBTimes 2023. All rights reserved.