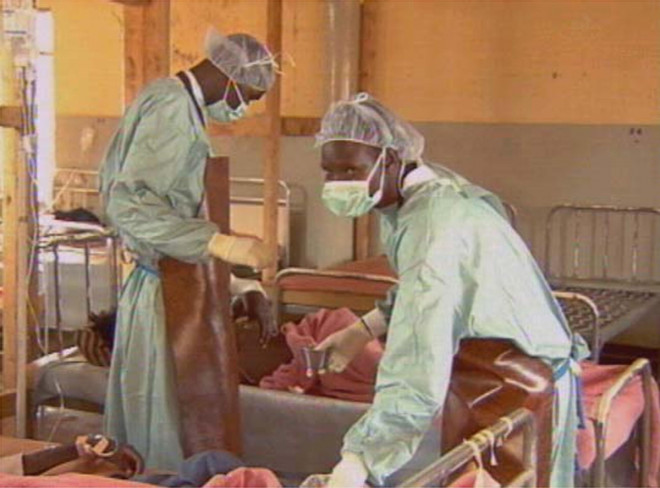 The Ebola virus outbreak in Guinea appears to have spread to Liberia and Canada, experts have warned.
A Canadian tourist returning from Liberia has been hospitalised with Ebola-like symptoms. He is being held in isolation and is in a critical condition at a hospital in Saskatoon, the largest city in Saskatchewan province.
A medical official said the man had symptoms of haemorrhagic fever resembling the Ebola virus, adding he posed no risk to the public.
His admission to hospital follows an Ebola outbreak in Guinea, where at least 59 people have died from the disease in southern Guinea.
Laboratory tests are yet to confirm the virus is Ebola in Liberia or Canada. "All we know at this point is that we have a person who is critically ill who travelled from a country where these diseases occur," Denise Werker, joint director of health in Saskatchewan, told reporters.
She said the patient had developed symptoms after landing in Canada and would not have been contagious during the journey back home. The World Health Organisation said it is awaiting his test results from Canadian officials.
If the Canadian tourist is confirmed as having Ebola, it will be the first case of the pathogen spreading to another country: "There is no risk to the general public," Werker added. "We recognise that there is going to be a fair amount of concern and that is why we wanted to go public with this as soon as possible."
In Liberia, health officials are investigating five deaths after a group of people crossed the border from Guinea looking for medical treatment. Investigators are currently collecting blood samples to test for Ebola.
Currently, health officials in neighbouring Sierra Leone are on high alert and have sent medical teams to the Guinean border, although there have been no cases reported yet.
Ibrahima Toure, the Guinea director of aid group, Plan International, said: "The Ebola fever is one of the most virulent diseases known to mankind with a fatality rate up to 90%. Communities in the affected region stretch across the borders and people move freely within this area. This poses a serious risk of the epidemic becoming widespread with devastating consequences."
The Ebola outbreak in Guinea is the first to be recorded in West Africa for 20 years. The disease causes severe hemorrhagic fever. It is spread from human to human and symptoms include the sudden onset of fever, intense weakness, muscle pain, headache and a sore throat.
"This is followed by vomiting, diarrhoea, rash, impaired kidney and liver function, and in some cases, both internal and external bleeding. Laboratory findings show low counts of white blood cells and platelets as well as elevated liver enzymes," WHO said.
Key issues of the Ebola outbreak from WHO

The Ministry of Health (MoH) in Guinea has notified WHO of a rapidly evolving outbreak of Ebola hemorrhagic fever in forested areas of south eastern Guinea.

As of 25 March 2014, a total of 86 cases including 59 deaths had been recorded. The outbreaks have been reported in Guekedou, Macenta, Nzerekore and Kissidougou districts.

Six of seven blood samples tested at Institut Pasteur in Lyon, France were positive for Ebola virus by PCR, confirming the first Ebola haemorrhagic fever outbreak in Guinea. The Ebola species is confirmed to be Zaire.

Seven additional cases were confirmed by Institute Pasteur laboratory deployed from Dakar. The deployment of Dakar's lab to the capital was facilitated by WHO.

In Guekedou, MSF Swiss has set up an isolation ward in a local hospital. The EU Mobile Lab deployed through WHO alert and response network is also based in this hospital

Two suspect cases in Conakry were tested negative by the Institut Pasteur Dakar team deployed to Guinea to support Conakry VHF Lab.

Initial reports suggest that the suspect case in Canada who travelled to Liberia was also tested negative. Confirmation will be made by Canadian health authorities.

Two samples from six suspect cases including five deaths from Liberia have been taken and are to be investigated

The Ministry of Health (MoH) together with WHO and other partners have initiated measures to control the outbreak and prevent further spread. The MoH has activated the national and district emergency management committees to co-ordinate response.

Multidisciplinary teams have been deployed to the field to actively search and manage cases; trace and follow up contacts; and to sensitise communities on the outbreak prevention and control.

Beside facilitating deployment of two labs, WHO is sending two logisticians, three epidemiologists and one medical anthropologist.

The situation is rapidly evolving and reported figures are likely to change.