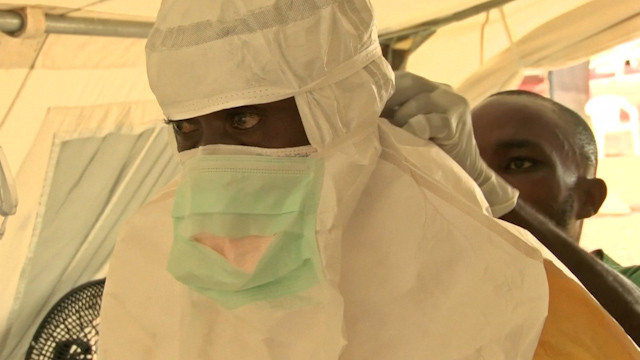 Raising the spectre of social unrest sparked by fear and frustration, a public protest in Liberia saw riot police brought in to control the crowds blocking the country's busiest highway on Saturday.
They were protesting government delay in collecting bodies of Ebola victims. Residents alleged that several bodies had been lying by the roadside for two days in the town of Weala, about 50 miles from Monrovia.
The situation in Liberia has been worsening with medical staff and health workers staying away from work due to fear. At least 40 health workers have contracted Ebola in recent weeks and three doctors and 32 health care workers died. Almost all of the city's hospitals are closed.
The latest Ebola outbreak is the largest and longest ever recorded for the disease and has killed at least 961 people, according to figures released by the UN health agency on Friday.
Tracing cases moving slowly
Liberia has launched 'Operation White Shield' under which soldiers, along with health workers have been deployed in different locations and at checkpoints outside the capital to check for symptoms and discourage movement of people.
Dr Fazlul Haque, deputy representative of Unicef in Liberia, said that the tracing of cases, crucial for the containment of the disease, was moving too slowly to keep up with new infections.
Liberia has closed markets and many border crossings. It has said testing and screening will be done at immigration checkpoints. But on Thursday, at a checkpoint staffed by at least 30 soldiers in Klay, Bomi County, there was no screening - just a blockade and a line of trucks loaded with goods.
Hilary Wesseh, a truck driver, said he had been stuck there for two days.
"They are holding us hostage," he said.