Ebola survivor William Pooley has been discharged from hospital after contracting the deadly virus in Sierra Leone, as doctors said he is no longer a risk to the wider community.
Speaking today at a press conference at the Royal Free Hospital in London, Dr Michael Jacobs, clinical lead in infectious diseases, said the 29-year-old had successfully undergone treatment using the experimental Zmapp drug, and posed no threat of passing the virus on to others.
Pooley was flown back to the UK on an RAF plane on 24 August after contracting Ebola while treating patients in west Africa.
He was taken to the Royal Free Hospital in London by doctors wearing Personal Protective Equipment (PPE) but has since made a full recovery from the fatal virus and been discharged.
Talking to journalists at the London hospital, Pooley described the moment his nightmare begun.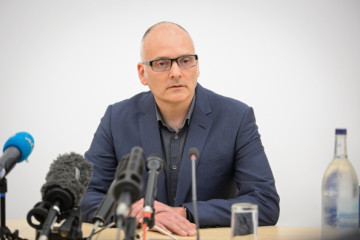 "I was feeling unwell and had the blood test in the early afternoon and went back to where I was staying and went to bed," he said.
"I was woken early that evening by a number of WHO (World Health Organisation) doctors in full PPE and immediately knew it was bad news.
"Obviously it is a bit disturbing to get that diagnosis but I was half expecting it."
The nurse, from Suffolk, described his relief at seeing a team of British doctors on board the flight back to the UK and his luck receiving what he said was the best care in the world.
"I was very lucky in several ways; firstly in the standard of care I received, which is a world apart from what people are receiving in west Africa at the moment.
"And my symptoms never progressed to the worst stage of the disease, I've seen people dying horrible deaths, I had some unpleasant symptoms, but nothing compared to the worst of the disease."
His ZMapp treatment included a 12-hour infusion of antibodies but it is not clear what impact the intervention had, despite him reporting feeling better the next day.
He said that at no point did he think he would die, but he did fear telling his parents he had Ebola.
Asked if he would be returning to Sierra Leone, Pooley, who is heading home this afternoon, said he had not yet made his mind up.
"They incinerated my passport, so my mum will be pleased to know I can't go anywhere," he joked.