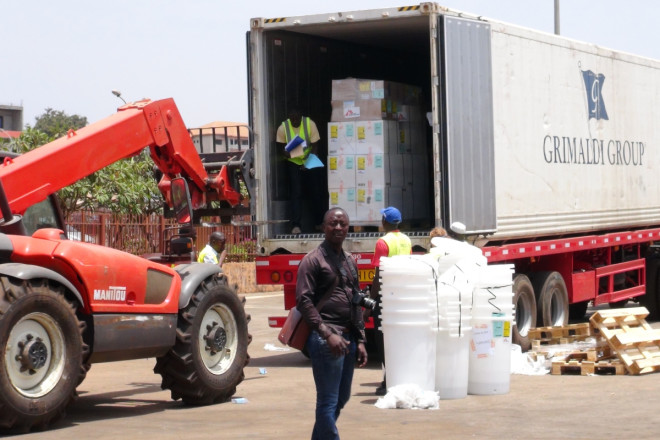 Health care providers in West Africa are struggling to arrest the Ebola virus from reaching epidemic proportions in Guinea where about 100 infections have already been registered, according to Guinea\'s Ministry of Health.
The first cases of the virus infection were recorded in Guinea this year, and about 59 people have died although the disease could be confirmed in only 13 of the cases.
Authorities are taking preventive steps to keep the virus from reaching the capital Conakry, which could be catastrophic as the city is home to about 3 million people.
Messages are being broadcast on state radio and television advising people to wash their hands and avoid contact with sick people, the All Africa reports.
Guinea is supplied with medicines required to cope with the dreaded disease, but stores in the country are running out of chlorine and bleach.
The price of chlorine has dramatically risen owing to a shortage in Guinea\'s south-eastern town of Macenta.
\"Can you imagine that people are hesitant to even greet each other? That is a shocking symbol in our culture,\" Mamady Drame, a resident of Macenta, told Reuters.
In Conakry, bank executives are using gloves, while customers are asked to wash their hands before doing business.
Virus crossing borders
Other West African countries are also gearing up for the challenge of averting an Ebola disaster.
Medical officials were worried of the infection crossing borders, as it could also be transmitted through animals which \"don\'t recognise borders.\"
About eight suspected cases of Ebola were registered in Liberia, of which five had come from Guinea. These five later died and test results are pending which could verify if they were indeed infected with the Ebola vector.
\"The patients we have seen thus far have similar symptoms to those of the people in Guinea. Those people had the sickness and crossed over into Liberia\'s Lofa county for treatment,\" Bernice Dahn, Liberia\'s Chief Medical Officer (CMO), told News 24.
No confirmed instances of the Ebola virus have yet been reported from Sierra Leone, but officials are investigating two suspected cases.
\"We still do not have any confirmed cases of Ebola in the country. What we do have are suspected cases which our health teams are investigating. They are taking blood samples from people who had come in contact with those suspected to have the virus,\" Brima Kargbo, Sierra Leone\'s CMO, told reporters.
The Sierra Leone health ministry is probing the death of a 14-year-old boy who contracted Ebola-infection like symptoms after attending the funeral of a suspected virus victim. It is again not yet clear if the boy had succumbed to the Ebola infection or died of other ailments.
The deadly virus was first discovered in the Democratic Republic of Congo (DRC) in 1976, and since then there have been eight known outbreaks of the disease infecting over 2,000 people, with overall fatality rates of about 70 percent. No vaccine has yet been developed for the lethal Ebola strains.
Experts are baffled that the Ebola vector, having originated from DRC in central Africa, skipped so many countries to reach Guinea in western Africa this year.
The virus is known to cause raging fever, muscle pains, vomiting, diarrhoea, internal and external bleeding among other symptoms, and is highly contagious.