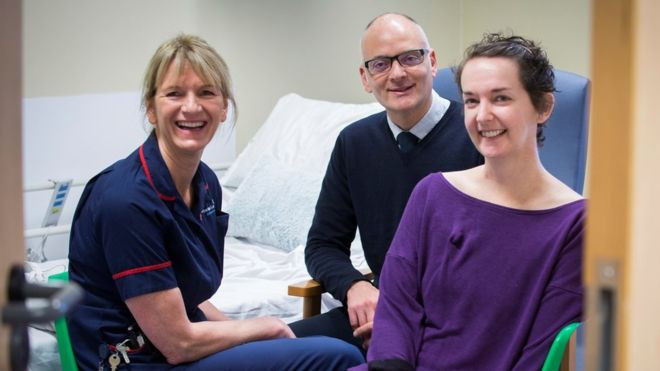 For the third time in little more than a year, Pauline Cafferkey is in hospital. The Scottish nurse is being flown to London Royal Free Hospital following a new complication from her previous infection by the Ebola virus.
She first contracted the disease in Sierra Leone, in 2014. After a first recovery at the beginning of 2015, she was again hospitalised in October 2015, and then sent home when she recovered, and tested negative for the virus.
Ever since, Cafferkey was regularly brought in for check-ups at Queen Elizabeth University Hospital in Glasgow. It is unclear if she is now being hospitalised for a third time because doctors have found actual traces of the Ebola virus in her body.
"It appears the virus is once again present in Pauline's nervous system, but it is possible that the authorities are just being cautious because of her medical history", Dr Kweku Ackom, senior health advisor for the International Medical Corps UK, told IBTimes UK.
Dormant virus
Facing complications after recovering from Ebola is not unique. Many survivors experience long term after-effects, as it was reported by a study in The Lancet Infectious diseases late in 2015. This is due to the ability of the virus to remain dormant in various parts of the body, including the central nervous system, the eyes, the amniotic liquid and the placenta for pregnant women, and the semen for men. Some cases of sexual transmission have been reported, but they remain rare.
Long term complications range from eye infections and cataracts to musculoskeletal pains and auditory disturbances.
During her second hospital stay in October, Cafferkey experienced some of the most severe complications reported by any survivors. She was diagnosed with meningitis, and traces of the Ebola virus were found in her brain.
Thanks to experimental drugs, she was able to make a second recovery, and once more, the virus seemed to have completely disappeared from her system. However, according to Dr Ackom, this does not mean the virus had gone. Just like after her first recovery, it might simply have become dormant. "Like HIV, the virus may not get detected by the tests if it is present in very low quantity. It can then remain dormant for an unknown duration ", he says.
An unusual case
Yet, if the Ebola virus is detected for a third time in Cafferkey's body, it would make her case unique. "Many survivors test positive a second time, but a third time would probably make Pauline a 'textbook case'. Once more, it shows us that Ebola is much more complex than we previously thought. It doesn't just go away", says Dr Ackom.
One thing is certain though: even if the Scottish nurse tests positive for Ebola for a third time, there is no evidence that she can transmit the virus to others. "It is disheartening for Pauline, but the good news is that there is little probability that she has passed on the virus to those around her", Dr Ackom concluded.