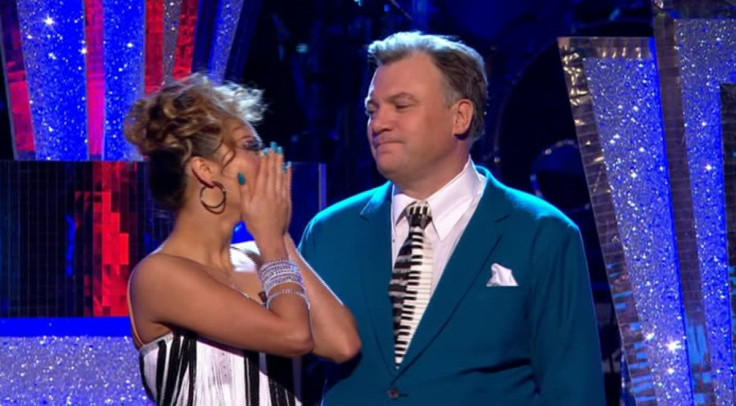 While Ed Balls had the judges torn over his rock-a-billy routine in Saturday's Strictly Come Dancing, it seems the viewing public just can't get enough of the former shadow chancellor.
Doing the jive to Jerry Lee Lewis's Great Balls of Fire, the 49-year-old modelled a fifties quiff as he rocked out on the dancefloor of the Blackpool tower.
Scoring 23, his lowest score yet, Craig Revel-Horwood likened his performance to a school-girl paying hopscotch. But it seems at least as far as the public is concerned, Balls can do no wrong.
Introducing the results show ahead of the first group dance, Balls has been exempted from the opening number again, but there's no doubting the special place he holds on the show and in the affections of the judges and the public.
Keeping up the retro fifties vibe, the dancers emerged in lurid pink costumes to face the music as they find out whether they will have to hang up their dancing shoes or live to dance another day.
Claudia Fragapane and her professional dance partner AJ Pritchard were the first couple to learn they would face the ignominy of the dreaded dance-off for the first time.
A musical interlude courtesy of eighties rockers Simple Minds, and the anticipation was all too much for the viewing audience, but Balls maintained his stoic demeanour as Louise Redknapp and Judge Rinder made it through.
Just when you thought Ed Balls had danced his last waltz, Tess Daly revealed that Greg Rutherford and pro partner Natalie Lowe are the second couple in the dance-off for the second week running.
Despite being bottom of the leader board, Balls sailed through to the next round with dance partner Katya Jones as Greg Rutherford made a tearful exit.
Reflecting on why he was still in the competition at week 9, despite consistently scoring low in the competition he said: "The only reason we' re here is because people voted for us. We are having a wonderful time and we're working hard and learning lots and it's another chance for people to see Katya's brilliant choreography and we don't want to go home yet so thank you very much."
The British public can't seem to get enough of the former Labour MP and they turned to Twitter in their droves to share their delight at the result, as it was revealed that he is the bookies favourite to win the show.
After all his years in politics, it seems in the annals of history, Ed Balls might in fact, become best known for donning a sparkly shirt and hot-footing his way into the hearts of the British people.