After he broke the internet last week with his show-stopping Gangnam Style salsa, former Shadow Chancellor Ed Balls has defied all expectations to hot-foot his way into week 8 and all the way to Blackpool in Strictly Come Dancing.
Set in the grandeur of the Tower Ballroom the contestants pulled out the stops for their performances, but all eyes were inevitably on Balls after he left the judges speechless with his seductive salsa moves.
His appearance in the grand opening group number however, left viewers disappointed, as the former labour MP emerged in top hat and tails, but proceeded to sit in a chair for the entire first sequence, while his competitors performed elaborately choreographed routines around him.
"Love that they just wheel ed balls in on a chair," tweeted one fan.
"Yes, see Ed Balls in a chair there? That's because they don't want him to ruin a group dance. He should never have gotten to Blackpool," observed another.
Of course, the bright lights of Blackpool were once a favourite stomping ground for Ed, who admitted to enjoying a few pints by the seaside during the annual Labour Blackpool conference. However, he revealed he has been under strict instructions not to indulge in any such alcoholic beverages that might impair his performance.
Speaking to the Mirror, Balls insisted: "'My days of two hours' sleep in Blackpool are long gone. Katya would absolutely not approve, she thinks we should be calling it an early night at 11 o'clock and she thinks Ovaltine is a better nightcap than anything else.
"So I'm unfortunately going to be in a strict regime in Blackpool. I'm on a Katya curfew this time, it's probably the only way I'm going to survive this jive," he explained.
The next glimpse of the unlikely dance star revealed something of a fifties vibe as he donned a stylish blue suit and a keyboard print tie, styling his hair in a rock n' roll quiff.
"You got balls, you," surprise guest Peter Kay quipped, pointing at the politician's get-up.
Anticipating his performance Balls admitted: "The jive is much faster than I expected." Dancing to Jerry Lee Lewis's Great Balls Of Fire there was no holding the 49-year-old back, who made an epic entrance, suspended 40 feet in the air as he played piano.
Lowered to the ballroom floor he swept dance partner Katya Jones off her feet as he launched into an impressive hip shaking, toe-tapping routine.
The performance featured lots of flicks and kicks and ending with a flourish and in the arms of a bevy of dancers, Ed had everyone won over. "Another epic performance Ed Balls you are on fire," said host Tess Daly.
Unfortunately the judges were not quite so enthusiastic about his latest performance.
"You're getting better," said Len Goodman. "Last week you were 8<sup>th the worst you're gonna be is seventh." Acknowledging his chutzpah he added: "You came down there and you made Black Pool rock."
Bruno Tonioli also thought the performance, though not perfect, was praiseworthy. " I need to retreat to the Himalayas to recover from Ed Balls syndrome," he joked adding: "I have to admit to my surprise that most of it looked like a jive."
"I was worried when the energy was going to come," said Darcy Bussell, "but it did by the end and you have five women to lift you, great end."
Craig-Revel-Horward was not so complimentary. "It looked like you were playing hopscotch in an all-girls school," he said. "You need to be a lot lighter."
However, even he admitted he was struck by Ed Balls fever. " What I love about you my darling is that you are committed and assiduous," added the otherwise acerbic judge.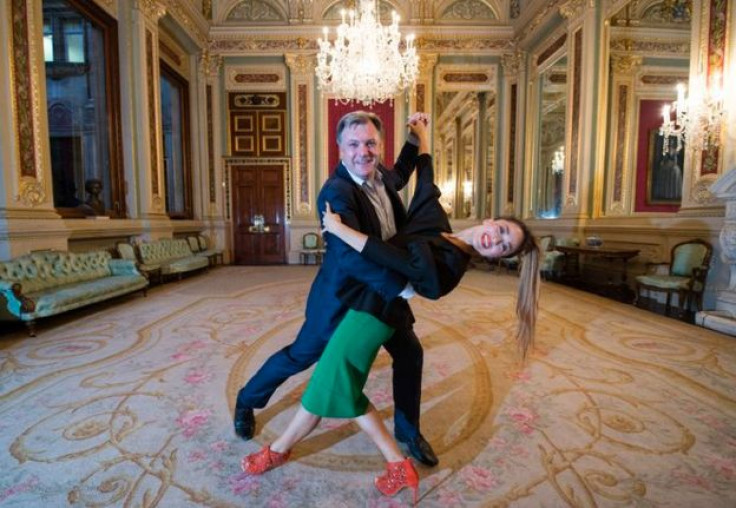 Scoring 4, 6, 7, 6 for a total of 23, his lowest score yet, putting him at the bottom of the leaderboard , Ed was happy to have made it to Blackpool "his Wembley, his cup final" and was as enthusiastic as ever . "We'd just love to come back and keep dancing," he said. "We'd just love to come back."
And it seems as Ed Balls fever grips the nation - and Twitter - everyone else wants him to come back to dance again too. Professional dancer Anton Du Beke has said that he is backing Ed Balls to win Strictly Come Dancing simply because he is 'brilliant, brilliant, brilliant'.
"Ed Balls – every time. He's my favourite," Anton told Metro. "For me, he's the epitome of Strictly Come Dancing. He actually dances very well, it's just the standard is incredible high," added Anton.
Ed also gets former Strictly judge Arlene Phillips' vote. " Ed Balls shows off the fun, crazy side of the show, with the most ridiculous routines and outlandish sets and he's the best!" she told The Mirror. "He's unbelievably rhythmical. He might not be technical but he can really dance."
Even Balls' rivals are feeling the heat. Competitor Judge Robert Rinder admitted: "Oh, I think he could win. Yeah sure. It has been that kind of year, you know. I think he could win for sure."
Could former Labour MP Ed Balls actually walk away with the Strictly glitterball?
In a world gone crazy, in 2016, anything is possible.