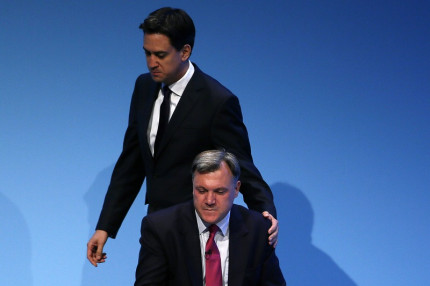 Ed Miliband has sought to head off claims that a Labour government would return to its old "tax and spend" ways with a pledge to match the Tories' policy of eliminating the deficit in the next parliament.
The Labour leader also unveiled his latest election manifesto commitment, designed to position the party on the side of consumers by giving Which? and the Citizens' Advice Bureau (CAB) a powerful role in setting competition policy.
Miliband's latest announcements came after a week in which he attempted to regain the initiative after a quiet start to the year, with the government gaining ground as the economic recovery took hold.
In a series of interventions, he cast himself as the champion of the ignored middle classes, promised to break up the big banks and insisted the "cost of living crisis" was the biggest issue facing the country.
But Miliband knows he is always open to the charge that a Labour government, particularly one promoting the agenda he has started to set out, would have no option but to increase taxes and spending.
So he has taken a leaf out of predecessor Tony Blair's book, by matching David Cameron's commitment to eliminating the deficit in the next parliament.
Blair and his Chancellor, Gordon Brown, successfully neutralised attacks on their tax and spend polices before the 1997 election by announcing they would match the then Tory government's spending plans for the first two years of a Labour government.
Asked whether he would eliminate the deficit in the next parliament, Miliband gave his strongest commitment yet, telling the BBC's The Andrew Marr Show: "We do want to see that happen, yes".
However, he added: "I think we can make fairer choices when it comes to the deficit. We want a fairer tax system and we will set out our plans in due course."
He insisted all the party's plans would be "fully costed and fully credible" and put before the independent Office for Budget Responsibility for scrutiny. But he insisted Labour's emphasis would be on the side of ordinary working people and the consumers.
To that end he announced that consumer groups Which? and CAB would be given a role on the Competition and Markets Authority to set overall government competition policy.
Such a move was necessary because of the failure of regulators of big industries, specifically energy, which had been "captured" by the industries, he said.
He also defended his shadow Chancellor Ed Balls against reported anonymous attacks from Labour MPs who want him sacked. "Ed Balls is doing a really good job and, absolutely, I've said he's going to be a Shadow Chancellor going into the next election," he said.
Miliband later summed up his approach tweeting:
He has a well-founded fear that, as the election draws near, the Tories will scrutinise his policies for signs of higher spending or increased taxes or both and his refusal, so far, to outline his wider tax policy will remain an issue.
It would be politically dangerous to spell out all those plans at the moment, partly because the economic situation is still changing and partly because no Opposition leader wants to offer hostages to fortune this far from a poll.
However, the time is not so far away when he will no longer be able to fall back on those explanations and he and Balls will have to be more explicit about policies, such as bringing back (or not) a 50p upper tax rate.
His latest comments are designed to head off some of the expected attacks from the Tories and Liberal Democrats and help address the central issue of Labour's economic credibility.