Ed Miliband has dramatically ruled out a coalition government with the SNP and branded the Tories scaremongers after David Cameron's party claimed Labour were in the pocket of the nationalists.
"Now the Tories are doing something else, the party that haven't won a majority for over 20 years and are running a misleading campaign based on the idea of a Labour/SNP coalition," the Labour leader said.
"As I said on Thursday night this idea is nonsense. It will not happen. There are big differences between us on a whole range of issues, not just on the integrity of the UK and on another referendum but on fair funding between the countries of the UK and fair taxes.
"In continuing to repeat this claim, the Conservative Party and David Cameron are simply trying to scare people. Labour will not go into coalition government with the SNP. There will be no SNP ministers in any government I lead."
The confirmation comes after Nicola Sturgeon claimed it would be an "odd move" by Miliband to rule out a pact with her party following May's vote.
"If Labour were to rule out working with the SNP, which is a progressive party, they would kind of be saying they would be happy standing back and watch David Cameron waltz back in to Number 10," the first minister of Scotland told ITV's Lorraine show.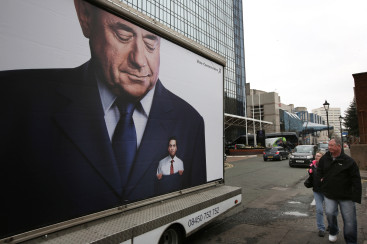 "I think a lot of people in Scotland would find that very difficult to take, so I watch with interest. I think it would be an odd move for Labour to make to rule out any kind of working with the SNP because it would be signalling that they would rather see the Tories back in government."
The Tories recently launched a poster that showed a miniature Miliband inside the pocket of Alex Salmond, the former SNP leader.
The M&C Saatchi campaign was designed to convince the English electorate that voting for Labour would allow the SNP into government and put the historic union between England and Scotland at risk.
A Conservative Party spokesperson said: "This changes nothing. Ed Miliband will not rule out a deal with the SNP because he knows it's impossible to become prime minister without being carried into Downing Street in Alex Salmond's pocket."
The political advertisement came after polls showed the SNP would sweep to victory north of the border and could hold the balance of power after the general election.
An Ipsos Mori poll for STV News, which questioned more than 1,000 Scottish voters, found SNP had a 28-point lead over Labour (24% vs 52%). The figures mean Sturgeon's party is projected to win 55 seats against Labour's four.
"There have been over 1,200 votes in this Parliament. Vote by vote, bill by bill, issue by issue, Miliband would have to do a deal with the SNP on each and every one of them," a Conservative Party spokesperson claimed.
"Who knows what Miliband will sell out to Salmond on: more borrowing, more debt, higher taxes or weaker defences. But one thing's for certain: it's hard-working taxpayers who will pay the price for this chaos."