Nick Clegg believes the Liberal Democrats will defy ominous polls and perform better than people expect at the general election
The coalition partners have been polling as low as 7% this week and, like Labour, grave predictions have been made about the fate of many of its Scottish seats after the rise of the SNP.
But Clegg struck a defiant tone in front of party members, predicting the Lib Dems would be well backed on 7 May.
"I have a message for all those who are writing us off once again: the Liberal Democrats are here to stay.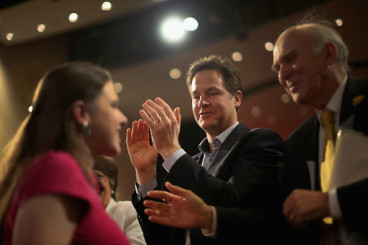 "I've heard the predictions. I've seen the polls. But let me tell you this: we will do so much better than anyone thinks.
"In those seats where we are out in force, making our case loudly and proudly, we are the ones making the weather. I've seen it for myself in Liberal Democrat seats across the country.
"We are showing that with hard work, strong local campaign teams and a record of delivering for people in national and local government, we can and will win."
Rallying support ahead of what is predicted to be one of the closely fought elections in a generation, the Lib Dem leader said the UK's return to growth after economic peril was down to policies the party had a hand in.
"The recovery would not be happening without the Liberal Democrats," Clegg added.
"More than 1,400 gay people are now married – hopefully happily. More than two million apprentices are learning the skills they need for their careers.
"1.6 million boys and girls are getting a hot, healthy lunch every day at school.
"More than 26 million people on low-and-middle incomes have had their income tax cut every year, worth more than £800 from next month.
"And more than three million of the lowest paid workers are no longer paying any income tax at all."
Appealing to undecided voters, Clegg said the Conservatives were "unfair" and Labour would "ruin the economy".
And of other possible coalition partners, Clegg warned "If you think a vote for UKIP, or the Greens, or the SNP is harmless – it isn't."
To read the speech in full visit - http://www.libdems.org.uk/nick-clegg-speech-to-spring-conference-2015