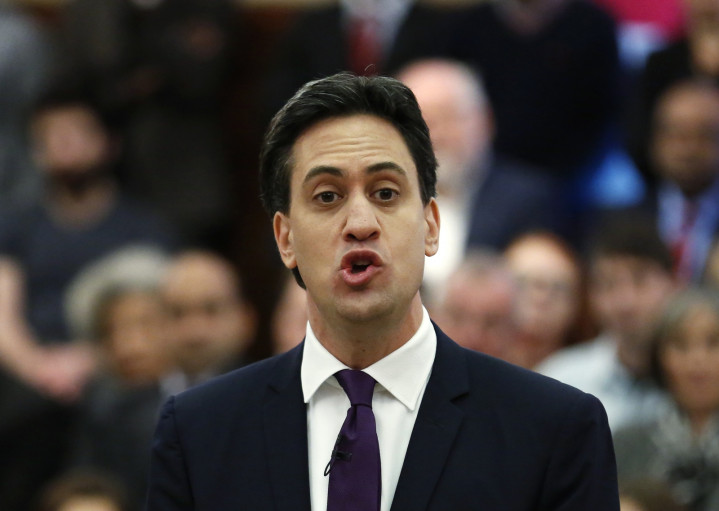 The UK government's "failure" to increase wages has cost the Treasury £116.5bn since 2010 and has created a "joyless and payless" economic recovery for millions of workers, according to Ed Miliband.
Miliband, who used figures from the independent House of Commons Library, revealed that lower- than-expected tax receipts and swelling social security payments over the course of the parliament were behind the estimate.
The Labour leader, who is expected to speak at an event in Nottingham, will reinvigorate his "cost of living crisis" attack on George Osborne and David Cameron ahead of 2015 General Election.
"For them this is a joy-less and pay-less recovery," Miliband is expected to say.
"The government's failure to build a recovery that works for every-day people and tackle the cost-of-living crisis isn't just bad for every person affected, it also hampers our ability to pay down the deficit.
"Britain's public finances have been weakened by a Tory-led Government overseeing stagnant wages which keep tax revenues low.
"The result has been Cameron and Osborne missing every single target they set themselves on clearing the deficit and balancing the books by the end of this parliament."
The comments also come ahead of the Autumn Statement on 3 December and after the Chancellor announced that the government will inject an additional £2bn ($3bn, €2.5bn) into the NHS.
"We have got to make tough decisions in our public expenditure, in our welfare budget, and that is how we can afford these things. Our plans involve spending reductions, they don't involve tax increases," Osborne said.
"I think we should be making savings in welfare to spend money on economic infrastructure like roads and to sharpen work incentives, giving support to our working tax payers by increasing tax-free allowances," he said.