Ed Miliband Wallace parody angers Labour supporting animator Nick Park over reputation concerns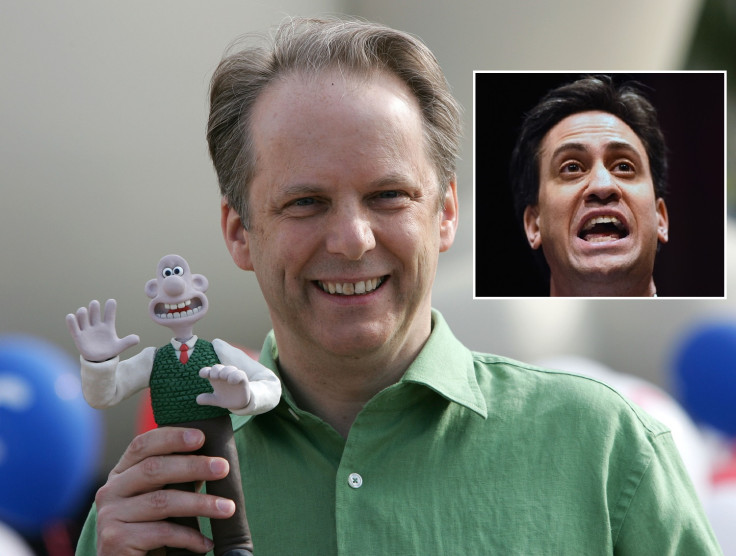 Ed Miliband could be rescued from the slings and arrows of satirical comedy by the creator of Wallace and Gromit, who reportedly wants to be ban portrayals of Miliband as his rubbery creation. Park's Wallace is a hapless cheese-lover who needs to be rescued by his pet dog Gromit time and again in the popular animations, which have garnered two Oscars.
According to the Londoner's Diary in The Standard, Labour-supporting Nick Park is disgruntled by depictions of Miliband by The Times cartoonist Peter Brookes. Not only is the less-than flattering portrayal doing nothing for Miliband's credibility as Prime Minister-in-waiting, but Park reportedly fears the association is bad for Wallace's image too.
So bad is the impact of being compared to Miliband, that Park is reportedly mulling over calling in lawyers to stop more of Brookes' unflattering portraits from running in The Times.
A source told the Diary: "As a huge Labour supporter Nick hates the way they always depict Miliband disparagingly. The humour used is more often than not crude, and the main concern for Nick is the damage it is doing to Wallace and Gromit's image as good, clean, family oriented animated characters."
Park used to enjoy his creation being used for satirical purposes in Brookes' cartoons, it was reported. Miliband himself professed previously he also was comfortable with the Wallace comparison, when confronted by BBC journalist Andrew Marr. But the looming general election has reportedly changed Park's thinking.
Perhaps having influential friends in the media may pay off for Miliband.
© Copyright IBTimes 2023. All rights reserved.