Top Gear presenter Jeremy Clarkson has unwittingly become a poster boy for the far-right group the English Defence League (EDL).
The group's official Facebook page has posted doctored images of the television personality showing him wearing a t-shirt with the EDL's emblem on.
Another replaces a car's steering wheel that Clarkson is gripping with the EDL's logo.
The EDL holds demonstrations around the country, many of which involve racist chanting and violence, purportedly against "militant Islam".
EDL members' gushing comments underneath the photos heap praise on Clarkson.
"Jezza knows what's best," wrote Wes Elsom.
"Kool, what a legend," wrote Vince Sziltz.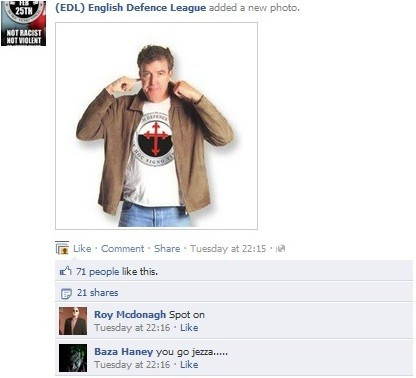 Another photo shows Clarkson posing with EDL leader Stephen Lennon, aka Tommy Robinson.
The Daily Star Sunday revealed the photo in January.
"He knew who I was. We talked about Islam," Lennon told the Star.
"I don't want to say anything else because he will just get stitched up.
"But I'm a big fan of him."
Clarkson, who is regularly stopped by fans to have pictures taken, denied all knowledge of Lennon.
"I have no recollection of talking to this man and have no idea who Stephen Lennon is," he said.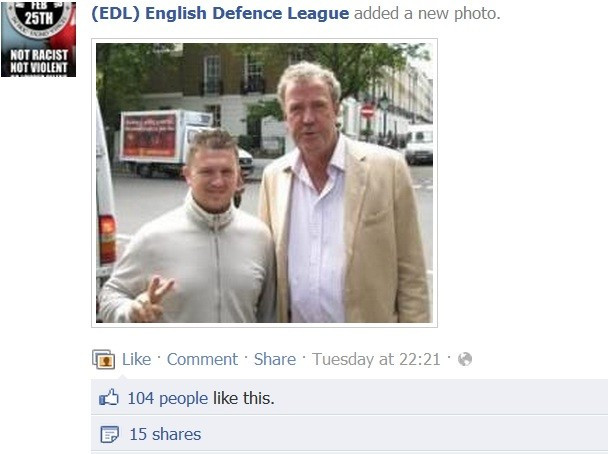 Clarkson, who does not support the EDL, is notorious for making controversial comments.
Recently he joked on BBC's The One Show that he would have striking public sector workers executed in front of their families, sparking 31,000 complaints to the Beeb.
Broadcasting regulators Ofcom cleared him of any breach of the rules.
In 2010 he offended Mexico by describing the population as "lazy, feckless, and flatulent".
A 2005 episode of Top Gear saw Clarkson do a Nazi salute when talking about car make Mini, owned by German car manufacturers BMW.
The satellite navigation system would only go to Poland, he said, referring the the German invasion of Poland in 1939 that triggered World War Two.
Clarkson was unavailable for comment over the edited photos posted by the EDL on Facebook.