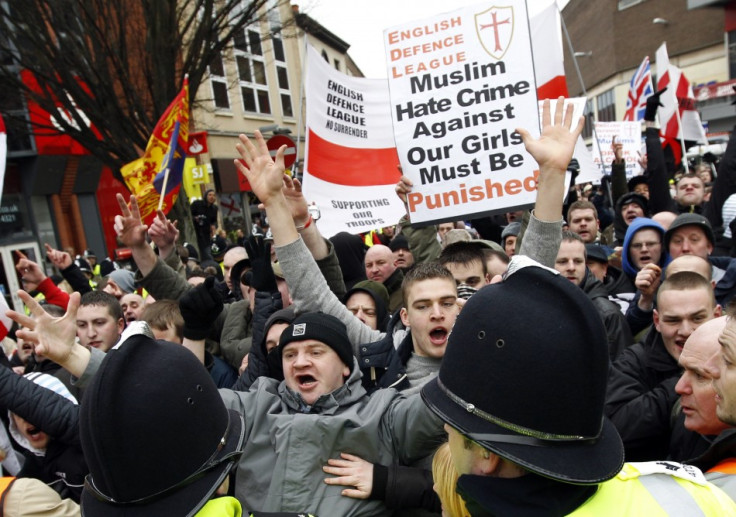 A "spiral of violence" could escalate between the nationalist English Defence League (EDL) and opposing groups, a leading academic authority on extremism has warned after six men were found guilty of terror offences in a plot to attack the far-right group.
An improvised explosive device, firearms and a machete were found in a car linked to a police investigation that led to the Islamist extremists being arrested and charged with allegations that they intended to use these weapons to target the EDL.
"In a way, we've already been seeing this low-level spiral towards violence. The risk is what happens if somebody does blow themselves up, or plants a bomb, at an EDL rally, and in return somebody blows up a mosque," Matthew Goodwin, a lecturer at the University of Nottingham who specialises in extremist politics and identity, told IBTimes UK.
"Then you have got potentially a spiral of violence, but that is also something that is very much on the radar of policymakers and government, who have been revising their present strategy and have been exploring a lot more closely than they were 10 years ago what is driving this sort of activity."
There are numerous accounts of disorder involving the EDL. A mob linked to the group went on the rampage in Rochdale during a rape trial involving a gang of local Asian men and underage white girls.
On the other side the EDL has come under attack from members of Unite Against Fascism (UAF), anti-fascists who hold counter-demonstrations against the far right, and groups of Muslim youths.
"It is not really surprising because what we have seen over the last three years has been an escalation in both the level of activity by the EDL but also in the intensity of that activity," Goodwin said.
"It has been a very combative, provocative style of politics.
"In essence, what this underscores is a new challenge that we are going to face from what you might call cumulative extremism, whereby you have one extremist group actively targeting and attacking another extremist group and that in turn may be retaliated against."
EDL rejects democratic process
These groups are increasingly rejecting conventional politics in favour of street protests and online activism. The EDL has made its name for its demonstrations across England's provinces, and effective use of social networking, particularly Facebook, has helped it organise divisions and recruit the disenfranchised.
"Anybody who has been watching the EDL and the evolution of extremism in England has been seeing an increase in non-conventional forms of activity," Goodwin said.
"Groups are increasingly not interested in elections, they're increasingly not participating in the ballot box strategy, they're increasingly not really listening to police or local councils who want them to refrain from undertaking very provocative rallies and demonstrations.
"The simple reality of it is the EDL has been targeting areas that are very sensitive. They tend to be diverse, quite deprived, and so it has encouraged a reaction not only from sections of Muslim communities, but also from anti-fascist, militant left-wing groups like UAF."
'No small war'
Despite the rising tensions and threat of an escalation of violence, Goodwin thinks this will remain at a low level of activity, rather than blow up into something bigger.
"You're not looking at a small war or any large-scale conflict. Were we to see a spiral of violence - and that's the important description here - then the authorities would clamp down incredibly hard on both right-wing groups as well as those who oppose them," he said.
"The risk is that we see a steady, albeit low level, escalation in tit-for-tat violence."
However, he believes that the government already has its sights set on extinguishing the flames of extremist violence before it bursts into an all-encompassing inferno.
Home affairs committee on violent radicalisation
Goodwin cites a report published by the home affairs committee called Roots of Violent Radicalisation.
MPs reported that they thought violent radicalisation "is declining within the Muslim community", though it remains a threat.
The government's Prevent Strategy, which is targeted at reducing extremism, needs reform, they found.
"Despite the government's efforts to remedy this perception, there is a lingering suspicion about the Prevent Strategy amongst Muslim communities, many of whom continue to believe that it is essentially a tool for intelligence-gathering or spying," the report said.
"This might be mitigated if these communities felt more ownership of the strategy.
"The government should be even more open and transparent about whom it engages with in the UK's varied Muslim communities and should seek to engage more widely.
"Only through engagement will the government be able to get communities on their side and really prevent radicalisation."
It also accused the government's strategy of simply paying "lip service" to the threat of right wing extremism.
"We accept that 'prevent' resources should be allocated proportionately to the terrorist threat and that to an extent we must rely upon the intelligence and security services to make this judgment," MPs said.
"However, we received persuasive evidence about the potential threat from extreme far-right terrorism.
"The ease of travel and communications between countries in Europe and the growth of far-right organisations, which appear to have good communications with like-minded groups within Europe, suggest that the current lack of firm evidence should not be a reason for neglecting this area of risk."
Anders Behring Breivik and the EDL
The home affairs report came a few months after the Norwegian right-wing extremist Anders Behring Breivik murdered 77 people in a car bomb and armed attack in Oslo in 2011.
Breivik detonated a bomb outside a government building in Oslo.
He then travelled to Utoya, an island a short drive away from the capital, where he used an assault rifle to murder young political activists belonging to the country's Labour movement who were taking part in an annual youth party gathering.
It emerged that Breivik praised the EDL in his writings and boasted that he had travelled to Bradford to attend one of the group's demonstrations.
There are thought to have been links between senior members of the far-right group and Breivik.