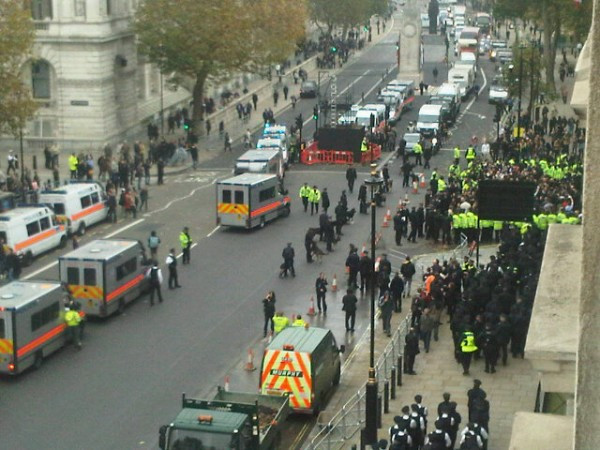 Four complaints have been made to the Independent Police Complaints Commission about the arrests of 179 members of the far-right English Defence League (EDL) in Whitehall on Nov. 11.
The group was detained by the Metropolitan Police to "prevent a breach of the peace", according to the police, after they received intelligence that an attack was to be mounted on Occupy London protesters at St. Paul's.
EDL leaders have since been urging those caught by police to make formal complaints.
Protesters at the camp told IBtimes UK on Nov. 11 that they were alerted to a possible threat from the EDL and notified the police.
Police then stepped up their patrols in the St. Paul's area and the following day detained the EDL group in Whitehall.
Scotland Yard says it can't comment on the intelligence that led to the arrests and that its investigations are on-going.
However it's thought that comments made by the EDL Facebook page on Nov.10, that appear to be a veiled threat, may have led to the arrests.
"We ask you to respect the wishes of the people and disperse by 12am Friday morning," it said.
"Our government may be too weak to deal with you, but these are our streets and We Are The People."
Critics are questioning the police decision to pre-emptively arrest 179 people, despite no crime having been committed, and raise doubts about the robustness of the police intelligence.
They say it's a worrying development for UK human rights.
"Some people from the camp did speak to the City of London police officers onsite about particular threats made on the night of Nov. 10," Naomi Colvin, spokesperson for Occupy London, told IBTimes UK.
"This is in the context of EDL attacks on other British Occupy sites - for example Newcastle - and some people were concerned about the threat of violence being visited on our community."
She adds that the camp "certainly didn't 'tip off' or work with the Metropolitan police on their operation of Nov. 11" though they are "relieved that any specific threats to our camp at St Paul's did not materialise".
"In their statements to press, the Met police said they were working on 'intelligence' - we expect they are also monitoring the EDL's Facebook page, where such plans are, we understand, openly discussed."
[Warning: Video contains strong language.]

The EDL rejects that its members planned to attack Occupy London.
"We had no intentions of going to the Occupy camp, we never made any direct threats to [Occupy London]," said a status update from the EDL's Facebook page.
"EDL initiated debate with Occupy's Facebook group with a view to encourage them to show some compassion for families and friends of servicemen by allowing them to have their service on Sunday and to respect it.
"We were not there to abuse Occupy and trade insults. Occupy supporters even thanked us for not retaliating to the usual UAF insults."
The EDL has courted controversy in recent years. It claims to be against Islamic extremism and demonstrates in towns and cities across Britain.
However there have been racist chants and violence at some of its demonstrations.