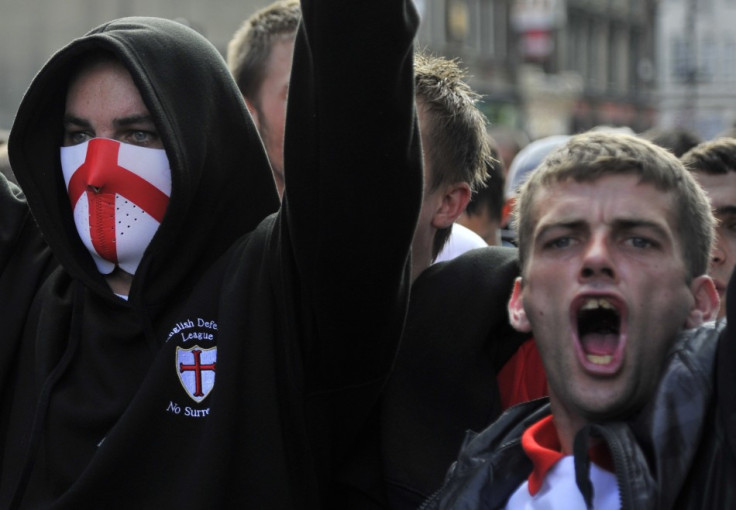 The anti-Muslim English Defence League is set to hit two of London's most ethnically diverse areas, this weekend.
Police are on high alert ahead of the march on 29 June, which coincides with Armed Forces Day.
English Defence League leader Tommy Robinson and Kevin Carroll are to mount a 'Walk of Honour' and will controversially walk past the East London Mosque - previously accused of links with fundamentalist Islam.
They will pass the potential flash-point at the mosque in Whitechapel and also go through Newham, a borough with a large Muslim population.
Robinson and Carroll plan to finish in Woolwich, where the EDL pair plan to lay flowers in honour of soldier Lee Rigby, who was killed in the borough by suspected Islamic terrorists last month.
Robinson, real name Stephen Lennon, said he expected the stage in Whitechape; to be "eventful" in a video address to supporters.
In a statement, the EDL claimed the event was not a march. Robinson said it was a charity fundraiser so a young girl can undergo life-saving surgery.
A Metropolitan Police spokesman said: "We are aware [of the event] and an appropriate and proportionate policing plan will be in place."
A spokesman for Tower Hamlets council, in which the East London Mosque is located, told IBTimes UK: "Tower Hamlets Council and the police are aware of the EDL's proposed plans. We are working together and with other authorities to ensure any event passes off in line with the law and without disruption for local people."
The march will begin at memorial to victims of the 7/7 terror bombings in Hyde Park. Supporters will proceed past Buckingham Palace and then on to east London, before turning south to Woolwich.
Meanwhile, efforts are underway to ban two high-profile critics of Islam from addressing EDL supporters at the event.
Anti-racist pressure group Hope not Hate has called on Home Secretary Theresa May to ban Americans Pamela Geller and Robert Spencer from entering the UK, after Robinson asked if they would like to address his movement.
A spokesman for Hope Not Hate said of the pair: "We believe that their ultimate objective is to incite hatred against all Muslims and the consequences of their very presence in the UK will give encouragement to racists and extremists, who seek to use the awful murder of Drummer Lee Rigby to further their hateful agenda."