Direct Line's tootling red telephone television advertisements may have been annoying but they were certainly memorable. The same can also be said for another of Direct Line's insurance brands, Churchill – yes that one, with the nodding dog and the "Oh yes!" catchphrase.
A collection of top insurance and rescue brands
Aside from the main Direct Line telephone and online insurance brand, the Direct Line Group also operates the Churchill, Privilege insurance brands and the Green Flag breakdown assistance business.
All in all, Direct Line is one of the UK's biggest insurers, with a UK personal motor insurance market share of 14%, and a UK home insurance market share of 17%. Overall, this puts Direct Line third in terms of UK insurance business written after Aviva and AXA.
The Direct Line brand relaunches with Winston Wolf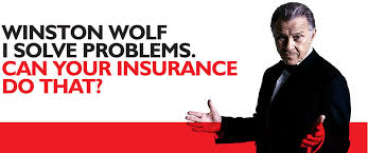 Business remains solid despite continued pricing pressures in the property and casualty insurance market. Direct Line's recent brand overhaul should boost new business, with the Winston Wolf character appearing on TV adverts highlighting the improved Direct Line customer offering.
It should allow the company to compete more effectively with the proliferation of insurance price comparison websites such as comparethemarket.com. Remember, Direct Line doesn't appear on any price comparison websites.
Impressive cost reduction boosts profits
The cost base is also being managed impressively, with the company's total costs down 6% over the first nine months of 2014 compared with the same period in 2013. Continued efforts to reduce costs are a prime driver for profit growth over the next two years, with earnings per share forecast to rise steadily in 2015 and 2016 and dividends following (Figure 1).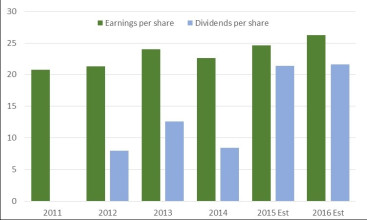 A key feature of Direct Line's restructuring effort is the sale of its international operations to Spanish insurer Mapfre for £430m, generating a pre-tax gain for the company of £160m. Most if not all of these sale proceeds will be returned to shareholders once the deal has completed and the cash hits Direct Line's bank account, representing potentially a bumper dividend.
But best of all, a sustainable 7% dividend yield
We come to what is possibly Direct Line's key attraction for income-hungry investors: a 7% dividend yield (Figure 2)! This is more than double the 3.4% on offer from the FTSE 100 index as a whole, and well ahead of all other major UK insurers who offer 4.3% on average.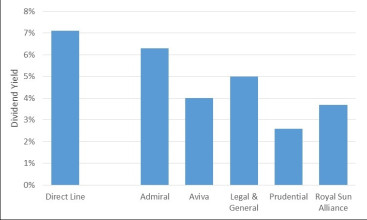 Go with the price flow
Direct Line's price trend is positive too, with its share price hitting a new one-year high at 305p (Figure 3). While most retail investors recoil with horror at the thought of buying a share at its high, professional investors like to do this, as it shows that the share has strong upwards price momentum. Academic studies tell us stocks that go up generally continue to keep going up.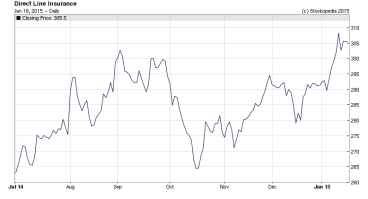 Buy into Direct Line's impressive consumer story
In short, I see the Direct Line story as a success story in consumer finance, with some of the most instantly recognisable and thus strongest brands in the form of the red telephone and the Churchill dog, and with an enviable record of high customer satisfaction, crucial for winning repeat insurance business over the long-term.
Given the choice between a buying shares in a bank or an insurance company, I would today plump for an insurance company given the attractive dividends on offer, plus a more stable regulatory environment (which is clearly not the case for the banks).
In Direct Line, we have a stock that is simultaneously offering a tempting 7% yield and which is hitting new one-year share price highs – now that is a good deal.
Edmund Shing is the author of The Idle Investor (Harriman House), an expert columnist and a global equity fund manager at BCS AM. He holds a PhD in Artificial Intelligence.