What goes up tends to keep on going up. This is a good mantra for those wondering where to focus their investments now that 2015 is upon us.
One of the most striking trends in financial markets over the past half-year has been the stunning ascent of the US dollar against virtually all other major currencies, including sterling, the euro and Japanese yen. For a UK-based investor, a simple investment in US dollars in mid-July when £1 bought you over $1.70 would have yielded a return of over 13% to date (Figure 1), with £1 only buying just over $1.50 today.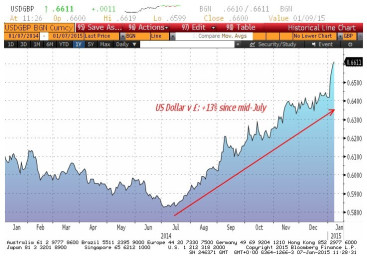 Why the US dollar should remain top-dog currency in 2015
Of course, you might look at Figure 1 and take fright: why should you buy into a currency that has already done so well?
After all, it is not every day that a major currency pair like GBP/USD (sterling against the US dollar) moves by this much in a few months.
I see several reasons for the US dollar to make further gains against sterling:
1. The forthcoming UK general election in May introduces all manner of political uncertainty into the UK economic equation, making sterling a more unattractive currency to invest in until at least after the elections are held and the composition of the new government known.
The recent rise of the Ukip vote has added a big variable into the traditional calculation of likely voting outcomes: how highly will Ukip poll come May and could it prevent either of the two traditional parties of power gaining an absolute majority?
2. If the Conservative Party is elected, then Prime Minister David Cameron is likely to proceed with an EU membership referendum. If the Labour Party is elected, financial markets could well react negatively to a less business-friendly administration. Both outcomes would introduce yet further economic uncertainty and undermine the attractiveness of the pound.
3. The UK economy continues to slide closer to deflation with an inflation rate of only 1% and falling, dragged down by the eurozone, which has already registered a negative December inflation print of -0.2%. This will prompt the Bank of England to delay yet further any interest rate hike, again making sterling less attractive versus the US dollar, where an interest rate hike is likely to happen sooner.
How much more could the Greenback gain against the pound? Well a cursory glance at the long-term chart of the US dollar against sterling would suggest there is still some way to go to hit the US dollar's highs reached back in 2009 and 2010 (Figure 2).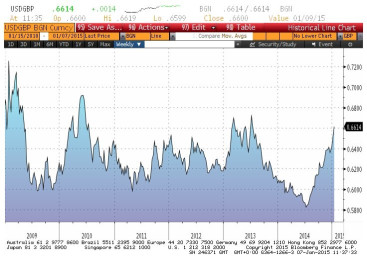 Two easy ways to invest in US dollar exposure
Buying US dollars: The most obvious way to take advantage of this trend is to buy US dollars with pounds, particularly if you are thinking of going on holiday to the US sometime this year, as those they could become more expensive the longer you leave it.
I recommend ordering currency online via well-established, regulated institutions such as Best foreignexchange.com, which is offering a rate of over $1.50 per pound, or the currency websites of high-street supermarket chains such as Asda and Tesco, both of which are offering over $1.48 per pound with free click-and-collect services.
Buying US shares via an ETF: The second option is to invest in exposure to US stocks via an exchange-traded fund. Both the Nasdaq and S&P 500 indices remain in long-term uptrends despite the market sell-off of the past few days (Figure 3).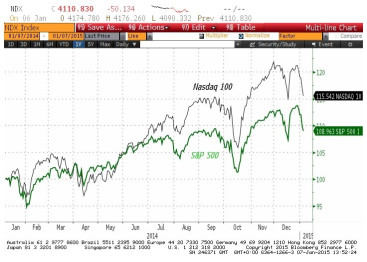 My preferred US stock ETFs, which you can buy in pounds on the London Stock Exchange (via your preferred stock broker), are:
The Powershares EQQQ Nasdaq-100 UCITS ETF (code: EQQQ), which carries heavy weightings to high-growth technology and biotechnology stocks
The iShares S&P 500 Minimum Volatility UCITS ETF (code MVUS), which carries exposure to US large-cap stocks, focusing on those stocks with lower risk.
Both of these ETFs will give you exposure to US stocks in US dollars with your pounds, and so should benefit not only from any continued gains in US stocks but also from further gains of the US dollar against sterling.
Happy dollar investing in 2015!
Edmund Shing is the author of The Idle Investor (Harriman House), an expert columnist and a global equity fund manager at BCS AM. He holds a PhD in Artificial Intelligence.