EE's 4G mobile internet has been with us for just under a month, and in that time we have seen the re-branding of Everything Everywhere, a huge nationwide marketing and promotional campaign, and a range of 4G phones hit the shelves - but did 4G's arrival in Britain bring everything we had hoped?

The UK's first 4G network launched in 10 cities last month, with expansion taking place at a promised rate of 2,000 square miles a month, but data collected by RootMetrics and shared with the BBC found that just 40 percent of Manchester city centre has 4G coverage, with none at all in suburban areas.
This is despite Manchester being among one of the 10 cities 'covered' by Ee's 4G network.
Despite poor city centre coverage, RootMetric found that indoor speeds on 4G were far higher than first expected - EE's rivals had predicted that the 1800MHz spectrum would not penetrate walls effectively, leading to poor reception inside.
To tackle this issue, EE's vice president for business, Martin Stiven, told IBTimes UK that the company is considering the benefits of bidding for some of the 800MHz and 2.6GHz spectrums to be auctioned by the telecom regulator Ofcom early next year.
Benefit
Stiven said: "We do see the benefit in complementing our flexible 1800MHz spectrum with some 800MHz to help give big geographic coverage in more rural areas, plus the 2.6GHz gives good quality, deeper coverage within the cities.
"Clearly we're interested in both parts of the spectrum in augmenting the network. At the end of the day, we have the 1800 spectrum and we have many, many more cell sites than our competitors, and we think that balance gives us a great network today with great coverage - over 98 percent in buildings and outdoors."
Speaking of the competition - who will get to bid on Ofcom's spectrums at the start of 2013 - EE welcomes the pressure its rivals will soon be putting it under
Stiven said: "Of course we welcome competition. The UK is the most competitive market in Europe. We have a highly competitive market and we're used to that and absolutely welcome it.
"We've gone first with 4G and we've invested £1.5bn into our network, and that's not just in upgrading our cell sites, that's in putting a lot of backhaul into the network."
Backhaul refers to the vital so-called 'big pipes' that make sure you have enough bandwidth to use when you make a call or go to download a file from the internet.
4G commands a premium
Looking forward to rivals Vodafone and O2 introducing their own 4G networks, Stiven told us: "By the time the other guys launch in Q2, Q3 - who knows, next year, could be later - we'll have already been working on it for 12 months and we'll have had six to nine months of experience of running the service in the UK.
"So, yes we welcome the competition, but we think we've got a good head start and think it has put us in a good place."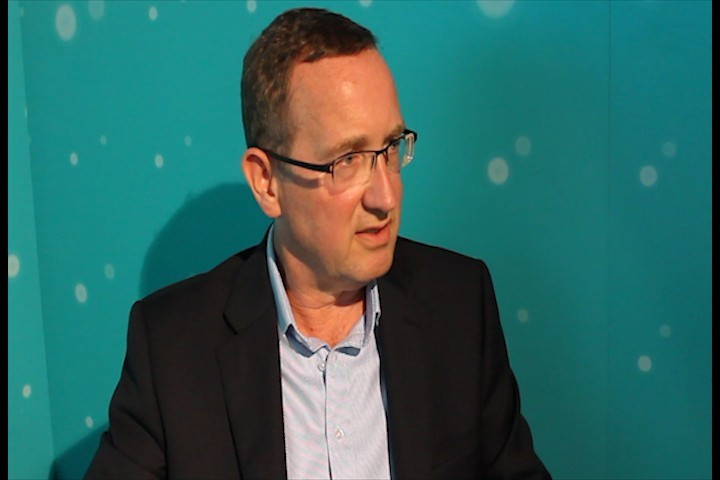 Ofcom announced details of the 4G auction earlier this month.
Apart from 4G coverage - which EE assures us will be improved gradually as the network rolls out - the company has been criticised for charging too much for its 4G packages.
Plans with a phone start from £36 per month, and while that gets you unlimited calls and texts, data is capped to just 500MB, 1GB costs £41 per month and the deals go up to £56 for 8GB of data per month.
But by looking at these prices and claiming them to be expensive, we might be missing the point, forgetting that a new network costing EE more than £1bn to install and offering a faster, premium service perhaps has the right to be priced at a premium.
Old-fashioned
"Call me old fashioned," Stiven begins when we ask about price. "But if you're getting a better service and you're getting something that gives you discernible benefit, then you would expect to pay a little bit more. That's why we've priced it at a little bit more, because we've invested a lot in it and because it offers a lot of value."
With no rivals in the 4G market, EE can set its prices at whatever level it sees fit, but once O2, Vodafone and Three launch their networks next year, we expect to see competition between the networks bring prices down.
But Stiven thinks other networks will view 4G in the same way as EE does, and charge a similar premium for it.
"I can't see why the other guys would not view it in the same way, so I expect there will always be a small price premium on the 4G service, simply because it gives you a much, much better experience."
The future of 4G in Britain
Looking to the future of Britain's 4G coverage, Stiven believes that customers will see the benefits of 4G and make the switch, but due to EE's large 3G user base, thanks to adopting every T-Mobile and Orange customer when the two networks merged, EE is keen to keep that slower but cheaper option open.
Finally, the next 12 months will see EE's network grow, rivals announce their own 4G networks and manufactures launch more smartphones and tablets that can take advantage of 4G - during this time EE's biggest challenge will be momentum.
"The biggest challenge for me is that we keep the momentum, that we get the cut-through with our new brand - I think we've had a fantastic start with that - and that we can deliver a fantastic service to those customers who want to use it," Stiven said.
"So it's about making sure that we execute brilliantly against our plans. We've got some fantastic plans, but we know the execution is going to be critical."
Rivals
Rivals Vodafone and O2 were furious when Ofcom allowed EE to go its own way, sidestepping the auction process and getting a huge head start over the competition; but for the consumers, we've been given a glimpse of the future.
We can get a slice of that future today if we live in the right city, have the right phone and are willing to pay the premium, but for everyone else EE has dragged Britain closer to 4G quicker than the regulators alone could have done, and for that it must be commended.
It would be fair to say that until 2012 Britain lagged behind with its adoption of 4G , but with Ofcom already laying the foundations for a future '5G' service - and working out what it'll do with the spectrums responsible for digital TV - the future for high-speed mobile broadband looks bright.