Egypt: 33 men arrested in Cairo's hammam for 'perversion' and 'spreading Aids'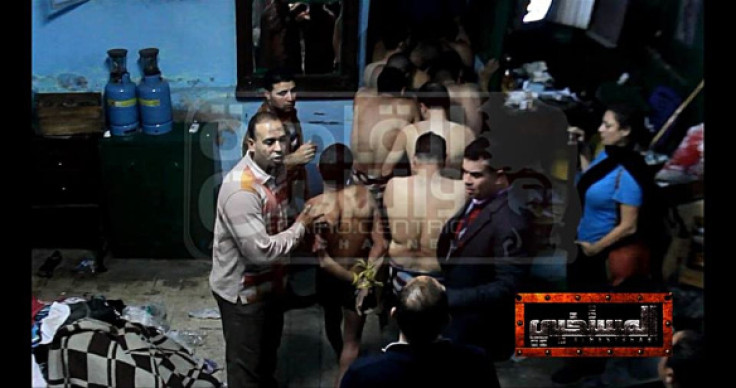 Egyptian police have raided a Cairo hammam (bathouse) and arrested at least 33 men for "perversion" or "debauchery", according to local reports.
Those arrested were loaded on to trucks, stripped naked, according to witnesses who posted pictures on social media. Along with police were Central Security forces, an army forces formed of raw recruits. Homosexuality is not explicitly banned in Egypt, so they were arrested in connection with the charge of "perversion" instead.
General Ali al-Demerdash, head of the Cairo security directorate, said the 33 men were arrested in "a common public bathhouse in the Azbakeya neighborhood of Cairo for practising debauchery".
A journalist working for pro-government al-Qahira wal Nas news channel, Mona Iraqi, was reportedly tipped off about the raid and entered the hammam ahead of the arrival of security forces.
After the incident, she boasted on her Facebook page of an exclusive on "the biggest den of group perversion in the heart of Cairo," according to a translation by renowned LGBT activist Scott Long. The journalist said the full programme will be shown on Wednesday with the "whole story of the dens for spreading Aids in Egypt".
The arrests are just the latest episode in Egypt's growing crackdown on LGBT people in the country. In September, seven Egyptian men were arrested and accused of debauchery after appearing in a gay wedding video which was posted online.
The video – which appears to show a group of men celebrating a mock gay wedding on a Nile riverboat –was recorded in April but posted on YouTube only in August.
According to the public prosecutor, the images of the footage were "humiliating, regrettable and would anger God," and "constituted a criminal act".
But the latest case appears to be even more high-profile than the "gay wedding video, according to Scott Long.
"What's clear is that another pro-Sisi media organ is working in close collusion with security forces, to produce a sensational show about sex with appalling and terrifying images, to invade privacy and engorge the prisons and destroy innocent people's lives," he wrote on his blog A Paper bird.
In October, gay rights supporters organised an online campaign to protest against the Egyptian government's persecution of homosexuals.
The organisers are using Twitter hashtags #StandForEgyptLGBT and #SolidarityWithEgyptLGBT to call for demonstrations against homophobic attacks.
© Copyright IBTimes 2023. All rights reserved.