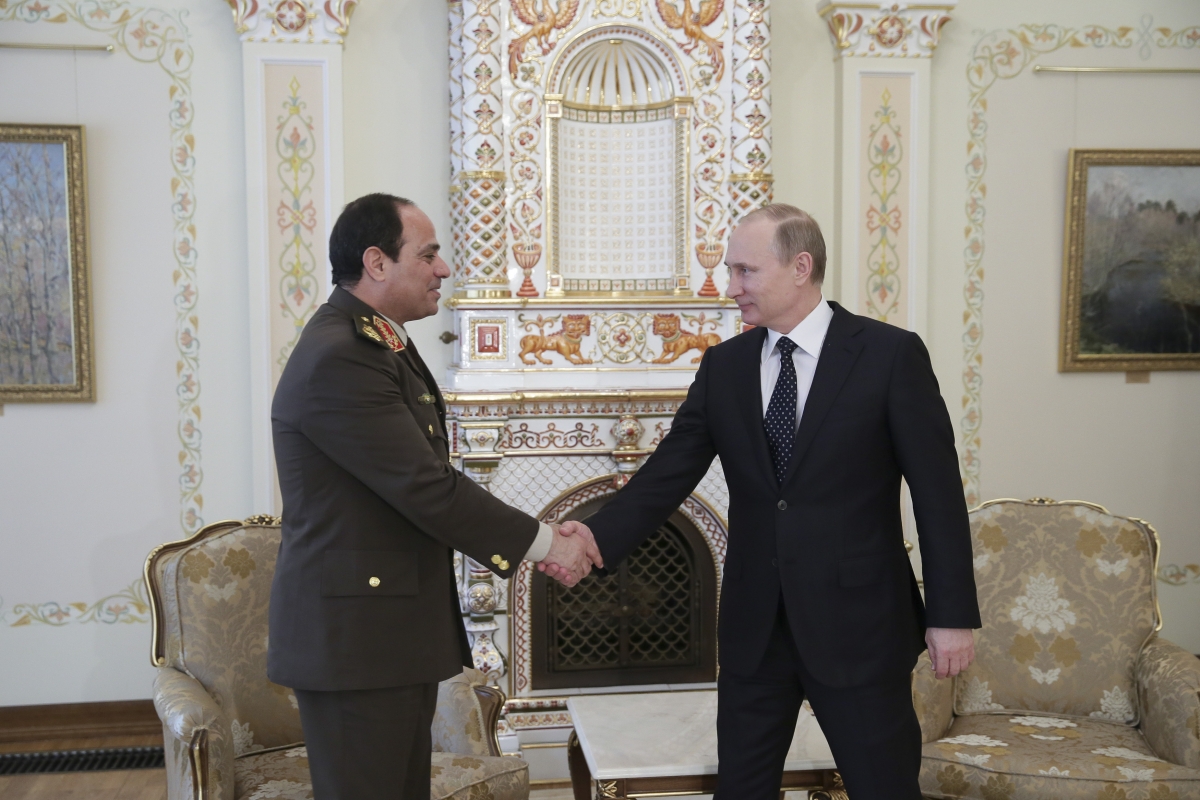 Egypt and Russia are said to have agreed on a $3b arms deal, in a direct snub to the US, even as President Vladimir Putin endorsed Egyptian army chief Abdel Fattah al-Sisi's presidential bid during the latter's visit to Moscow.
The move is bound to irk Washington which is the primary arms supplier of the Egyptian military as the likely new regime in Egypt leans towards Moscow.
According to the deal either initiated or signed by Egypt and Russia, contracts for the delivery of MiG-29 M/M2, Fulcrum fighter aircraft, Mi-35 helicopters, air defence complexes and light weapons have been sealed, reports Russia's Vedomosti daily, citing two independent sources from Moscow's defence industry.
Biggest Deal since Soviet Era
If confirmed, this will be the biggest military purchase by Egypt from Russia since the Soviet era, following which Cairo moved towards improving its ties with Washington in the 1970s under Anwar Sadat.
There has, however, been no official announcement on the deal.
This is Al-sisi's first visit outside Egypt since the military-backed overthrow of former Islamist president Mohamed Morsi. Shortly after Morsi was expelled, the US had frozen a significant portion of the $1.5m military aid to Egypt.
Earlier, there was speculation that Egypt was keen on an arms deal worth billions of dollars with Russia which was originally initiated by Russian Foreign Minister Sergei Lavrov and Defence Minister Sergei Shoigu. Al-sisi held talks with both the senior ministers during his visit.
Local reports suggest the latest deal between the two countries is being backed by Saudi Arabia and the United Arab Emirates.
"I know that you have made a decision to run for the post of president of Egypt. It is a very responsible decision to assume this mission and responsibility for the fate of the Egyptian people," said Putin.
"We are paying very close attention to the development of the internal political situation in your country, and wish the leadership of Egypt success on the path to nationwide peace and harmony."
Putin said the stability of the entire Middle East depends on stability in Egypt.
Al-sisi, who is also Egypt's defence minister, said his visit marks a "new departure" in the ties with Russia.
"We of course are also interested in various forms of cooperation with you in the interests of providing a good life for our people in all spheres. We are always supporters of stability and peace throughout the world," said the Egyptian army chief, who was accompanied by the country's foreign minister, Nabil Fahmy.
Related