Egypt: Ousted Muslim Brotherhood Leader Morsi May Face Death Penalty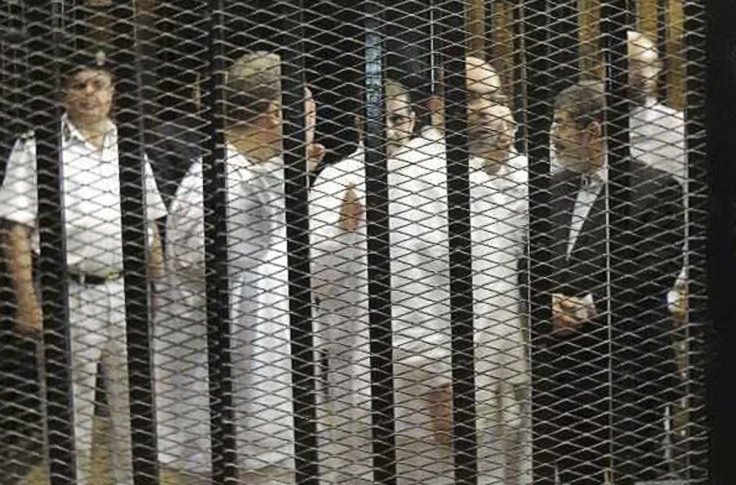 Deposed Egyptian President Mohammed Morsi may face the death penalty on charges of leaking documents of national security to Qatar, according to judicial sources.
Morsi and 10 other Muslim Brotherhood officials are to face trial over the charges which allege that they handed national security files to Qatari Intelligence and Qatari-funded media outlet Al Jazeera.
"The indictment issued by the public prosecution has included a number of charges under the penal code that can be punished by the death penalty," the source said.
Qatar is a principle supporter of the Muslim Brotherhood and, following the coup of Morsi's administration in July 2013 after mass anti-government protests, relations between the Gulf state and Egypt have been strained.
The former Egyptian leader is to be tried for having "handed over to Qatari intelligence documents linked to national security... in exchange for $1m (£610,000)", the prosecutor said in a statement.
Al Jazeera denied passing "information to governments" and refused to comment on its sources.
"Any information Al Jazeera receives is handled with the highest standard of journalistic ethics. We do not therefore comment on sources, or pass information to governments," it said in response to the allegations that Morsi leaked national security documents to the company.
He faces a number of trials for charges such as inciting violence against protesters outside the presidential palace in 2012, the murder of prison officers during his escape from jail during the 2011 uprising and working with foreign organisations to commit terrorist acts.
Morsi has denounced his trial at the hands of an Egyptian court which he has called illegitimate.
His replacement, Abdel Fattah el-Sisi, launched a crackdown on the Islamist group, designating it a terror organisation.
Since the crackdown began a year ago, over 1,400 people have been killed and more than 16,000 arrested, according to rights groups such as Human Rights Watch.
© Copyright IBTimes 2023. All rights reserved.