Egypt Slams Turkey's Erdogan as 'Terrorism Supporter' After Critical UN Speech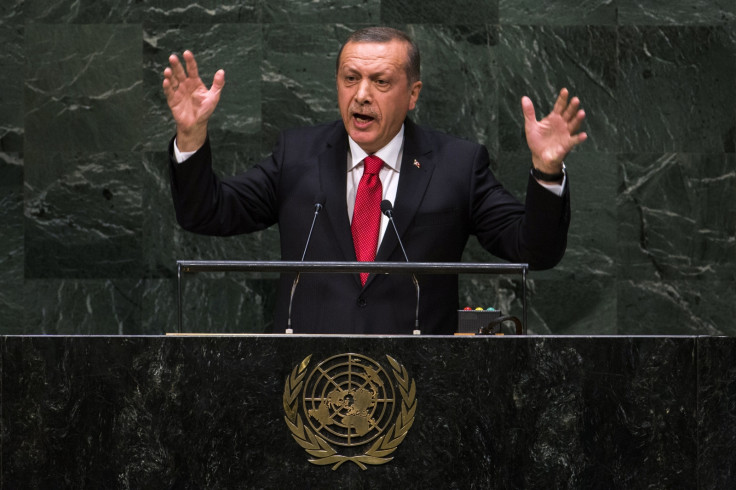 Egypt has accused Turkish President Recep Tayyip Erdogan of being a supporter of terrorists who seek to "provoke chaos" in the Middle East, following his UN speech which criticised Egyptian President Abdel Fattah al-Sisi.
Following the coup against Muslim Brotherhood leader Mohamed Morsi in July 2013, relations between Turkey and Egypt have been strained because of Ankara's relationship with the Muslim Brotherhood.
Erdogan proceeded to question Sisi's legitimacy in a UN speech and criticised the world for watching as the country toppled an elected leader.
"Again, those objecting (to) the murders in Iraq, Syria and the murder of democracy in Egypt are subjected to certain unfair and groundless accusations and almost immediately accused of supporting terrorism," said Erdogan.
"The United Nations as well as the democratic countries have done nothing but watch the events such as overthrowing the elected president in Egypt and the killings of thousands of innocent people who want to defend their choice. And the person who carried out this coup is being legitimised."
"If we defend democracy, then let's respect the ballot box. If we will defend those who come to power not with democracy but with a coup then I wonder why this UN exists," Erdogan added.
The Egyptian foreign ministry responded by dismissing Erdogan's claims about Sisi's legitimacy as Egyptian president by claiming that Turkey supports terrorist organisations to "sow divisions" in the region.
"There is no doubt that the fabrication of such lies and fabrications are not something strange that comes from the Turkish President, who is keen to provoke chaos to sow divisions in the Middle East region through its support for groups and terrorist organisations," the foreign ministry said.
"Whether political support or funding or accommodation in order to harm the interests of the peoples of the region to achieve personal ambitions for the Turkish president and revive illusions of the past."
Turkey has been reluctant to join a US-led coalition to tackle Isis (now known as the Islamic State) for fear that action would strengthen their long-held enemy Syrian President Bashar al-Assad amd worsen sectarian divisions in Iraq.
Following the release of 49 Turkish and Iraqi hostages held by the Islamic State, Ankara's stance has shifted to one of assistance to the US-led coalition. Erdogan confirmed in New York that Turkey would provide the "necessary support" to the operation in a "military or logistical" capacity to tackle the terror group.
© Copyright IBTimes 2023. All rights reserved.