As the search for missing EgyptAir flight MS804 entered its second day, Greek and Egyptian authorities announced the discovery of the first confirmed wreckage from the Airbus A330.
However, with no sizeable parts of the fuselage recovered from the Mediterranean, speculation has grown over the cause of the crash, with experts increasingly casting doubt on the likelihood of a terror attack.
Greek officials announced Egyptian search parties had discovered the first credible wreckage of the Paris to Cairo flight. According to the Associated Press, the debris included a body part, two seats and suitcases.
The items were recovered from the search area slightly to the south of where flight MS804 vanished from radar signals early on Thursday (19 May).
The location was slightly north of where, nearly 24 hours earlier, orange oblong shaped debris were discovered near the Greek Island of Karpathos. However the wreckage could not be definitively confirmed to have originated from the EgyptAir flight.
Later in the day, similar debris was discovered in the search area. An EgyptAir official said some of the passengers' belongings, body parts, luggage, and plane seats had been found.
As time has gone on with no credible claims of responsibility for the crash from Islamic State, or any other international terror group, experts have begun to cast doubt on the likelihood extremists were involved in the disaster.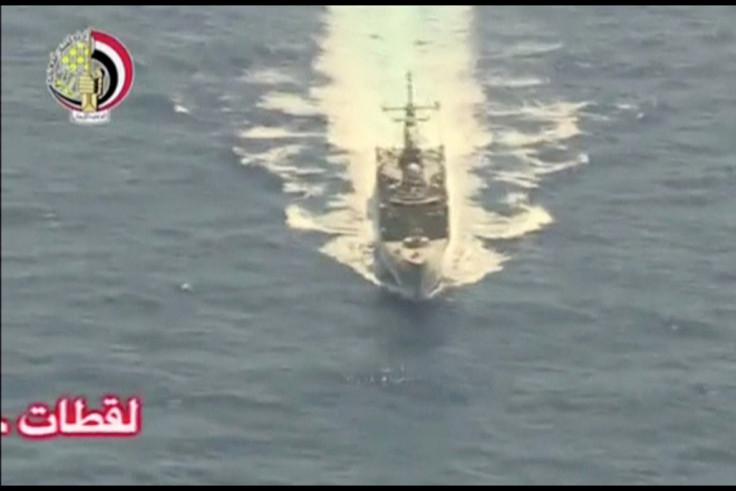 Over the past 36 hours Egyptian authorities have said they believe extremists were to blame for the disappearance of the flight,
However, PA referred to one terror analyst is in contact with members of IS and other Islamist groups who said there were "no credible or even semi-credible" claims of responsibility.
London based analyst Shiraz Maher, at the International Centre for the Study of Radicalisation, said IS recently released a 20-minute video on plans to conquer India. The Kings College London Academic also said: "If they had been involved in the crash, it would be very odd for them to have sent that video rather than boasting of the crash."
Greek authorities say the plane swerved 90 degrees left and then 360 degrees right before it plunged into the Mediterranean. The PA has said this could indicate a struggle in the cockpit or show pilots could have been trying to control an aircraft disabled by an explosion.