Several hundred elderly Gazans got the rare chance to pray at Jerusalem's Al-Aqsa mosque on Sunday (5 October) after Israel eased tight restrictions limiting Palestinians' freedom of movement over the Eid al-Adha holiday.
The first group of Gazans arrived on Sunday morning and were permitted to remain at the Al-Aqsa mosque plaza till 1200 GMT (3:00pm local time), before being escorted back to the Gaza border, according to AFP News.
"I haven't been here for 35 years. Everything has changed. It's like being in paradise," said Umm Dallaleh Fayyad, a woman clad in a black abaya.
Many visitors were seen kissing the ground as they entered.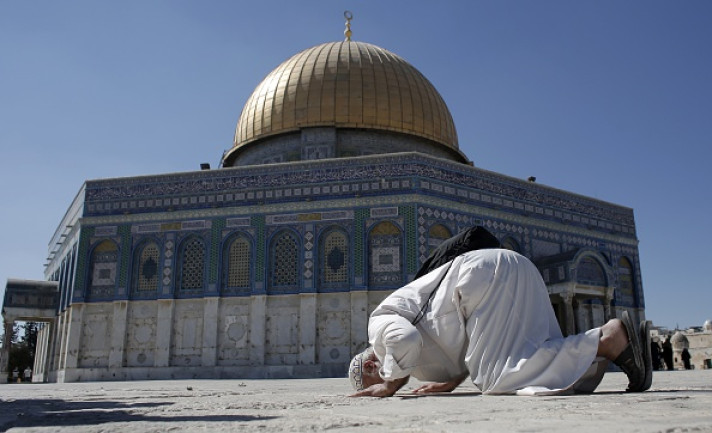 A total of 500 Gazans over 60 are given the rare opportunity to travel to the Al-Aqsa mosque plaza over three days until Tuesday (7 October).
The al-Aqsa Mosque is the third holiest site in Islam following Masjid al-Haram, the holiest place in Islam, located in Mecca, and Al-Masjid an-Nabawi, the second holiest site located in Medina.
Israeli NGO Gisha that calls for freedom of movement of Palestinians hailed the news with spokeswoman Shai Grunberg saying, "This hasn't happened since 2007. Christians could leave (for religious holidays) but not Muslims."
Freedom to export
In addition to the visits to Al-Aqsa mosque plaza, Israel has also granted Gazans the opportunity to visit their relatives in the West Bank, and export certain limited products to the West Bank.
Since 2007, Gazans have been deprived of their freedom of movement and denied the right to export agricultural products to Israel after Hamas gained control over the territory.
Prior to the restrictions, a total of 85 per cent of Gaza's export revenue earlier came from Israel and West Bank markets. The figure today stands at two per cent, according to Gisha.
Israel's recent move was announced just over a month after a ceasefire ended the 50-day war in Gaza that claimed approximately 2,200 Palestinian and 73 Israeli lives.
While Gisha celebrated the move, it also expressed disappointment noting that the gesture was simply, "for the Muslim holiday of Eid al-Adha, rather than a permanent change."