El Nino: Weather phenomenon 'among the four strongest events since 1950' triggering climate pattern change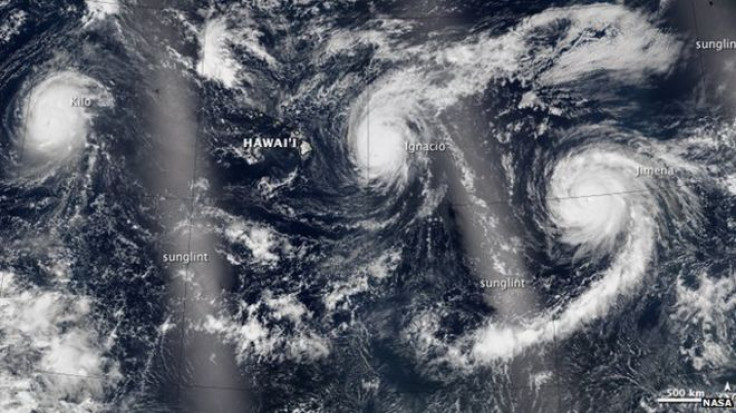 The current El Nino event could have devastating consequences for agriculture and disease as well as causing heavy rain in North and South America, with higher temperatures in Asia and Africa. Forecasters from the UN's World Meteorological Organisation (WMO) are warning that El Nino could gather strength, surface water temperatures in eastern-central parts of the Pacific Ocean are expected to be 2C higher than usual, well above the threshold for an El Niño. The weather phenomenon's global climate impacts which are more likely to be felt over the next six to eight months.
NASA's Earth Observatory released images of three Category 4 storms travelling across the Pacific Ocean simultaneously. Hurricanes in the Pacific are generally solitary storms – and three in the same area is unprecedented – with potentially catastrophic results. NASA's pictures, from west to east, show hurricanes Kilo, Ignacio and Jimena. Hurricane Ignacio was the closest to Hawaii with sustained wind speeds of 140mph an hour.
"Models and expert opinion suggest that surface water temperatures in the east-central tropical Pacific Ocean are likely to exceed 2C above average, potentially placing this El Nino event among the four strongest events since 1950," WMO said in a statement.
"Compared to the last major El Nino event in 1997-1998, there is much more information available," said Maxx Dilley from WMO. "We have better models and are much more prepared."
"It is a test case for the early warning systems and climate information systems of WMO members and we are hoping that will be of assistance to some of the affected countries."
Australia is set for its largest El Nino weather pattern on rec­ord, with possible drought conditions on the country's east coast for the next three months. The system is emerging from warm Pacific Ocean waters that will cause lower spring rainfall in the east of Australia, said John Nairn, Bureau of Meteorology acting regional director in South Australia.
"We're seeing a very large event. It's going to challenge the 1997 El Nino, which is the largest we've ever seen," Nairn told The Australian.
David Carlson, director of WMO's World Climate Research programme said: "We have no precedent for this situation."
© Copyright IBTimes 2023. All rights reserved.