Guatemala has been plunged into a further state of crisis this week, as news emerged that nearly one million people are struggling to feed themselves due to poor rainfall.
The Central American country is currently going through a messy presidential election campaign with allegations of corruption and the murder of two opposition politicians.
The UN Food and Agriculture Organization (FAO) has said that poor rainfall, linked to the El Niño weather phenomenon, has led to a crippling drought and shrunken harvests, worsening hunger among the poor.
This year's drought has also hit subsistence farmers living in Central America's "dry corridor" that runs through parts of El Salvador, Honduras and Nicaragua.
"In Guatemala, 170,000 families, approximately 900,000 people, have no food reserves left. This is the third consecutive year they have been hit by drought," Diego Recalde, head of FAO in Guatemala, told the Thomson Reuters Foundation.
"This is a slow emergency that's not visible, but we can already notice chronic child malnutrition is increasing."
Guatemala is one of the poorest nations in the Americas, with 15 million people living in poverty, and has the world's fourth highest rate of chronic malnutrition says the WFP.
The drought is compounded by coffee producers hiring fewer seasonal workers due an epidemic of roya, a fungus that eats away at the leaves of coffee plants.
The Guatemalan government has said it will begin distributing 4,000 metric tonnes of maize, fortified flour and beans to 121,000 families from Monday using donations from Brazil.
Political upheaval
The drought threatens to deepen the crisis in the nation which has seen upcoming elections marred by political and social unrest.
According to some polls only 12% of ordinary Guatemalans think that incumbent president Otto Pérez Molina is doing a good job, according to Prensa Libre.
And every Saturday since April thousands of citizens have massed into Constitution Square, Guatemala City, demanding an overhaul of the political system, starting with his removal.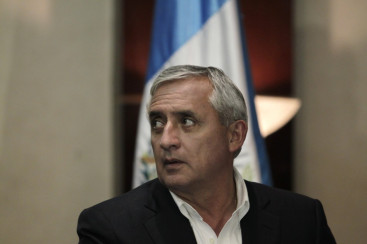 Guatemala has been ranked 115 of 175 countries in the 2014 Corruption Perceptions Index by Transparency International, and Perez Molina has been scarred by some recent scandals.
Perez Molina's administration was rocked after the United Nations-backed International Commission Against Impunity in Guatemala accused him and several other top officials of running La Linea (The Line), a customs bribery ring.
According to the New York Times in a second scandal officials were purportedly awarded a $15m (£9.59m) contract for kidney treatments to a company that lacked a license to perform the services. At least 13 patients subsequently died.
The president has denied any wrongdoing while opponents insist he bears responsibility for the scandals that happened on his watch.
On Wednesday 12 August two opposition politicians were shot dead in separate attacks according to Yahoo news.
Orlando Guzman, a candidate for the Central American Parliament (Parlamento Centroamericano) was shot near the eastern town of Rio Hondo, said the party's presidential candidate Manuel Baldizon.
Also a local Lider representative, Abel del Cid, 54, was fatally shot while driving an official party car in La Pajarita, 80 miles east of the capital.