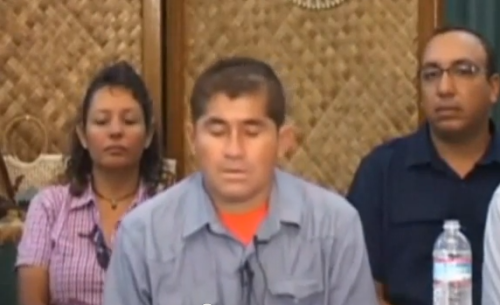 El Salvadorian castaway Jose Salvador Alvarenga has been met by family members and officials after flying back from the US.
Alvarenga, who was stranded at sea for over a year, was met by by El Salvador's foreign minister and other government officials as he arrived at the international airport outside the capital San Salvador.
Dozens of journalists also gathered at the airport to greet Alvarenga, who was found on 30 January in a remote atoll in the Marshall Islands.
"We are happy he is coming back after so much time," the 37-year-old's cousin, Marisol Alvarenga, was quoted as saying by the AFP news agency.
"He could have died. But thanks to God my cousin is a warrior, because I don't know what would have happened to another person," she added.
Mexican ambassador to the Philippines Julio Camarena told Spanish agency EFE that Alvarenga's physical condition was to be expected of somebody who had spent over a year adrift in the ocean, explaining: "He is languid and very weak."
When he was found, Alvarenga claimed he had joined a fishing expedition and left Mexico at the end of 2012. This story was subsequently confirmed by Mexican authorities.
It is believed Alvarenga was stranded after a storm caused the boat to drift away in the Pacific Ocean.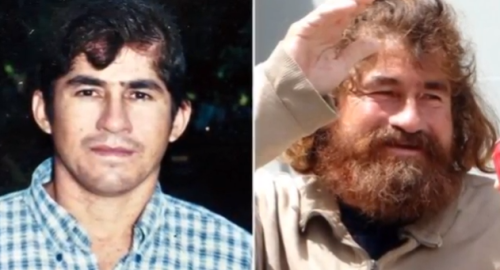 The castaway set sail together with his colleague Ezequiel who, according to the survivor's version, died some months after the shipwreck.
Ezequiel's family said they want to speak to Alvarenga to find out more about how their son died.
"The only thing we want is to know what was the last thing that he told this man and what he did with my brother's body," Romeo Cordova Rios, Ezequiel's brother, said.
'He doesn't know what it's like to be a celebrity'
Irene Sanchez, a spokeswoman for El Salvador's foreign ministry, said Alvarenga "felt harassed" over the last two weeks, after having spent so many weeks alone.
He is looking forward to spending time with his parents and daughter, as well as eating pupusas, a traditional Salvadoran dish, Sanchez said.
Regarding all the attention from the media, she added: "He doesn't know what awaits him.
"He doesn't know what it is like to be a celebrity, or how to respond to all the media attention."
Alvarenga will undergo further checks before a decision is taken whether he should stay overnight in a local hospital or can return to his village of Garita Palmera.