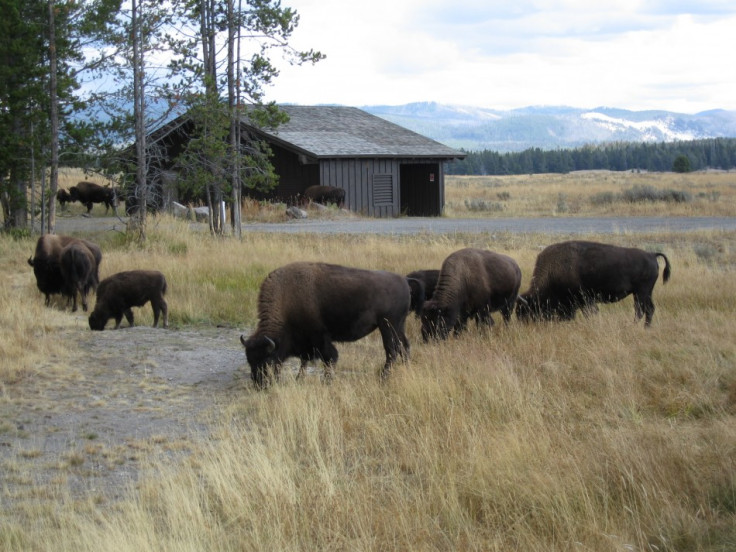 An elderly couple have been injured after being "butted" by an aggressive bison whilst taking photographs in Yellowstone National Park.
Park officials say that Theodore Schrader and Patsy Holmes, of Heber City, Utah, were taking snaps on a boardwalk at Mud Volcano, just north of Lake Village, when the bison attacked them on Wednesday (28 June).
It is understood that the beast butted the 72-year-old Holmes before she fell into 74-year-old Schrader.
It was reported that Schrader suffered minor injuries with Holmes being air-lifted to hospital in Idaho Falls and is currently in stable condition.
Park officials said: "The bison butted Mrs. Holmes, who then fell into Mr. Schrader and both individuals fell to the ground."
Rangers at the 3,500-sq mile park responded immediately and evacuated the couple before they were transported to the Lake Clinic.
The park warns that visitors must stay 25 yards (23 metres) from large animals such as, elk, deer, moose, bighorn sheep, and coyotes and 100 yards (91 metres) from bears and wolves.
They also tell visitors to give animals space wherever they are in the park and: "if need be, turn around and go the other way to avoid interacting with a wild animal in close proximity".
Officials at the park, that mostly in Wyoming but also in Montana and Idaho, say that citations have not been issued to the couple in what has been confirmed as the first injury of the 2017 season.
The park, which has canyons, alpine rivers, forests, hot springs and geysers, also asks visitors to adopt its "Safe Selfie" policy near animals and some of the hot springs.
Yellowstone boasts the largest herd of bison in the United States and in 2015 five people were injured after approaching bison here.