"The best is yet to come" Obama said in his victory speech

Obama has 303 electoral college votes to Romney's 203

270 electoral college votes needed to win
Counting continues in Florida
Romney has conceded defeat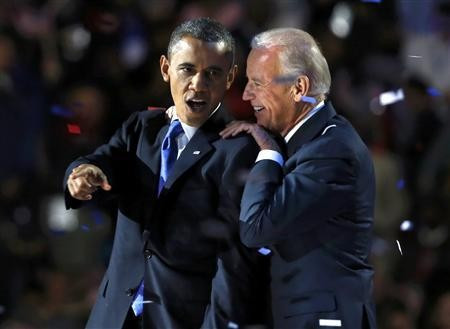 14:08 GMT Well, that's it from IBTimes UK's live coverage of the presidential election.
As we leave you, 89 percent of the popular vote has been counted and Obama has 51 percent of that, leading Romney's 47 percent.
This is academic now, as Obama has already triumphed in the electoral college count.
He may have won this closely contested battle, but the war goes on, as they say.
His challenge now is to reach a deal with the House of Representatives, controlled by the Republicans, to approve fiscal cliff-averting legislation - else face a torrent of tax rises and spending cuts that would send a shockwave through the world economy.
As ever, IBTimes UK will be there to report it all.
Thanks for joining us.
14:02 GMT As a nice supplement to the Kenya video earlier, here's a snippet from AP who have spoken to Obama's granny in the same village:
Waving her cane and smiling broadly, the step-grandmother of Barack Obama celebrated his reelection in Kogelo, the home of Barack Obama's father. The family matriarch is Sarah Obama, who was the second wife of the president's late grandfather.
"Take the great job that people have given to you and lead them well," Sarah Obama advised her relative by marriage after his victory.
13:55 GMT More from the bookies: William Hill is already taking bets on Hilary Clinton, Obama's secretary of state and long-suffering wife of Bill, becoming the next US president in 2016. She is at 5/2.
"There have been persistent rumours that Hillary will go for the top job and the Clinton name together her own performances alongside Barack Obama in recent years will ensure that she'll take all the beating if she does," said Hill's spokesman Graham Sharpe.
13:15 GMT A video has popped up on YouTube showing some of the residents of a Kenyan village called Kogelo, the birthplace of Obama's late father, celebrating the presidential election result:
12:30 GMT More reactions from across the world to Obama's victory, via AP.
"One of the first things I want to talk to Barack about is how we must do more to try and solve this crisis (in Syria). Above all, congratulations to Barack. I've enjoyed working with him, I think he's a very successful U.S. president and I look forward to working with him in the future."- British Prime Minister David Cameron, on a visit to Syrian refugees on the Jordanian border.
"Your re-election is a clear choice in favor of an America that is open, unified, completely engaged in the international scene and conscious of the challenges facing our planet: peace, the economy and the environment." - French President Francois Hollande.
"When you were elected in 2008, you inspired the world with a call to take responsibility for the problems we face as global citizens. Since then, you have made earnest efforts to live up to that great hope and trust placed in you by the American public. I believe you have been re-elected now in recognition of that effort." - the Dalai Lama.
"The bond between Europe and North America, based upon the shared values on which our alliance was founded over 60 years ago, remains as strong, and as important to the preservation of Euro-Atlantic peace and security, as ever. President Obama has demonstrated outstanding leadership in maintaining this vital bond." - NATO Secretary General Anders Fogh Rasmussen.
"I will continue to work with President Obama to preserve the strategic interests of Israel's citizens." - Israeli Prime Minister Benjamin Netanyahu, who has had a strained relationship with the American president over Iran and the Israeli-Palestinian conflict.
"During the last four years when Obama was U.S. president, no breakthrough happened in relations between Iran and the US. At the beginning of his first term the situation was a bit better, but as he went on the relations got much worse, with the sanctions being imposed. So I think the outcome of the elections that was just held will not make any difference for Iran." - Amir Karimi, a resident of the Iranian capital, Tehran.
"As a mother and as a grandmother who raises boy children, I think that the symbolism of having a black man occupy the highest office is something that can make my children very aspirational to know that this is possible, you know, in their lifetime" - Zindzi Mandela, daughter of former South African President Nelson Mandela.
"If both parties try to overcome the accumulated distrust and turn over a new leaf, if America comes to realize that it needs to work with Vladimir Putin instead of thinking that it doesn't like the Russia that we live in, then we could achieve results." - Alexei Pushkov, chairman of the Russian Duma's foreign affairs committee, calling for a new start to U.S.-Russia relations.
"Sandy was a climate change warning. Obama must now take the stage and fulfill the promise of hope the world needs." - Kumi Naidoo, international executive director of Greenpeace.
12:00 GMT A few commentators have begun to question if the Tea Party, a radical, right-wing, Christian, anti-government movement within US politics, is dead after the Romney's defeat.
They say it is his pandering to this section of his party and the electorate, who take a tough oppositional stance on social issues such as abortion and gay marriage, that cost him the election.
Tim Stanley, a US historian, wrote over at the Daily Telegraph:
"What went wrong? Only two years ago, the Tea Party transformed the political landscape and helped the Republicans capture the House ... But back then the Tea Party was defined by fiscal conservatism. In the last couple of years, it's become increasingly redefined by radical social conservatism."
The Tea Party's problem, which has by association become a Republican problem, is the extreme, and sometimes borderline-crazy, statements made by those who represent it.
To give an example, Todd Akin, who just lost in the race to become Senator for Missouri, once used the phrase "legitimate rape" when having a discussion about abortion.
Michelle Bachmann, a Republican who has been one of the most vocal and forecful advocates of the Tea Party, just about clung on to her seat in the Senate in Minnesota.
Sir Christopher Meyer, a former British Ambassador to Washington, tweeted:
"Which way will the Republicans jump? Blame Mitt? Blame Sandy? Or accept the hard right lost them an election they could have won."
Obviously commentators can only speculate on why Romney lost the election, but with Obama taking the direct opposite approach on social issues to his Republican rival, it begs the question as to whether this is what was the deciding factor for many swing voters, rather than the economy.
11:32 GMT While there are still a few results left to declare, the broader picture has been established - and it hasn't really changed at all.
Republicans still dominate the House of Representatives, while Democrats control the Senate - and Obama remains in the Oval Office.
As the last few results trickle in, people are beginning to reflect on the challenges Obama faces in the immediate future as the fiscal cliff hangs in the background of the celebrations or sorrow-drowning, depending on your stance.
There is still a battle ahead between Obama and the Republican-controlled House of Reps over avoiding the fiscal cliff, which will automatically start a programme of public spending cuts and tax rises unless legislation is brought in to stop it.
Obama has said that he will veto any laws from the House that do not include tax increases on the wealthy as a means of averting the fiscal cliff, angering the Republicans who do not want to do this.
A compromise is possible, but the battle will be bitter and there is no easy agreement.
One potential disaster has been averted however, as it appears Obama will have won the popular vote - something crucial in legitimising his mandate to govern as president.
There was the potential for Obama to lose on the popular vote, but still win the election because of the electoral college system used in the US.
Had Mitt Romney won the popular vote, Obama's presidency would have been weakened and House of Reps Republicans' bargaining position over the fiscal cliff strenthened, putting a deal further out of reach than it already is.
The rest of the world will wait anxiously in the hope that the fiscal cliff is avoided.
With global economies struggling to recover from the economic downturn, triggered by the US sub-prime mortgage market collapse in 2007, the last thing they want is for the powerhouse American economy - the biggest on the planet - to cripple itself further with stinging spending cuts.
11:15 GMT Our business editor Martin Baccardax has given a rundown on who wins and loses from an Obama victory.
Winners include Treasury bonds and healthcare stock, while losers are luxury goods and bank stocks.
Read the full article.
11:00 GMT In a fitting touch to the elections, which have seen gay rights play a role as the debate over same-sex marriage raged on, the first openly gay senator was elected.
Tammy Baldwin, a Democrat, is a lesbian and took the Wisconsin seat.
She defeated the incumbent Republican Tommy Thompson.
10:25 GMT Here's Romney's concession speech in full:
10:05 GMT In some states voters haven't just been choosing elected representatives and the president, but deciding on a plethora of state-specific issues.
Washington and Colorado have both voted to legalise the recreational use of marijuana, while Maryland is set to allow same-sex marriage, as is Maine and, again, Washington.
Californians are voting on a proposition to repeal the death penalty, though early returns have show the current law as unlikely to be overturned.
Oklahoma is also making a significant decision on whether to scrap all affirmative action programmes in state government recruitment, education and contracting.
09:44 GMT A popular vote update - with 93 percent of the counts declared, the totals are as follows:
Obama is at 57.6m, 50 percent.
Romney is at 55.7m, 48 percent.
09:18 GMT Looks like world markets have reacted warmly to the re-election of President Barack Obama in the US, though they are unlikely to get carried away with the fiscal cliff looming over the global economy.
"I think stock market investors are likely to remain reasonably cautious before getting an idea of how that is going to be resolved," said Ric Spooner, chief market analyst at CMC Markets in Sydney, to AP.
"The fiscal cliff will remain a source of concern so I think we'll see some negative premium built into the US dollar."
European stocks were higher in early trading. Britain's FTSE 100 rose 0.3 percent to 5,899.13. Germany's DAX rose 0.6 percent to 7,419.95. France's CAC-40 rose 0.8 percent to 3,507.30.
Wall Street headed for a higher opening, with Dow Jones industrial futures up 0.1 percent to 13,213 and S&P 500 futures adding 0.1 percent to 1,426.90.
Earlier in Asia, Japan's Nikkei 225 index, bobbling throughout the session between gains and losses, closed marginally lower at 8,972.89.
Hong Kong's Hang Seng added 0.7 percent to 22,099.85. South Korea's Kospi gained 0.5 percent to 1,937.55. Australia's S&P/ASX 200 rose 0.7 percent to 4,516.50. Benchmarks in Indonesia, Singapore and Taiwan also rose. Mainland Chinese shares edged lower, with Shanghai Composite Index slipping marginally to 2,105.73. The smaller Shenzhen Composite Index lost 0.2 percent to 851.64.
09:15 GMT Douglas McWilliams of the Centre for Economics and Business Research sounds optimistic about the Democrat presdient and Republican-controlled House of Representatives reaching a fiscal cliff-avoiding agreement:
"It is clear that the US will need to cut its budget deficit. But it is doing so already and there is no great need to accelerate the pace, other than offsetting the inevitable pre-election slowdown in deficit cutting. The good news for the US for the next four years is that monetary policy is working. Banks are now lending both to business and consumers. It may even be possible to slow down the rate of quantitative easing, though this will depend on how rapidly the budget deficit is cut.
[...]
"Both the concession speech from Mitt Romney and the acceptance speech by the re-elected President Obama were impressively bipartisan. If this mood of bipartisanship can be carried over into the negotiations between the president and the re-elected Republican House of Representatives to ensure that the fiscal cliff sharp deficit cuts are not automatically enacted, the economic recovery should continue. It may not accelerate much above its current rate of 1 1/2 to 2%. But compared with other western economies this will be a good result."
08:44 GMT Barack Obama's victory speech in full:
08:26 GMT Donald Trump, the synthetically barneted Republican business magnate who demanded to see Obama's birth certificate to prove he was American not Kenyan, gave us all a lesson in gracious defeat from his Twitter account: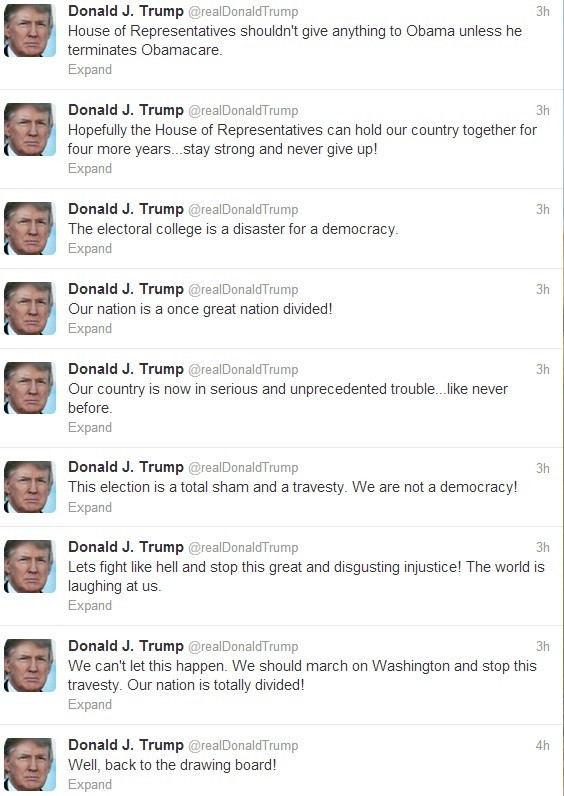 08:15 GMT Remember that Paddy Power paid out early on Obama winning the election? Turns out they were right to do so.
This is bookie William Hill's latest press release:
A William Hill betting shop client who two days ago placed a bet of £30,000 on Barack Obama to win the US Election will collect £67,500; another client, from Thailand who staked 30,000 US dollars is also a winner, as is the Russian who staked £13,600 on Obama - but the customer who risked £25,000 on a Mitt Romney victory has not fared so well.
"We took over £1million worth of bets on the US Election for the first time and suffered a relatively modest five figure loss thanks to Barack Obama's supporters," said Hill's spokesman Graham Sharpe.
"If nothing else this Election has proved that the bookies are a better guide to the outcome of the Election than the pollsters who had it a far closer race than we did. Obama was odds-on favourite to win again immediately after his 2012 triumph, drifted out to Even money about a year ago and was red hot 1/7 favourite last night."
WILLIAM HILL HAVE OPENED THEIR BETTING ON THE 2016 US ELECTION, OFFERING 10/11 THAT THE DEMOCRATS WIN AND 10/11 THAT THE REPUBLICANS DO SO.
08:00 GMT David Cameron, the British prime minister, tweeted:
"Warm congratulations to my friend @BarackObama. Look forward to continuing to work together."
07:54 GMT A lukewarm reception to Obama's victory from Amnesty International, the human rights NGO. Obama has been seen as a disappointment by those who had hopes he would lead the US away from controversial aspects of its foreign policy such as drone strikes, kill lists and Guantanamo Bay after he made the right noises ahead of his 2008 election triumph.
Suzanne Nossel, Amnesty International USA Executive Director, said:
"President Obama's second term will determine whether the post 9/11 stains on the United States' human rights record are an anomaly or the new normal. It was Mitt Romney who said of the challenges of counter-terrorism that 'we can't kill our way out of this mess,' But too many of President Obama's policies are an attempt to do just that: kill lists, drone strikes and disposition matrixes will not restore the United States' credibility or the respect it needs around the world to keep the United States safe.
"Unlawful killings and other human rights violations sanctioned by the US government undermine the rule of law globally, creating a climate in which other countries can point to a double-standard to justify their own human rights abuses with the refrain, 'if the U.S. government does that, why shouldn't we.'
"The United States' power and influence should derive from its commitment to the rule of law and to advancing human rights and dignity. President Obama should not trade that away at any price.
"President Obama has been given a second chance to keep his promises on human rights. Don't blow it."
07:05 GMT Obama's speech is over. The 44th US President is to hold the White House for other four years.
"We know in our hearts that for the United States of America, the best is yet to come," Obama said.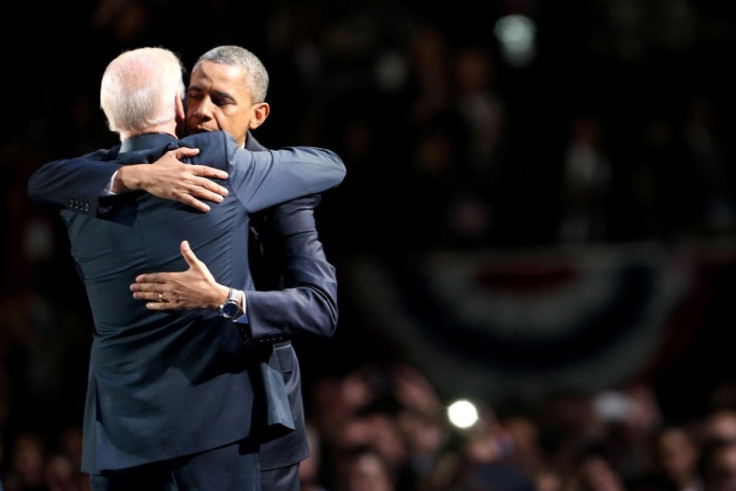 07:00 GMT Obama: "Despite all the hardship we've been though... I've never been more hopeful about our future, and I ask you to sustain that hope.
"We are not as divided as our politics suggest. We remain more than a collection of red states and blue states. We are, and forever will be, the United States of America.
"We will continue our journey forward.
"No matter if you're rich, poor, black, white, Asian, Hispanic, gay, straight: you can make it in America if you're willing to try," the president said during his final speech.
06:56 GMT Obama: "Tonight you voted for action, not politics as usual.
"Love and charity and duty and patriotism. That's what makes America great."
06:54 GMT Obama: "Democracy can be messy. We each have our own deeply held beliefs. That won't change after tonight, and it shoudn't.
"We want our children to live in an America that isn't burdened by debt.
"Progress will come in fits and starts, it is not a smooth path.
"Despite all our differences, most of us share hopes about our country's future.
"I return to the White House more determined and more inspired than ever."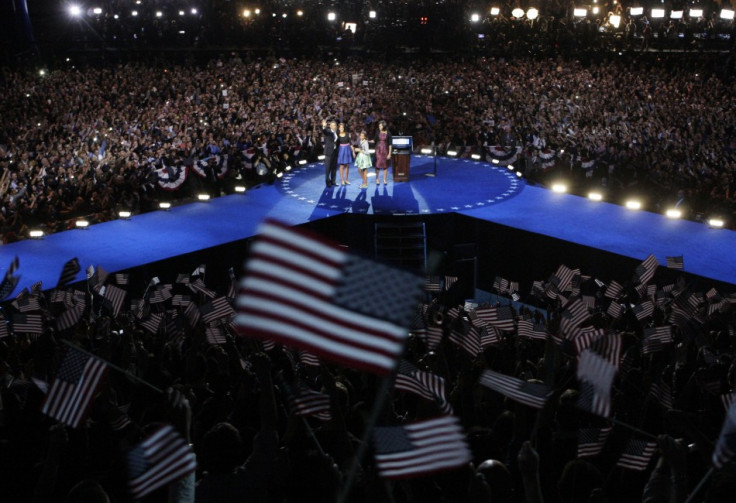 06:49 GMT "The task of protecting our union moves forward. It moves forward because of you."
Obama thanked volunteers: "No matter what you do... you will have the lifelong appreciation of a grateful president."
He then joked with his daughters: "For now, one dog is probably enough."
06:47 GMT "We honour the public service legacy of the Romney family," Obama said, adding that he and the former governor of Massachusetts "may have battled fiercely, but it's only because we care about this country deeply."
06:45 GMTObama thanked every American who participated in election and the VP Joe BIden, who he called "America's happy warrior."
"Michelle I have never loved you more," Obama said to his wife.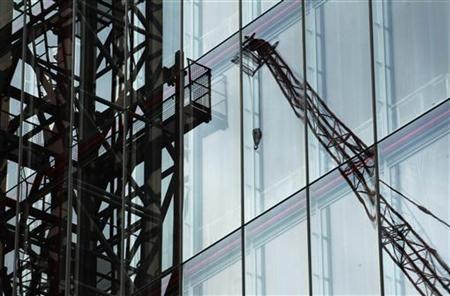 06:40 GMT "We are an American family, and we rise and fall together as one nation and as one people," Obama said.
"For the United States of America, the best is yet to come."
06:36 GMT Obama has arrived on stage accompanied by his wife Michelle and his two daughters.
The crowd chants "four more years! Four more years!"
06:25 GMT The New York Times tweeted a picture of its front page for November 7. The headline: 'Obama's Night.'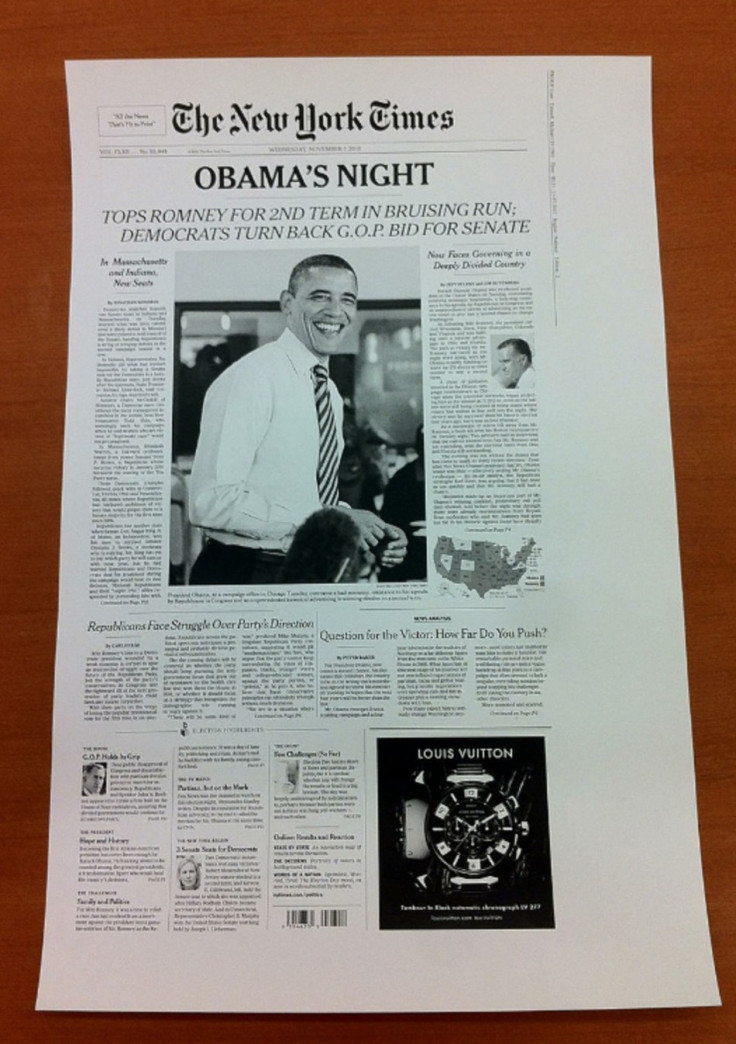 6:16 GMT Obama's supporters in Chicago are chanting "Fired up! Ready to go!" before he gets to the stage.
Meanwhile, UK prime minister David Cameron has tweeted: "Warm congratulations to my friend Barack Obama, look forward to continuing to work together".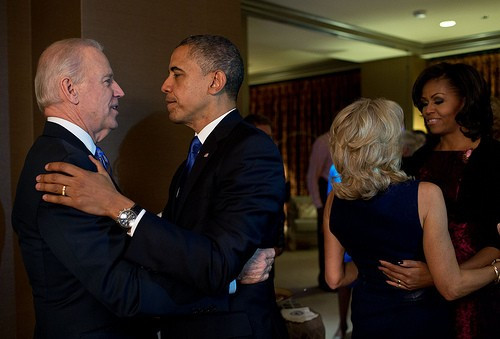 06:06 GMT "I ran for election because I'm concerned about America. I wish I could have fulfilled your hopes to lead America in a different direction," Romney said before ending his concession speech with a plea for bipartisan politics and a good luck message to Obama.
"This election is over but our principles endure."
06:02 GMT Romney thanked his staff and his running mate Paul Ryan.
"Paul is the second best choice I have ever made," he said, "We have given our all to this campaign."
The first choice was his wife Ann: "She would have been a wonderful first lady," Romney said.
05:58 GMT Mitt Romney is giving his concesion speech.
"I have just called President Obama to congratulate him on his victory," he said.
05:50 GMT Mitt Romney has called Obama to concede, a Romney aide has said.
05:45 GMT The Empire State Building has turned into blue - the colour for Democrats and their re-elected President Barack Obama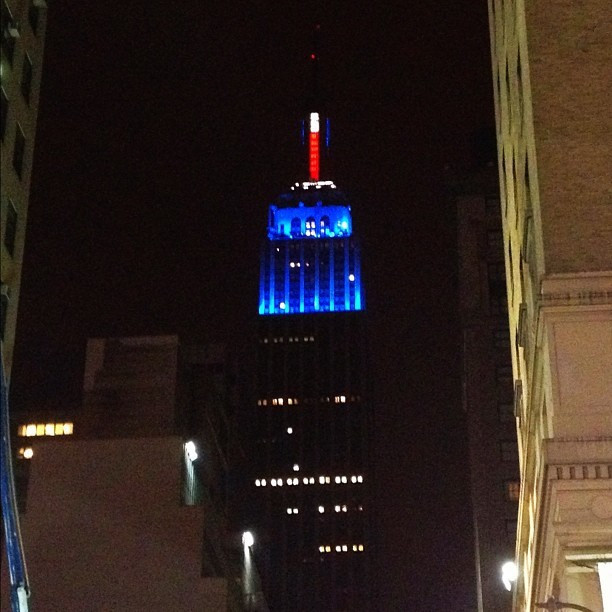 05:44 GMT Obama's victory has triggered a wave of mockery on Twitter directed at losing candidate Mitt Romney.
Romney's delay in giving a concession speech is netizens' favourite target.
"I wonder if Romney brought his Binder full of Concession speeches. Apparently not," tweeted a user under the handle Big Bird, in reference to Romney's infamous 'Binders full of women' remark.
"Mitt Romney still deciding which Mitt Romney will deliver Mitt Romney's concession speech" the user added.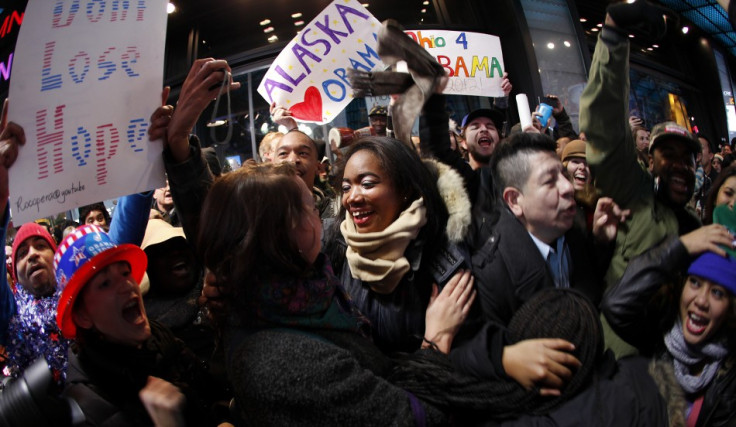 5:28 GMT Here are some pictures of a cheering crowd at the news of the re-election of President Barack Obama.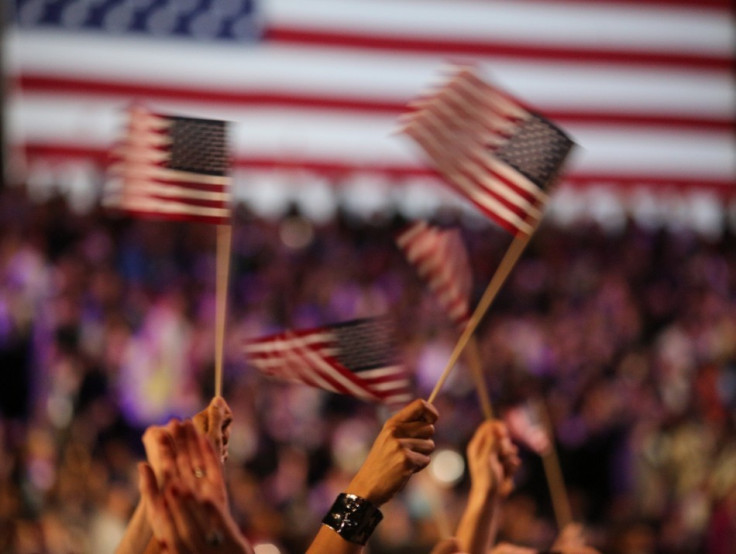 05:23 GMT Commentators on Twitter are wondering why Romney hasn't conceded yet.
Guardian journalist James Ball sums up a common sentiment on the microblogging site:
Difficult to see why Romney hasn't conceded yet: even if Ohio recount was secured and went his way, it wouldn't change result.
05:13 GMT Here's Obama's message to his supporters, posted on the president's official website at 11:17 EST
I'm about to go speak to the crowd here in Chicago, but I wanted to thank you first.
I want you to know that this wasn't fate, and it wasn't an accident. You made this happen.
You organized yourselves block by block. You took ownership of this campaign five and ten dollars at a time. And when it wasn't easy, you pressed forward.
I will spend the rest of my presidency honoring your support, and doing what I can to finish what we started.
But I want you to take real pride, as I do, in how we got the chance in the first place.
Today is the clearest proof yet that, against the odds, ordinary Americans can overcome powerful interests.
There's a lot more work to do.
But for right now: Thank you.
Barack
05:04 GMT Some in the Romney camp are disputing the Ohio call so it's possible they may refuse to concede for some time. Romney himself has stayed out of sight as news organisations announced that President Barack Obama had won a second term. He hasn't conceded yet.
In other results, Washington state and Colorado have voted to legalise marijuana, while Marylanda and Maine back gay marriage.
4:50 GMT Obama wins in Colorado and Nevada. He could have lost Ohio and still been re-elected. His electoral count is at 290 versus 203 for Romney
04:45 GMT This map from the New York Times shows the current situation, with just Alaska still to deliver results or exit polls.
Also Nevada has been called for the President.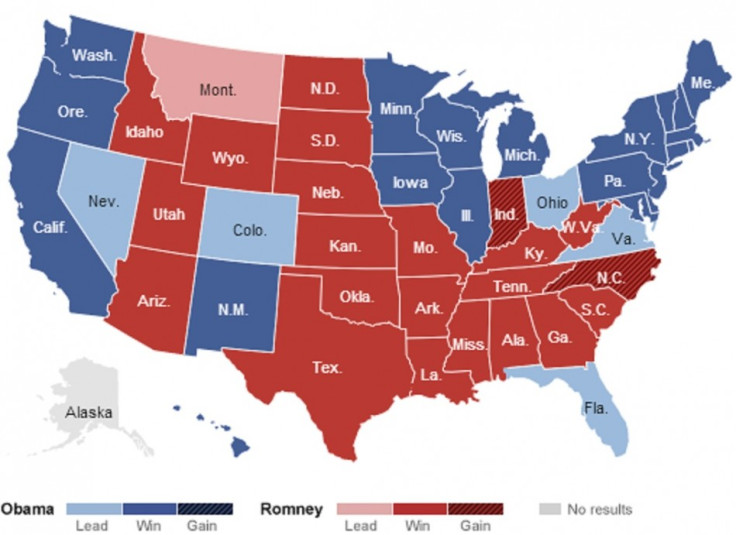 04:37 GMT Obama wins also in Oregon, AP are saying. Obama supporters are celebrating in front of the White House.
04:20 GMT Barack Obama announces victory. "Four more years," he tweeted.
"This happened because of you. Thank you."
04:15 GMT FOX NEWS CALLS OHIO FOR OBAMA. OBAMA WINS ELECTION, HE IS THE NEXT PRESIDENT OF THE UNITED STATES
04:12 GMT Obama is closer to the re-election: he has won the battleground state of Iowa and its six electoral electoral colleges, according to CNN.
04: 03 GMT Obama takes the lead. California, Washington and Hawaii have been called for the President, while Romney has won Idaho.
The electoral vote count is now Obama 232, Romney 203.
ABC sources quoted Jeb Bush, former governor of Florida and brother of George W, as saying Romney has lost the sunshine state.
The Denver Post has called the decisive state of Colorado for Obama.
The Obama daughters are allowed to stay up late to watch tonight, CNN says.
3:57 GMT Some good news for Romney: he has won the state of North Carolina.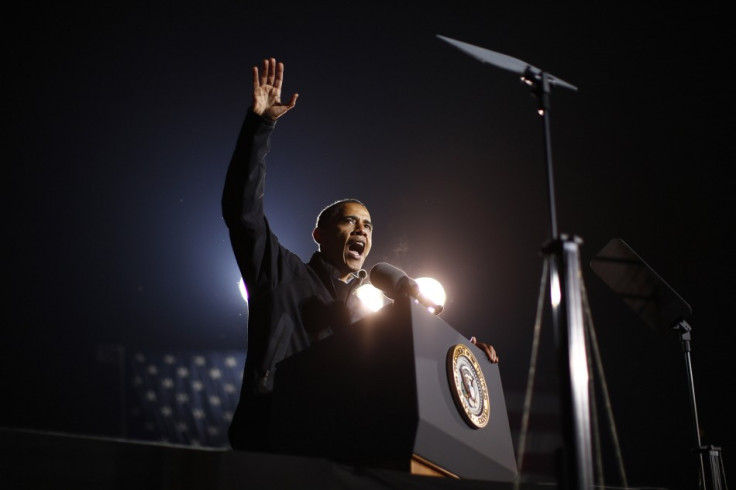 3:52 GMT Romney is the winner in Missouri. Meanwhile, in Chicago, they are setting up the presidential podium.
Al Gore has just tweeted: "I am confident in saying that President Obama is going to carry the state of Florida tonight."
03:46 GMT Democrats win two senate seats. Claire Conner McCaskill wons re-election in Missouri a and senator Amy Klobuchar beat Republican challenger Kurt Bills in Minnesota.
Meanwhile the state of Nebraska has been called for Mitt Romney, who gets 5 electoral votes.
03:46 GMT Obama has left his house and is on the way to the Chicago event. He is the projected winner for the state of Minnesota according to NBC, while Fox News says Colorado is too close to call.
03:37 GMT Romney's chances have become tighter. He needs to win Florida, Ohio, Virginia, North Carolina, Iowa and Colorado to become president.
03:25 GMT Republican Senate candidate Todd Akin who made controversial comments on what he called "legitimate rape" is to lose the Missouri seat to to Democrat Claire McCaskill, according to the CNN.
"Todd Akin's losing. I guess the body politic has a biological mechanism to shut down rather than allow a jerk to win," tweeted New York Times columnist Nicholas Kristof.
Meanwhile Obama wins New Mexico and swing state of Wisconsin.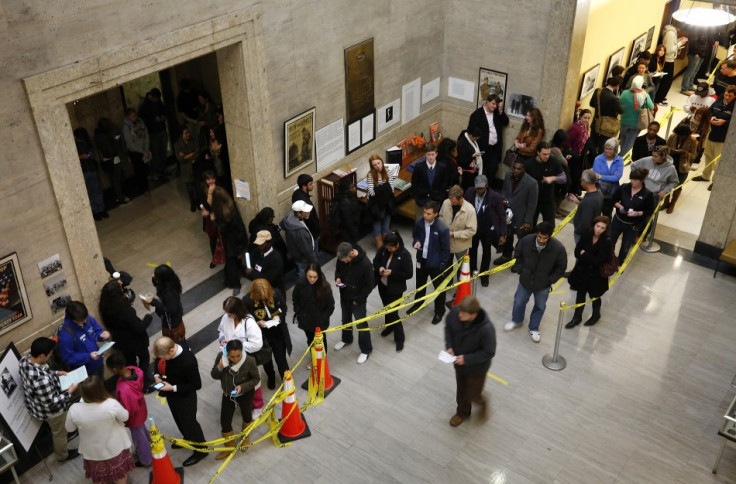 Voters stand in line to cast their ballots for the U.S. presidential elections at a polling place in the Richmond Public Library in Richmon (Reuters)
03:18 GMT Polls have closed in Iowa and Nevada, but it's too close to call. As expected, Romney takes Utah and Montana.
Meanwhile, the populist and ultra-conservative Tea Party leader Sara Palin says she's disappointed by the election results.
03:13 GMT Despite being still behind 157 to 162 in the total electoral votes, Obama seems to be taking the lead in Ohio and Florida. Victory in the two states could mean a second term for the current President.
03:09 GMT With 20 per cent of the vote already counted, in the decisive swing state of Ohio Obama is ahead. According to AP the Democrat is leading on Romney 53.6 to 45 per cent.
03:05 GMT Montana and Utah called for Republican candidate Mitt Romney
03:03 GMT Here a map showing the current situation by The New York Times.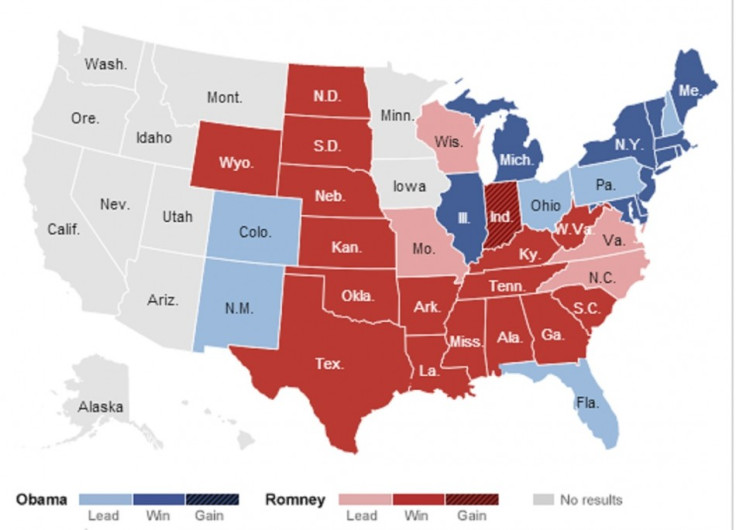 02:58 GMT Romney is now behind in the total electoral votes 172 to 163. 270 votes are needed for victory to be declared.
02:54 GMT Obama wins Pennsylvania and Michigan according to AP. Also Minnesota and New Hampshire go to the President.
New Hampshire is one of the decisive swing states.
01:50 GMT AP also claims that Democrat Joe Manchin has won the Senate seat in West Virginia and Republican presidential candidate Mitt Romney is to win Alabama.
01: 33 GMT According to AP, Democratic Senator Bill Nelson of Florida will beat Republican Connie Mack to win a third term.
While we wait for the exit polls in Arkansas, which are expected to go for Romney, here's a nice slideshow on the multifaceted American electorate.
01:15 GMT CNN puts Obama ahead in Pennsylvania 52 to 47 per cent.
Romney is still ahead in the race for the White House with 82 electoral votes on Obama's 65.
01:02 GMT Obama strikes back according to CNN, who are predicting the President will win in Connecticut, Delaware, Washington DC, Illinois, Maryland, Massachusetts, Maine and Rhode Island.
Romney is therefore losing in his home state of Massachusetts where he also served as governor. The Republican is to become the first presidential candidate not to win in his home state since Al Gore lost in Tennessee in 2000.
Romney is expected to win in Oklahoma, Alabama and Mississippi.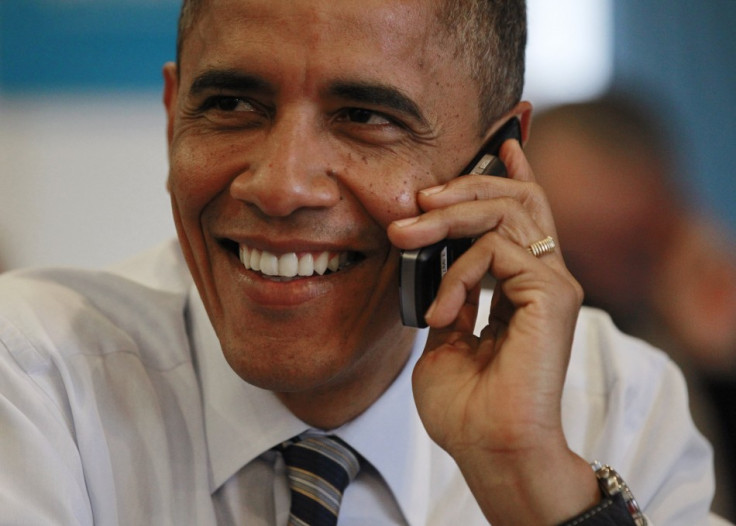 00:54 GMT In the decisive state of Ohio 60 percent of early voters cast their ballot for President Obama, according to a Reuters/Ipsos exit poll. Romney is ahead among electors that voted today instead.
Also AP called South Carolina for Romney. The state will give Romney another nine electoral college votes.
00:39 GMT Obama holds a three point lead in Ohio, 51 to 48 per cent.
West Virginia has been called for Mitt Romney who gains other five electoral votes - the Republican is leading 24 to 3 on Obama at the moment. 270 electoral college votes are needed to secure the White House.
North Carolina is still too close to call, says NBC that projects Romney to win in South Carolina.
00:26 GMT According to CNN Romney is going to win in Indiana.
00:20 GMT So far, as predictable, candidates are given neck to neck in Virginia, one of the decisive swing states.
Obama is ahead in the women's vote 52 per cent to 47 per cent in Virginia and among young people by 59 per cent to 37 per cent. Romney is ahead among men 52 per cent to 45 per cent instead.
00:15 GMT Fox News called Georgia for Romney, as did NPR, which has also called South Carolina as Republican.
00:10 GMT AP called Democrat Peter Shumlin as winner of the race for Governer and Independent Bernie Sanders as Senate seat winner in Vermont.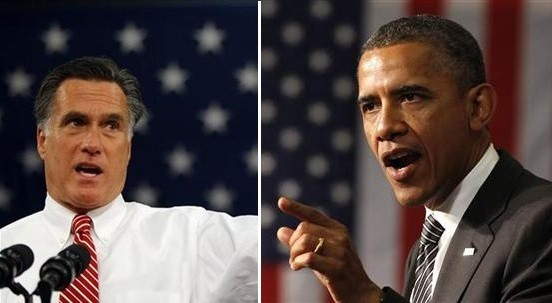 00:03 GMT According to the first exit polls Indiana has been called for the Republican Party with 61 per cent of preferences for Mitt Romney.
Kentucky is also expected to remain Republican with 70 per cent of preferences to Romney.Three percent of votes have been counted in the state.
Vermont has been called for Obama instead.
Romney is therefore leading 19 electoral college votes to Obama's three.
The race in Virginia is still too close to call with both candidates given at 49 per cent.
23: 57 GMT Mitt Romney held a press conference on his private plane, coming back to his home in Massachusetts.
The Republican candidate was said to be "very pleased" with his campaign and confident he will be "successful."
"We've been working for this a long, long time and to be on the ballot for the president of the United States is very humbling," The New York Times reported.
"You know I'm very proud of the campaign that we've run, to tell you the truth. No campaign is perfect. I'm sure like any campaign people can point to mistakes. But that's the mark of anything that's produced by human beings. Our team has been very solid. We have not had the kind of infighting that's reported to have occurred in other campaigns. We've worked well together our campaign team us. And we've gotten our message across. I am very pleased. I feel we have put it all on the field. We left nothing in the locker room. We fought to the very end. And I think that's why we will be successful."
He also said he finished preparing his victory speech - 1,118 words. We will know if we are going to hear it in a few hours.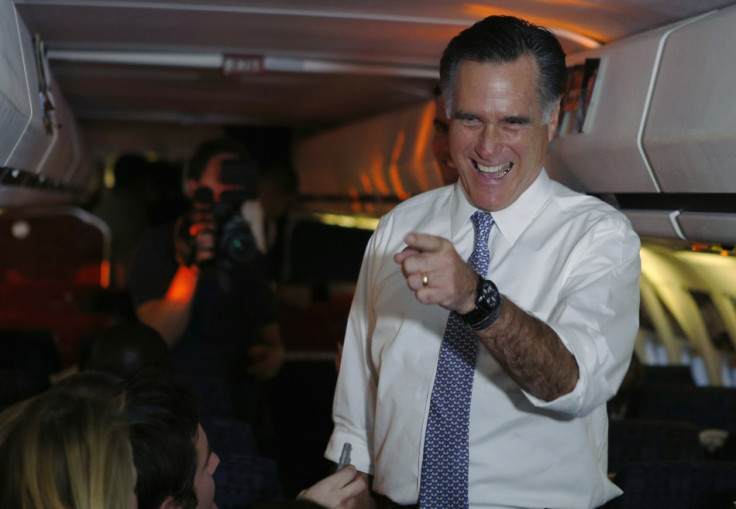 23:31 GMT Republican hopeful Romney has written only one speech on Tuesday, a 1,118-word victory speech.
"I feel like we put it all on the field. We left nothing in the locker room. We fought to the very end, and I think that's why we'll be successful," Romney told reporters aboard his plane as he flew from Pittsburgh to Boston
He said he hasn't written a concession speech, though he acknowledged the results might not come out in his favor. "Nothing is certain in politics," he said.
23:26 GMT According to the first exit polls 10 per cent of the US voting population was Latino, 73 per cent White and 13 per cent Black, according to CNN. The Latino share slightly increased on 2008.
Electors aged between 18 and 29 represented about 19 percent of the total voters. The figures somewhat favour Obama as he is reportedly more popular among young people and ethnic minorities.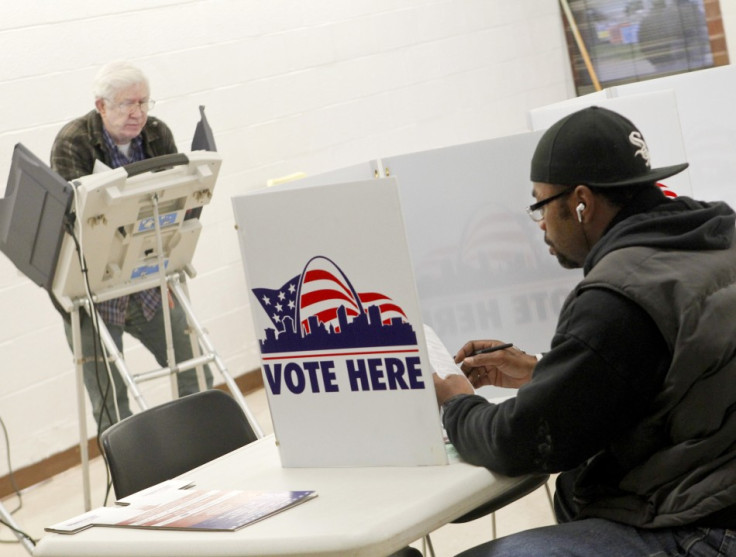 23:11 GMT The Washington Post reports that the first wave of exit polling shows an electorate that is slightly more Republican than the one that helped elect President Obama in 2008.
22: 55 GMT Some Americans have been lining up at polling stations in very weird places.
Across the US polling stations have been found in casinos, shopping centres, a pet store, beauty salons and other unusual venues, providing photographers with some great photo opportunities.
Here is a collection of the best shots: US Presidential Elections: America's Weird Polling Stations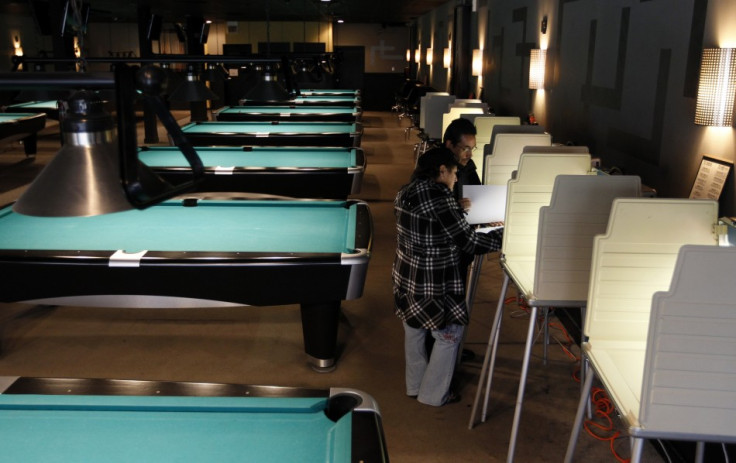 22:45 GMT Florida secretary of state is reporting a "record turnout" this year after the falloff in voter's enthusiasm in 2008. The same with Virginia: the Board of Elections said the turnout is higher this year.
22:39 GMT AP exit polls shows that economy is still the main concern among US voters.
Six out of ten voters said the economy is still the top issue, with the nation facing unemployment and rising prices hitting voters hard.
About 4 in 10 say they think the nation's economy is on the mend, but more say that things are getting worse or are bad and stagnating.

About half of voters say the previous president, George W. Bush, shoulders more of the blame for economic challenges than President Barack Obama.
Just a quarter of those surveyed said they are better off than 2008
22:25 GMT The first polls close in Kentucky and Indiana in just under an hour, at 6pm ET. Both states are solidly in Republican hands.
Polling stations in Virginia are scheduled to close at 7pm ET.
Ohio closes at 7.30 pm ET.
Pennsylvania closes down at 8pm ET.
22:11 GMT Romney told volunteers in Pennsylvania that Obama is a good lad, but has to go (good call, Mitt).
He is a good father and has been a good example of a good father, but it is time for a new direction.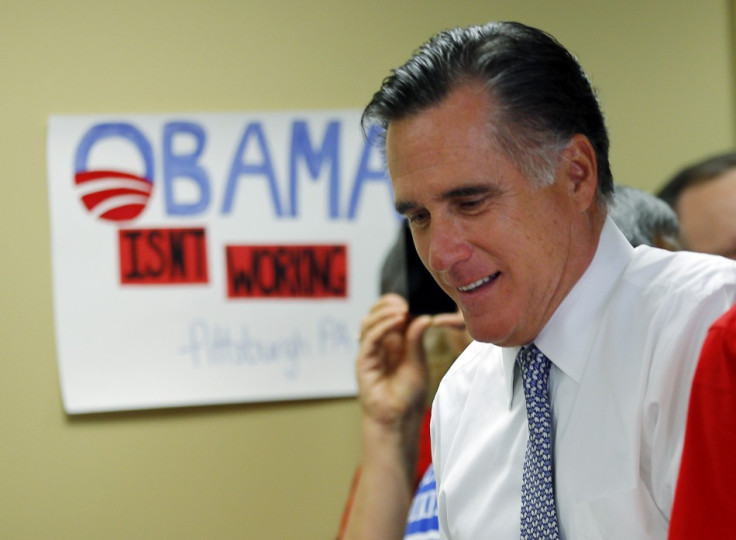 22:07 GMT Good news for Obama.
According to CNN, Obama's aides are saying that there will be a higher turnout among black voters in Pennsylvania and Virginia.
The incumbent president can count on 90 plus percent support among African-Americans.
21:57 GMT At the entrance to the Frontline Club, a man was selling two quirky portraits of the two candidates for the US presidential election.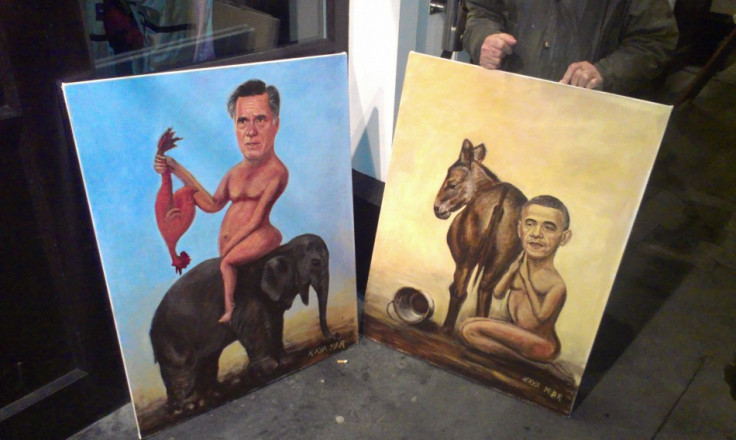 21:53 GMT The malfunctioning voting machine in Pennsylvania might not be an isolated incident.
In Greensboro, North Carolina, voters reported that touchscreen machines changed their votes from Romney to Obama. On Friday, the Pueblo County's Republican party in Colorado claimed their touchscreens were doing the same thing. Authorities are looking into these claims.
21:38 GMT Here's a picture of the Frontline Club where I'll be covering the US election. The atmosphere is pretty buzzing, with star-spangled banners everywhere, free drinks, nachos and hot dogs in a true American tradition.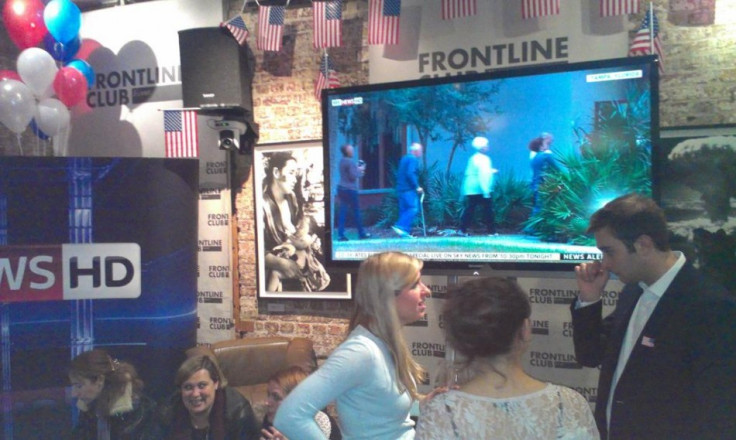 20:23 GMT The traditional Election Day basketball game featuring US President Barack Obama has started.
Obama is reportedly sweating off the tension accumulated during the campaign playing basketball at the Attack Athletics facility in Chicago.
According to the Washington Post, the President is playing with, among others, the Secretary of Education Arne Duncan, his personal aide, former Duke University player Reggie Love and former NBA star Scottie Pippen.
20:05 GMT Together with the Presidential and congressional elections, some US states are also voting on proposals regarding same-sex marriage, marijuana legalisation and the repeal of the death penalty.
Electors have been asked to decide whether to legalise same-sex marriage in Maine, Maryland and Washington, while Minnesota is voting to impose a constitutional ban on the same practice.
Washington, Oregon and Colorado are to legalise the possession of small amounts of marijuana, if the respective proposals are passed. Medical use of the drug is at stake in Arkansas and Massachusetts.
Finally California is deciding whether to repeal the state's death penalty, saving the lives of the 720 inmates currently facing capital punishment.
19: 32 GMT Republican candidate Mitt Romney and his running mate Paul Ryan grabbed a burger together in Richmond Heights, Ohio.
The Republican ticket had lunch at Wendy's while campaigning in the election-deciding state.
"I'm running on empty," Ryan told reporters.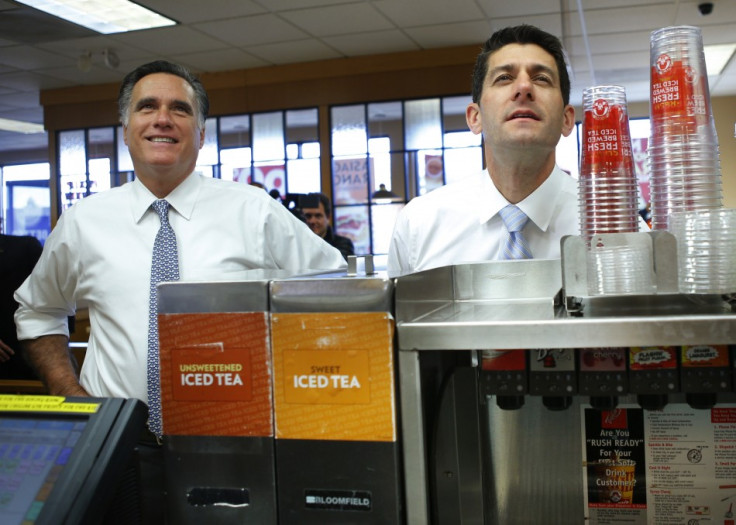 19:20 GMT Speaking at an Obama For America office in Chicago, US President Barack Obama said his challenger ran a "spirited campaign," USA Today reported.
After the hard confrontations that have characterised the electoral campaign, Obama congratulated republican candidate Mitt Romney for the "hard-fought race."
"I also want to say to Gov. Romney, congratulations on a spirited campaign. I know that his supporters are just as engaged and just as enthusiastic and working just as hard today," Obama said.
"I'm looking forward to the results. And I expect that we'll have a good night. But no matter what happens, I just want to say how much I appreciate everybody who has supported me, everybody who has worked so hard on my behalf. And again, I want to congratulate Gov. Romney and his team for a hard-fought race as well."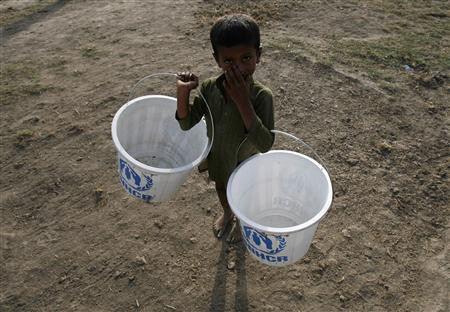 18:58 GMT 50 million Americans are expected not to vote for the 2012 presidential elections, 5 million more than in 2008.
A survey by the US Census Bureau provided an overview of the main reasons why US citizens either did not registered or registered to then not vote in the last elections.
Here are two summarising charts, courtesy of the Washington Post.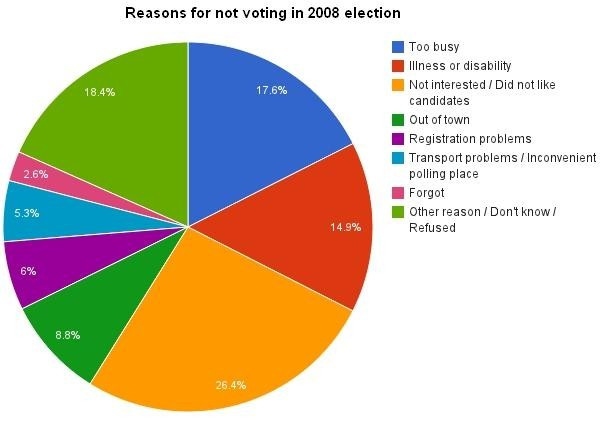 18:26 GMT Do you remember what happened in 2008 when Homer Simpson tried to vote for Obama? Here's a video to remind you. Well it looks like the fiction suddenly turned into reality as an electronic voting machine in Pennsylvania has been taken out of service after someone captured a video changing a vote for Obama into one for Romney.
The video was first posted on YouTube by user "centralpavoter." It shows a voter's finger repeatedly pressing the button for Obama, but a check mark coming up next to Romney's name.
The user gave an account of what happened:
My wife and I went to the voting booths this morning before work. There were 4 older ladies running the show and 3 voting booths that are similar to a science fair project in how they fold up. They had an oval VOTE logo on top center and a cartridge slot on the left that the volunteers used to start your ballot.
I initially selected Obama but Romney was highlighted. I assumed it was being picky so I deselected Romney and tried Obama again, this time more carefully, and still got Romney. Being a software developer, I immediately went into troubleshoot mode. I first thought the calibration was off and tried selecting Jill Stein to actually highlight Obama. Nope. Jill Stein was selected just fine. Next I deselected her and started at the top of Romney's name and started tapping very closely together to find the 'active areas'. From the top of Romney's button down to the bottom of the black checkbox beside Obama's name was all active for Romney. From the bottom of that same checkbox to the bottom of the Obama button (basically a small white sliver) is what let me choose Obama. Stein's button was fine. All other buttons worked fine.
I asked the voters on either side of me if they had any problems and they reported they did not. I then called over a volunteer to have a look at it. She him hawed for a bit then calmly said "It's nothing to worry about, everything will be OK." and went back to what she was doing. I then recorded this video.
There is a lot of speculation that the footage is edited. I'm not a video guy, but if it's possible to prove whether a video has been altered or not, I will GLADLY provide the raw footage to anyone who is willing to do so. The jumping frames are a result of the shitty camera app on my Android phone, nothing more
18:03 GMT Be careful, American voters: using your smartphone to photograph your ballot and post it on Instagram is forbidden in some states.
Florida, Georgia, Kentucky, Michigan, Nevada and Texas "expressly prohibit the use of photographic and recording equipment inside polling places", Citizen Media Law Project reports.
One voter in North Carolina was stripped of his smartphone when he took it out to look at the list of chosen candidates.
In Wisconsin, the Government accountability board told voters that posting ballot photographs on social media such as Facebook or Twitter constitutes election fraud.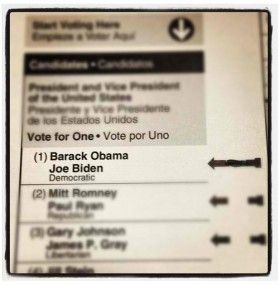 17:57 GMT Polls have opened in Hawaii, Obama's homestate. Voting is now going on in all 50 of these United States.
17:50 GMT Obama has passed his morning making calls to volunteers in the swing state of Wisconsin.
"Hi, is this Jyl? This is Barack Obama. This is your president. You're working so hard I had to say thanks,"
But a few volunteers appeared baffled to hear from the man they've been working for.
"Hi, is this Hattie? This is Barack Obama," Obama said. "This is Barack Obama. You know, the president?"
"She was very nice to me even though she initially didn't know who I was," Obama said after finishing the call.
Obama spoke briefly to the press at a campaign office in Chicago. He thanked his supporters for doing their bit to "move this country forward".
i also want to say to Governor Romney congratulations on a spirited campaign. I know that his supporters are just as engaged and just as enthusiastic and working just as hard today. We feel confident that we've got the votes to win but it's going to depend ultimately on whether those votes turn out and so I would encourage everybody on all sides just to make sure that you exercise this precious right that we have and that people fought so hard to have.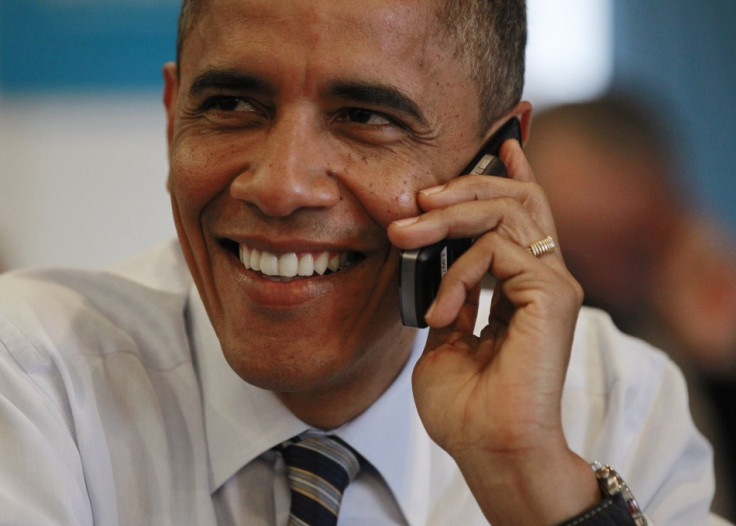 17:22 GMT Obama has already won the election...according to Twitter!
Four researchers - Adham Tamer, Ning Wang, Scott Hale and Mark Graham - from the Oxford Internet Institute, have collected about 30 million geocoded tweets between October 1 and November 1 and withdrew all references to Obama and Romney. The