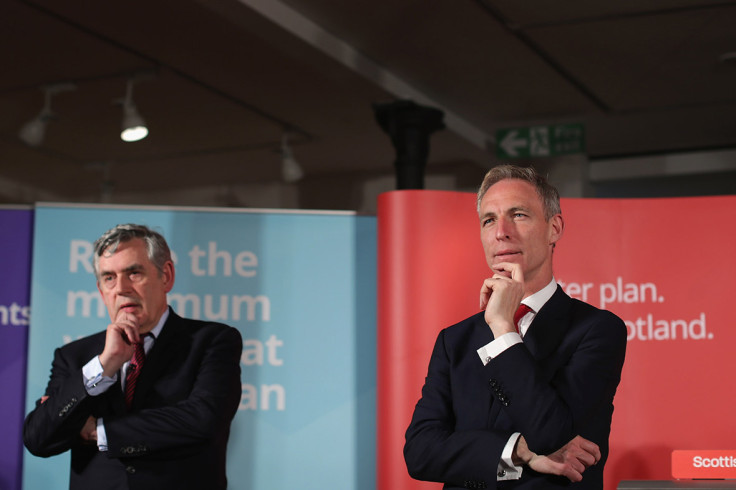 Well maybe not all, but for the past couple of months the Scottish National Party (SNP)'s opinion poll ratings have risen to the extent that Labour, dominant in Scotland since the late 60s, has gone from facing a strong challenge from the SNP as recently as February this year, to the prospect of facing a humiliating debacle at their hands.
Although there is some tacit admission on the Scottish Labour Party's side that much of this has been due to complacency in the past for taking their solid block of (safe) seats as a given right, there's also a degree of shock and bewilderment at the apparent extent and speed at which their support has collapsed. When all's said and done, Labour has taken its safe seats throughout the industrial, or formerly industrial, Midlands and North of England and it appears they can continue to do so for now.
The difference must be that there is a real and distinct alternative with a credible power base, and -very important - an acknowledged competence, firstly as an opposition, secondly as a minority government and now, since 2011, in government with a clear majority in the Scottish Parliament at Holyrood.
Irrespective of whether one agrees with the policies of the SNP – and boy, do they know the meaning of "deficit financing" – their government did not crumble or fall, they undeniably have connected with a very large portion of the people in Scotland, outside their core support. Otherwise their poll ratings could never be so high, despite articles in the likes of the Financial Times and The Economist have reported in the past, in power, the SNP is more conservative than the Party's rhetoric would let one suppose.
All this has taken decades to achieve, more like a couple of generations.
Back in the 50s, Scotland voted 50.1 per cent Conservative whilst the SNP had less than one per cent of the vote. During the 60s the Party's vote slowly increased to a few per cent, its stand was centrist which allowed it to do "deals" with the then Liberal Party.
During the 70s as North Sea Oil, most of which was found in "Scottish Waters", started to come ashore in significant quantities, the SNP had a tangible asset which, they declared, proved that Scotland was capable of standing alone.
Two men on the Left in the 80s, Jim Sillars and Alex Salmond, developed the Party more or less as we see it today and a major policy move was to ditch any connection with the Liberals (now Liberal Democrat) and attack the Conservatives not simply on issues but as being "English".
At this point of time, the Labour Party in Scotland was too big a fish to fight head-on. Unlike maybe too many politicians, Mr Salmond is a long-term strategist and it would be foolish not to believe the same of his successor, Ms Sturgeon.
The big break for the SNP however was the Labour Party's move to the Right under Peter Mandelson and after the 1997 General Election, Prime Minister Tony Blair.
I didn't vote for Jack Straw (Blackburn) but then I knew my candidate had no chance, Mr Straw "got" the seat from his former boss, Barbara Castle, but I liked Mr Straw. A bigger surprise was David Blunkett, one-time Leader of Sheffield City Council and the "Socialist Republic of South Yorkshire", who, as Education and Employment Secretary, didn't hesitate for a moment in taking on the Teaching unions. Labour had learned a long, hard lesson: the British don't like extremes and a move too far from the centre loses.
Attributes that brought Labour solid support from "Middle England" may not have gone down well in Scotland but up North, the Left had no serious alternatives. Making matters worse – for Labour that is – in the setting up of a Scottish Parliament, Scottish Labour MPs at Westminster became "cast adrift" to the extent that, slowly but surely, the SNP tried to infer that, just like the Conservatives, they too are "English".
First Minister Nicola Sturgeon, who promises most emphatically that "Scotland's voice will be heard at Westminster" on 6 May 2015, described Scottish Labour's Westminster MPs as "Seen but not heard!" They can hardly after all, do anything but toe the line of their (UK) Leader, Ed Miliband, even if this were against the interests of their constituents in Scotland.
Jim Murphy, Secretary of State for Scotland (2009-10) in Prime Minister Gordon Brown's Cabinet and currently Leader of the Scottish Labour Party, won by a majority of more than 10,000 his East Renfrewshire seat in 2010 and is now fighting for his political life against (a very young) Kirsten Oswald for the SNP.
I have no doubt that Mr Murphy is a good MP but his campaign has not been particularly inspiring and he lacks the presence of someone like Gordon Brown. His worst fault maybe, is to mention "NHS", "Mansion Tax" and "£1 billion" in the same sentence, inferring in so doing that the National Health Service Scotland – a devolved power to the Scottish Parliament – is going to benefit by this extra amount, when the same source and amount is being bandied about South of the Border by his colleagues in England for their NHS.
His worst moment must have been his statement in front of a national TV audience when trying to put down Ms Sturgeon, that the £30 billion austerity cuts that are almost certain to be made by whichever party wins the Election, would not affect Scotland.
Very swiftly, Shadow Chancellor Ed Balls and Shadow Secretary of State for Business Chuka Umunna made it very clear that Mr Murphy was wrong to say this and that Scotland would most definitely be affected by its fair portion of the £30 billion cuts.
The Referendum for Scottish Independence in September 2014 was lost by the "Yes" Campaign and the SNP but it was by 10 per cent, not say, 60:40 and this General Election has come too swiftly on its heels for the SNP's cohorts to have properly stood down. No matter the official SNP line of "This is not about another Referendum", for most of their supporters and canvassers, it is.
Awkwardly, that 45 per cent bloc (about 30 per cent former Labour voters) who voted "Yes" for Independence, is going to mark their ballot papers for the SNP, whether they really want independence or simply to hold the balance of power at Westminster or for Scotland's "Voice to be heard!" It is that which has skewed the polls so badly for Labour in Scotland and is likely to give the SNP, 30 or more seats.
If this is the outcome in a hung parliament, the temptation (for Labour) to do a deal will be intense. This lady is not for turning (£7.6 billion black hole or not), so be warned, her ultimate goal is the break-up of the UK. For Ms Sturgeon, the pressure to press for another Referendum will be equally as great, especially if her Party wins Scotland's forthcoming General Election but her problem is simply one of choosing the most propitious time – not so easy, not too difficult either!