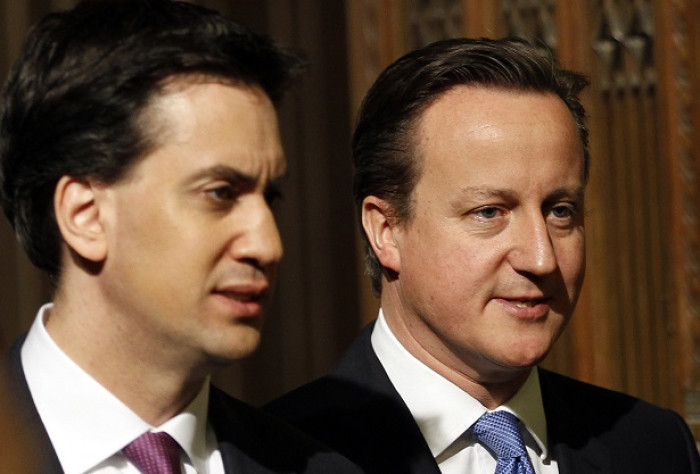 With the election still too close to call, David Cameron and Ed Miliband delivered keynote speeches today which yielded few surprises and will probably have just reminded their devotees to check their voting card is still stuck to the fridge than attract waverers to their cause.
First up on Super Sunday came Cameron, who was in Norton-sub-Hamdon in Somerset – home of LibDem Paddy Ashdown's home village.
That provoked yet another catty remark from the former SBS commander on Twitter: "Cameron in my village. The poor chap is confused again. He's come to the wrong place entirely. Like a West Ham fan at an Aston Villa match."
Stung by recent criticism that his recent appearances have been somewhat devoid of passion and excitement, Cameron was dressed in a tie-free shirt complete with rolled-up sleeves. At times he appeared to be trying too hard to seem angry, but amid the bluster there were some intriguing nuggets.
"If you want political excitement. Go to Greece," he snarled. "If you want more showbiz in this election. Go to Hollywood." (Looking at this point more like a Primark Poldark than a Hollywood A-lister).
"But here and now in the UK I'm focused on something REAL. A stronger economy. Something that excites millions more: more jobs more homes, more business, more childcare, more security in retirement."
Oddly, just as Cameron was injecting a dash more passion into his politics, Ed Miliband seemed to be chilling out. Relaxing in the Labour comfort zone of Islington, introduced – almost beyond parody – by Ross Kemp, Miliband came across as calm, at times almost blasé about an election which will shape not only the nation's future, but his own.
Dressed in a cool suit and the obligatory red tie Miliband defended Britain's record on international development and said Labour would tackle tax avoidance which he said was causing great damage to developing nations.
"No hiding place in the tax havens!" he said, apparently without notes, having learned his lines this time. "No loopholes in the tax system!"
Miliband continued in this uncontroversial vein for some time, finishing with a rallying cry to the undecided – few of whom, it can safely be assumed, were within heckling range of this part of North London.
Miliband's preach – sorry, speech – to the converted must have felt like coming home after his earlier scuffle with "Basher" Boris Johnson on the BBC, the squabbling pair only separated by Andrew Marr's ears. Though to be fair to Miliband, he looked up for it then, too.
Hell yes.